Top 10 Weekly Current Affairs: 24 June to 29 June 2019
BSP Chief Mayawati has permanently called off her party's alliance with Akhilesh Yadav's SP.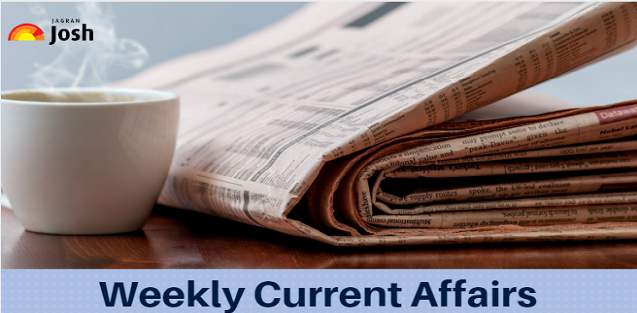 Top 10 Weekly Current Affairs: 24 June to 29 June 2019
Trump lacks moral principle, Female Dalai Lama should be attractive, says Dalai Lama in explosive interview
The Dalai Lama criticized US President Donald Trump for his America-first policy and said that it was wrong. Dalai Lama also said that its better to keep Europe for Europeans. He further said that if a female Dalai Lama comes, then she should be attractive.
NRC Assam: 1.02 lakh names published in additional draft exclusion list

NRC additional draft exclusion list for National Register of Citizens has been published by Assam government. The persons whose names appear in the Additional Draft Exclusions List are those persons whose names were included in the Draft NRC published on 30th July 2018, but have been subsequently found ineligible.
J&K reservation (amendment) bill 2019 passed by Lok Sabha
Union Home Minister Amit Shah had introduced the Jammu & Kashmir reservation bill in Parliament, while also proposed to extend the President's rule in the state by six months. The Amendment proposes that people who live along the LoC, LaC and UB should be included in the 3% reservation, over 3.5 lakh people will benefit from it.
50% of over 9,000 vacancies in Indian Railways will be for women: Piyush Goyal
Piyush Goyal tweeted that 50% of over 9,000 vacancies that are coming up for the posts of Constables and Sub-Inspectors in the railways will be for women.
Virat Kohli breaks Sachin Tendulkar's world record, becomes fastest batsman to score 20,000 International runs

Virat Kohli becomes fastest batsman to score 20,000 international runs. Kohli has broken Sachin Tendulkar and Brian Lara's world record and has become the fastest batsman to score 20,000 international runs.
Was Rohit Sharma out or not out? Twitterati says not out, third umpire trolled for 'controversial decision'
Rohit Sharma Controversial Dismissal: Twitterati convinced that Rohit Sharma was not out during India vs West Indies, third umpire trolled. The original decision of not out was reversed by the third umpire and an amused Rohit Sharma was seen walking back.
Antigua to revoke Mehul Choksi's citizenship, extradition process to India to begin soon

Following extensive diplomatic pressure from India, the Prime Minister of Antigua, Gaston Browne has finally agreed to revoke the citizenship of fugitive economic offender, billionaire jeweler Mehul Choksi. The Prime Minister said"Choksi's citizenship was processed, he got through. We do have recourse, the reality is that his citizenship will be revoked and he will be deported to India."
Mayawati permanently cuts ties with Akhilesh Yadav's SP

BSP Chief Mayawati has permanently called off her party's alliance with Akhilesh Yadav's SP. Mayawati tweeted saying that in the interest of the party and movement, the Bahujan Samaj Party (BSP) will now contest all the elections going forward alone on its own. The announcement comes few weeks after Mayawati's press conference on June 4, in which she had announced the breakup of BSP-SP alliance. However, the BSP Chief had then stated that the 'break-up' is not permanent.
Samant Goel appointed new RAW chief, Arvind Kumar becomes IB director

Narendra Modi Government has appointed senior IPS officer Samant Goel as the new Research and Analysis Wing (RAW) chief on June 26, 2019. In another move, government has appointed senior IPS officer Arvind Kumar as the director of the Intelligence Bureau (IB). Their names were finalized by the Appointments Committee of the Cabinet (ACC), headed by PM Narendra Modi and comprising Home Minister Amit Shah.
India won first-ever Cricket World Cup on this day in 1983
India created history on June 25, 1983 by defeating the mighty West Indies in the cricket world cup final at Lord's, England and lifting the coveted world cup trophy. India with its win put a halt to the hat-trick hopes of the West Indies juggernaut. India's World Cup victory was something even the players had not imagined, as they had not thought that India would progress beyond the group stage.