Explained: One year of GST: Achievements and Challenges
The GST regime has resulted in 'ONE NATION, ONE TAX, ONE MARKET', replacing multi-layered, complex indirect tax structure with a simple, transparent and technology–driven tax regime.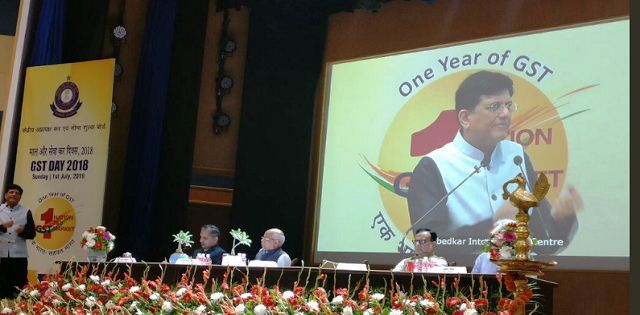 Union Government celebrates Goods and Services Tax Day
India on July 1, 2018 observed the 1st Goods and Services Tax (GST) Day to commemorate the first year of the unprecedented reform of Indian taxation.

The celebrations were presided by the Union Minister for Railways, Coal and Finance Piyush Goyal as the Chief Guest and Minister of State for Finance Shiv Pratap Shukla was the Guest of Honour.

Earlier on June 30, 2018, the Union Finance Ministry announced to observe July 1, 2018 as the 'GST Day'.
Goods and Services Tax
• The GST is a single indirect tax that subsumes most of the Central and State taxes such as the Value Added Tax (VAT), excise duty, service tax, central sales tax, additional customs duty and special additional duty of customs.

• The Tax was notified through the Constitution 122nd Amendment) (GST) Bill, 2014 and was enacted through Constitution (101st Amendment) Act, 2016.

• A special GST Network (GSTN) was created for GST implementation. Under this, section 25 private limited companies with Strategic Control under the Union Government were mandated to function as a common Pass-through portal for taxpayers.

• It facilitates the taxpayers by prescribing grant of refund within 60 days, and provisional release of 90 percent refund to exporters within 7 days.

• Under GST, the tax incidence is transparent, enabling full removal of tax burden on exports and full incidence of domestic taxes on imports.

Dual GST Model
• India adopted dual GST model because of its unique federal nature.

• Under this model, tax is levied concurrently by the Centre as well as the States on a common base that is for the supply of goods or services or both.

• GST to be levied by the Centre is called Central GST (Central tax / CGST) and that to be levied by the States is called State GST (State Tax / SGST).

• State GST (SGST) is referred as UTGST (Union territory tax) in case of the Union Territories without legislature.

• CGST, SGST and UTGST are levied on all taxable intra-State supplies.

• Inter-State supply of goods or services is subjected to Integrated GST (IGST). The IGST Model envisages that Centre would levy IGST which would be CGST plus SGST on all inter-State supply of goods or services or both.
Note
Before implementation of GST, Indian taxation system was comprised of central, state and local area levies.
Multiple taxes, multiple returns to be filed by assessees, interface with multiple tax authorities, cascading effect of taxes, rising inflation, no free flow of goods across the country, fragmented markets across the country were some of the vague issues plaguing the indirect taxation system in India.

GST: Economic Integration of India

• The Goods and Services Tax was launched on July 1, 2017 in a ceremony held in the Central Hall of Parliament on the midnight of June 30, 2017.

• The implementation of a tax reform like GST in a diverse country like India required a lot of efforts on the state and national level and drew a lot of challenges like the reconciliation of interests of various States with that of the Centre.

• Some of these issues included origin-based versus destination-based taxation, rate structure and compensation, dispute settlement, inclusion of Alcohol and Petroleum products under GST.

• Resolution of these issues took some time and finally, the Constitution (122nd Amendment) Bill, 2014 was introduced in the Parliament in December 2014 to replace the Indian taxation system with the GST and was enacted as Constitution (101st Amendment) Act, 2016 with effect from September 16, 2016.

• Four Laws namely CGST Act, UTGST Act, IGST Act and GST (Compensation to States) Act were passed by the Parliament and were notified on April 12, 2017.

• All the other States (except Jammu & Kashmir) and Union territories with legislature passed their respective SGST Acts.

• The economic integration of India was completed on 8th July, 2017 when the State of J&K also passed the SGST Act and the Central Government also subsequently extended the CGST Act to J&K, this, the GST was implemented across India.

• In November 2017, the National Anti-profiteering Authority was formed under GST to comfort consumers that Government is fully committed to make sure that the benefits of implementation of GST reach them without any hassle.
GST Council
The Article 279A of the Indian Constitution called for the constitution of the GST Council that was notified on September 12, 2016.
The Council comprises Union Finance Minister (Chairman of the Council), the Minister of State (Revenue) and the State Finance/Taxation Ministers as members.
The council is empowered to make recommendations to the Union and the States on all GST related issues.
Since its constitution, the Council has met for 27 times and no occasion has arisen so far that required voting to decide any matter. All the decisions have been taken by consensus.
Notifications, circulars and orders issued under GST so far

• On June 22, 2017, the first notification was issued for GST and notified certain sections under CGST Act.

• Since then, 103 notifications under CGST Act have been issued notifying sections, notifying rules, amending rules for waiver of penalty, etc.

• Under IGST Act, UTGST Act and GST (Compensation to States) Act, 13, 28 and 1 notifications have been issued, respectively.

• Further 59, 63, 59 and 8 GST rate related notifications have been issued under the CGST Act, IGST Act, UTGST Act and GST (Compensation to States) Act respectively.

• Apart from the notifications, 53 circulars and 14 orders have also been issued by Central Board of Indirect taxes and Customs (CBIC) on various subjects like proper officers, ease of exports, and extension of last dates for filling up various forms, etc.

E-way Bill System

• The GST council mandated the implementation of e-way (electronic way) bill system from April 1, 2018 for Interstate logistics of goods in all the states.

• The e-way bill is a monumental shift from the earlier 'Departmental Policing Model' to a 'Self-Declaration Model'.

• It envisages one e-way bill for movement of the goods throughout the country, thereby ensuring a hassle free movement of goods throughout the country.

• For intra-State movement of goods, all States have notified e-way bill rules for intra-State supplies.

How GST regime has benefitted India so far?
• The GST regime has resulted in 'ONE NATION, ONE TAX, ONE MARKET', replacing multi-layered, complex indirect tax structure with a simple, transparent and technology–driven tax regime.

• It has improved the 'Ease of Doing Business' in India with the introduction of the common procedures for registration, duty payment, return filing and refund of taxes.

• The GST has also been successful in promoting PM Narendra Modi's 'Digital India' initiative with the launch of the GST portal. From returns to refunds, everything happens online.

• This reform has created a unified market; and the cascading of taxes has been eliminated.

• The tax reform has also put an end to the illegal activities like tax evasion through the simplification of the tax administration and transformation in the culture among trade and industry.

• The introduction of e-way bill has ensured hassle free movement of goods throughout the country. It has led to tremendous gains for logistic sector through abolition of toll collection at state borders, saving time for trucks.

• The regime has benefitted the poor and middle class families as well, as the large number of daily use items are either exempted from the GST or fall under 5 percent tax slab. Moreover, 95 percent items fall in or below 18 percent GST slab.

• It also augmented opportunities for Small and Medium Enterprises (SME) as enterprises having a turnover of Rs. 20 lakhs are exempted from GST and those with a turnover up to Rs 1 crore have to pay only 1 percent tax. There is no GST on advance supply of goods for SME.

Challenges faced during the implementation of GST Regime

• The implementation of the GST posed certain challenges for the government, business community, and tax administration and even for the citizens of the country.

• Some of these challenges relate to the unfamiliarity with the new regime and IT systems, legal challenges, return filing and reconciliations, passing on transition credit.

• Many of the processes under the GST are new for small and medium enterprises in particular, who were not used to regular and online filing of returns and other formalities.

• However, the government has put in place the IT grievance redressal mechanism to address the difficulties faced by taxpayers owing to technical glitches on the GST portal.
Interesting Facts and Figures
• The total collection of the indirect tax for 9 month period in 2016-17, post the implementation of GST, is about Rs. 8.2 lakh crores, which for the whole year comes to about Rs 11 lakh crores, an 11.9 percent increase in indirect tax collections.

• Further, the GST collection of Rs 1.03 lakh crores in April, Rs 94,016 crores in May, Rs 95,610 crores in June show that GST has settled in well.

• There has been historic surge in the number of registered enterprises, 48 lakh enterprises were added in last one year.

• Around 350 crore of invoices have been processed.

• Over 11 crore of GST return have been filed.

• Over 10 crore e-way bills have been generated.

• More than Rs 45000 crore of GST refunds have been made till date.