10 Amazing facts about Akshardham Temple in Delhi
Akshardham Temple is located in New Delhi. It is also known as Swaminarayan Akshardham Temple and is one of the India's largest Hindu temple complexes. The temple was officially inaugurated on 6 November, 2005. This article deals with 10 amazing facts about Akshardham temple which not only surprise you but also gives knowledge about its history.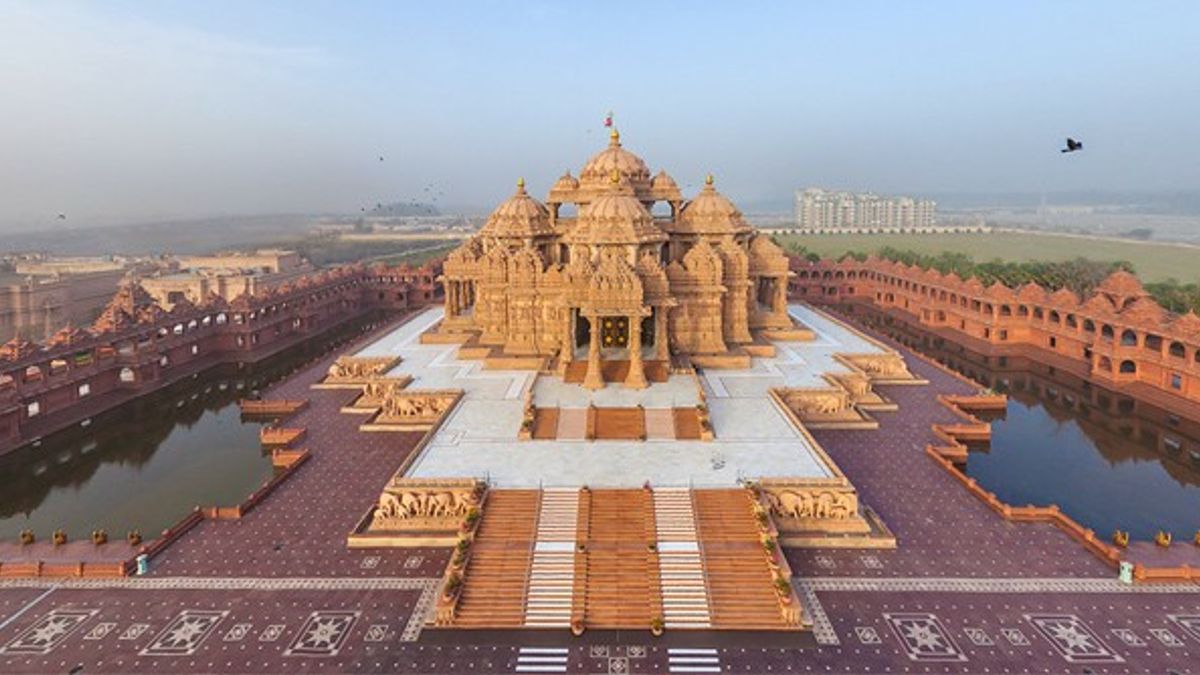 Amazing facts about Akshardham Temple in Delhi
Akshardham Temple of New Delhi is also known as Swaminarayan Akshardham Temple. It is one of the largest Hindu temple complexes in India. It was officially inaugurated on 6th November, 2005. Its history and facts reflects 10,000 years old India's culture, spirituality and architecture. It has been made in the memory of Jyotirdhar Swaminarayan Bhagwan.
The construction of Akshardham Complex was completed in just five years with the efforts of Bochasanwasi Shri Akshar Purushottam Swaminarayan Sanstha (BAPS) along with the help of thousands of artisans and BAPS volunteers. The temple is spread over 83,342 square feet area. It consists of 350 feet long, 315 feet wide and 141 feet high monuments, which are very attractive. The structure of the temple was designed in such a way that it can last for at least 1000 years more. This article deals with 10 more amazing facts about Akshardham temple.
Amazing facts about Akshardham Temple
1. Akshardham Temple comprises 200 sculptured stone figures of India's sages, monks, Acharyas and divine incarnations. It also consists of 234 ornately carved pillars, 9 ornate domes, Gajendra Pith and 20,000 statues of divine figures of India.
2. Akshardham Temple is surrounded by Narayan Sarovar, which is a lake and carries water from 151 lakes in India. There are 108 faces of cows placed along the lakes which represent 108 Hindu deities. It has a 3,000-feet-long orbital path for Parikrama made up of red stones brought from Rajasthan. It also has a two storey building, with 1,152 pillars and 145 windows. This Parikrama is spread around the temple like a beautiful garland

Source: www.4.bp.b.ogspot.com
3. There is also an exquisite garden in the Akshardham temple complex in the shape of lotus and therefore is also, known as the Lotus Garden. When seen from above, it looks like a Lotus made up of large stones where quotes from Shakespeare, Martin Luther, Swami Vivekananda and other eminent figures are engraved.
Source: www.img0..iveinternet.com
4. Another interesting fact about Akshardham temple is that there are 10 gates, which represents the 10 directions according to Vedic literature. These gates show that goodness will continue to come in from all the directions.
5. In the Akshardham temple complex, there is a Yagnapurush Kund which is the largest yagna kund in the world. It comprises 108 small shrines and 2870 steps leading to the kund. The magnificent temple has achieved a place in the Guinness Book of World Records. On 17 December, 2007, the Akshardham Temple was declared as The Largest Comprehensive Hindu temple in the World by the International Organization.
Do you know the mystery behind Krishna's Butterball
6. In the premises of the temple there are green lawns which are collectively known as Garden of India or Bharat Upavan. These lawns are decorated with bronze statues of the great and epic personalities of India. These personalities are not divine figures but are the real-life heroes.
7. The temple has 11 feet high beautiful statue of Lakshmi Narayan and other statues of Shiva Parvati, Radha Krishna and Sita Ram within the memorial. It also consists of theatre within the premises, which is known as Nilkantha. It reflects the events from the life of God Swaminarayan.
8. The magnificent musical fountain show of this beautiful temple is the centre of attraction for the audiences, which is known as the Circle of Life, a great 15 minute spectacle held every evening. This show reflects the cycle of life, from birth to death.

Source: www.ghoomoindia.com
9. "Sanskritik Vihar" is a boat ride which is used by the visitors to watch the ancient India's culture and history. This model displays the universities, markets and civilization of ancient India.
10. Akshardham Temple looks beautiful at night. It receives around 100,000 visitors a week and around 850 volunteers work here daily.
It will be not wrong to say that Akshardham temple is an important landmark in the city of Delhi and is a beautiful place to visit.