10 Interesting and Unknown Facts about Sardar Sarovar Dam
Sardar Sarovar Dam is built on Narmada river near Navagam in Gujarat, India. It is world's second biggest concrete gravity dam after America's Grand Coulee. Let us read some interesting and unknown facts about Sardar Sarovar Dam.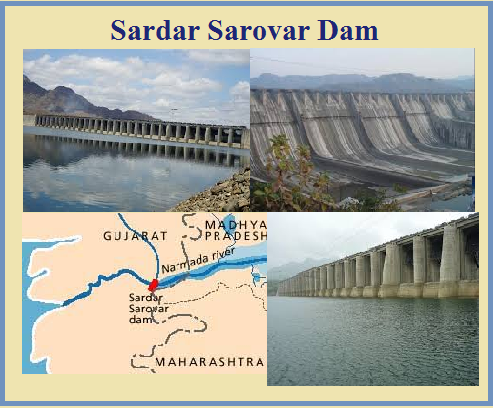 Sardar Sarovar Dam
Sardar Sarovar Dam foundation stone was laid by then PM Jawaharlal Nehru on 5 April, 1961. It took 56 years to complete its construction. Four Indian States namely Gujarat, Madhya Pradesh, Maharashtra and Rajasthan receive water and electricity supplied from the dam.
10 Interesting and Unknown facts about Sardar Sarovar Dam
On 17 September, 2017, Prime Minister Narendra Modi inaugurated Sardar Sarovar Dam. India's first Deputy Prime Minister Sardar Vallabhbhai Patel was the brainchild behind the construction of Sardar Sarovar Dam across the river Narmada.
However, in the planning stage itself, the project ran into a dispute regarding distribution of waters among the states. The Narmada Water Dispute Tribunal was constituted in 1969 to overcome the hurdle. After studying the plans about a decade the court decided on a system of water distribution that would award Madhya Pradesh by 65%, Gujarat around 32 % and remaining to Maharashtra and Rajasthan.
Sardar Sarovar Dam is 1.2 kilometres long and the height of the dam was increased to 138.68 metres in 2017. It is the third highest concrete dam in India.
Around 800,000 hectares of land in Gujarat and approx 2,46,000 hectares of land in Rajasthan are irrigated by the water of dam. It is said that it provides drinking water to 131 towns and cities and around 9,633 villages in the four states.
The depth of Sardar Sarovar Dam is about 163 metres and two power generation units are installed in it. Together, they have about 1,450 MW capacities to generate power.
According to the terms of the project, Maharashtra is to get around 57 percent of the electricity produced; Madhya Pradesh will get around 27 percent and Gujarat around 16 percent.
The construction cost of the dam is double that is it is more than Rs. 16,000 crore. The weight of the each gate of the dam is approx 450 tonnes and takes almost an hour to close.
The level of water in the submergence area of the dam in Barwani and Dhar districts of Madhya Pradesh is rising steadily. According to the Narmada Bachao Andolan group, around 40,000 families in 192 villages in Madhya Pradesh would be dispatched when the reservoir is filled to its optimum capacity.
According to the World Bank, the project was started with very little assessment of resettlement and rehabilitation and environmental impact.
The benefits of the project is that unused water from Narmada river could be used for serving many dry towns, villages and districts of Gujarat. The project provides electricity to the unserved regions and also to the farmers. It also provides water for irrigation and for drinking purpose. It provides flood protection to an area of about 30,000 hectares. Wildlife sanctuaries will also be benefited.
So, these are the interesting and unknown facts about Sardar Sarovar Dam.
Top 10 Longest Rivers in India