Unique and Best Holi Captions 2023 in English for Facebook, Instagram, WhatsApp Status and Messages
Best Holi Captions: Check the list of the utmost creative and specially curated captions to share the fun and fervor of the Holi celebration with friends and families. Captions for One and All!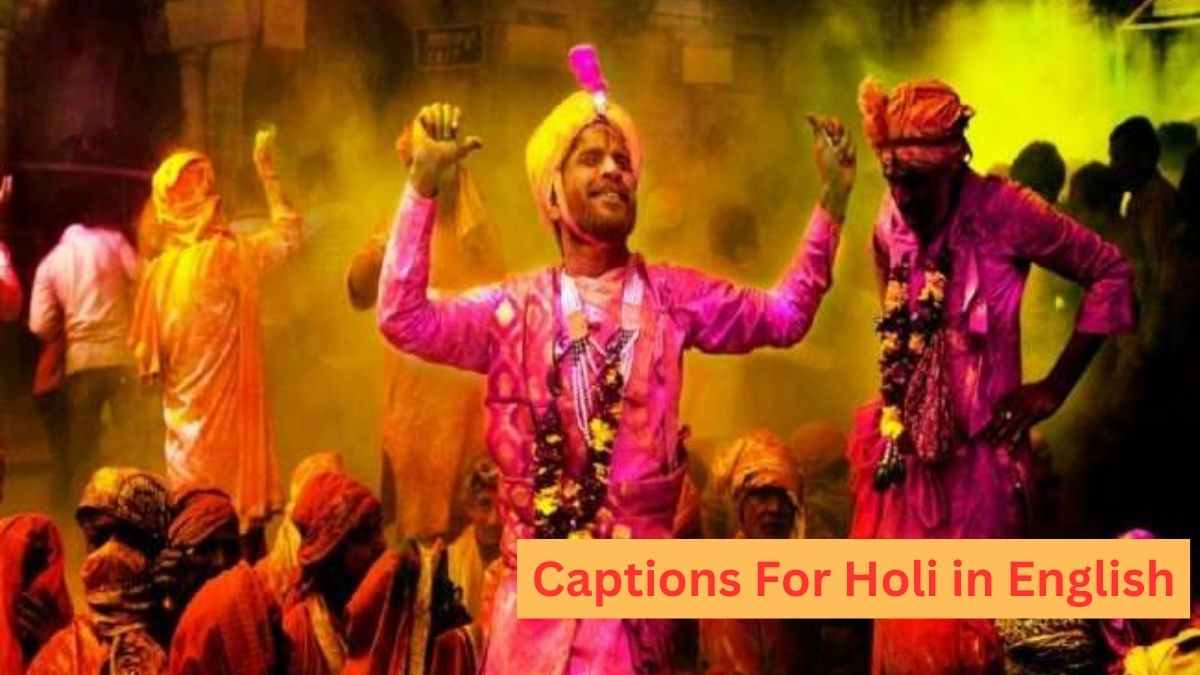 Get here Unique and Best Holi Caption in English
Holi Captions in English: This year, Holi, the festival of colour, will be held on March 8. It signifies the arrival of Indian summer, the end of winter, and the blossom of love. The celebration is also an invocation for a fruitful spring harvest. It starts on the evening of the Full Moon Day (Purnima), which falls in the Hindu calendar month of Phalguna and corresponds to the middle of March in the Gregorian calendar.
When is Rangwali Holi 2023? Check the Exact Date, Time, Shubh Muhrat & More

Make your Holi colorful with positive words, catering to your emotions and feelings, to celebrate joy, love, and friendship with specially curated captions listed below. But before that scroll through some tweets to witness the celebration of Holi in different parts of the country.
Catch a glimpse of the colourful celebrations of #IncredibleIndia at the India Pavilion at @ITB_Berlin 2023.

The Ministry of Tourism, Government of India is participating in ITB 2023 from 7-9 March 2023 pic.twitter.com/QW2eFEcapl

— Ministry of Tourism (@tourismgoi) March 5, 2023
मथुरा के वृंदावन में श्री बाँके बिहारी जी मंदिर में रंगभरनी एकादशी के अवसर पर फूलों की होली के मंत्रमुग्ध करने वाले कुछ दृश्य आप सब के लिए |
.
देखिए एक झलक इस वीडियो में।
.
. pic.twitter.com/act8301xDM

— Uttar Pradesh Braj Teerth Vikas Parishad (@BrajTeerth) March 4, 2023
With men dressed as #Kanha and women merrily beating them with sticks - #ChhadimaarHoli is profound joy in #Gokul.
Have a glimpse.#Rangotsav2023 #MathuraVrindavan #Holi #BrajKiHoli #festivalofcolors #UPTourism #UttarPradesh #UPNahiDekhaTohIndiaNahiDekha pic.twitter.com/NFmgPIUluw

— UP Tourism (@uptourismgov) March 5, 2023
English Captions For Social Media Posts
One Word English Captions for Holi
Coloured!

Blushing!

Funfilled!

Painted!

Hued!

Holified!

Sparkling!

Celebrating!
Two Words English Captions for Holi
Holi Hai!

Holi Ready!

Colorful Celebrations

Vibrant Revelries

Playful Splashes

Happy Hues

Colorful Delight

Human Rainbow

Festival High
Holi & Home!
Holi Fever
Three Words Captions For Holi
Splash of Colors

Fun and Frolic

Painted in Positivity

Festival of Joy

Hues of Happiness

Colorful Commotion

Holi, Home, Holiday!

High on Holi
Holi 2023: Why do we Celebrate Holi Festival? Know the Reason Behind it
Holi Captions For Instagram Post
Express your love with the colors of happiness

Be a free spirit to play with the colors of Holi!

Blushed my cheeks, Coloured my soul!

Colors are just an add-on to my stylish self.

Celebrating the festival of emotions and carefreeness!

Showering some colors into the dull life.

This Holi, spread colors, positivity, and love.

Let colors define your presence in this world.

Wash away your insecurities and fears with colourful waters.

Embossed the hues on love this Holi!

Holi Holiday with Homies!
Essay on Holi 2023 for Children and Students in English, Easy, and Simple with 10 Lines
Holi Captions For Facebook
I wish you a joyous, loving, and vibrant Holi celebration that is filled with laughter, love, and happiness.

Enjoy yourself greatly " I hope Holi's vibrant colours fill your life with love, happiness, and fortune.

Happy Holi! " May you feel joy and a smile on your face as we celebrate colour.

Happy Holi! "Let's all join together to celebrate Holi and create lifelong memories.

I wish you a very happy and prosperous Holi " May the Holi colours make your day happier and brighten your heart. Happy Holi!

May the spirit of Holi usher in a fresh start for you as well as for your life. I'm wishing you a joyful and vibrant Holi!

Put aside our differences and come together to celebrate this beautiful festival of colours. Happy Holi!

Please accept my warmest wishes for Holi. I send you good fortune, happiness, and the hues of love

You may experience love, joy, and laughter during the celebration of colours. Happy Holi!

Let's spread happiness, love, and peace to everyone to make this Holi a special occasion. Have a happy and joyful Holi!
Holika Dahan 2023: Date, Shubh Muhurat, Rituals, History, and Significance
Holi Captions For WhatsApp Status
Holi is the ideal time to make new friends, rekindle old ones, and connect with people you've been meaning to.

Let's reaffirm our commitment to one another this Holi by sharing all the shades of life. I hope each colour brings you more happiness. Happy Holi, everyone!

Allow these hues to fill your homes and lives with happiness and prosperity.

Let's burn away our egos in the fire and paint our hearts with compassion and love.

This Holi, allow your inner child to play. Take a deep breath, enjoy yourself, and get together with your childhood friends.

Let's unite and celebrate this festival of togetherness. Let's colour our differences and water our fading hopes.

An entire emotional roller coaster, including naivety, innocence, happiness, and carefreeness, was brought back by this festival of colours.

It's possible that you dislike Holi, the festival of colours. However, you represent a festival and a celebration of life to me.

The ideal day for fostering human connections is Holi. Make an effort to make new friends and rekindle old ones this Holi.

Do me the favour let's play holi!
You may be celebrating the festival of colour Holi with a different name like, 'Rangwali Holi', 'Dol Jatra', 'Dol Purnima', 'Dhuleti', 'Dhulandi', 'Ukuli', 'Manjal Kuli', 'Yaosang', 'Shigmo', 'Phagwah', or 'Jajiri" but the fun and fervour related is unanimous. And to add some extra colours by enhancing the above captions with your friends and families. As,Bura Na Maano Holi Hai!
Happy Holi 2023: Wishes, Quotes, Messages, SMS, WhatsApp and Facebook Status, Poems, and More
FAQ
What do you wish Holi to couple?
May your life turns like different shades of Holi Colours. Happy Holi!
What are some catchy lines for Holi?
'Bura Na Mano Holi Hai', 'Happy Holi', 'Play Safe and Stay Safe this Holi', and 'Enjoy Holi'.
How do you wish happy Holi in short?
Use two or three positive words and wishes along with salutations.