Best Mahatma Gandhi Quotes: Mahatma Gandhi, the Father of the Nation is a popular iconic figure. He was a lawyer, politician, social activist and writer who dedicated his whole life to the freedom struggle of India. He wrote zillions of books, speeches and articles to inspire the youth. On the occasion of Gandhi Jayanti, let's take some inspiration from his bold and simple words.

About Mahatma Gandhi
Mahatma Gandhi was born on 2 October 1869 in Porbandar, Gujarat. He was married to Kasturba when he was just 13 years old. Mohandas Karamchand Gandhi or Mahatma Gandhi was a renowned freedom activist and an authoritative or powerful political leader who played an essential role in India's struggle for Independence against British rule of India. He was also considered the father of the country.
In 1915, Gandhiji returned to India permanently and joined the Indian National Congress with Gopal Krishna Gokhale as his mentor. Gandhi's first major achievement was in 1918 when he led the Champaran and Kheda agitations of Bihar and Gujarat. He also led the Non-Cooperation Movement, Civil Disobedience Movement, Swaraj, and Quit-India movement against the British government.
Also Read - Happy Gandhi Jayanti 2023: Top 60 Wishes, Messages, WhatsApp & Facebook Status, Posters, Images, Slogans, Poems And Quotes
Inspirational and Motivational Quotes by Mahatma Gandhi
"The best way to find yourself is to lose yourself in the service of others."

"First they ignore you, then they laugh at you, then they fight you, then you win."

"Live as if you were to die tomorrow. Learn as if you were to live forever."

"The weak can never forgive. Forgiveness is the attribute of the strong."

"You must be the change you wish to see in the world."

"Anger and intolerance are the enemies of correct understanding."

Man should forget his anger before he goes to sleep."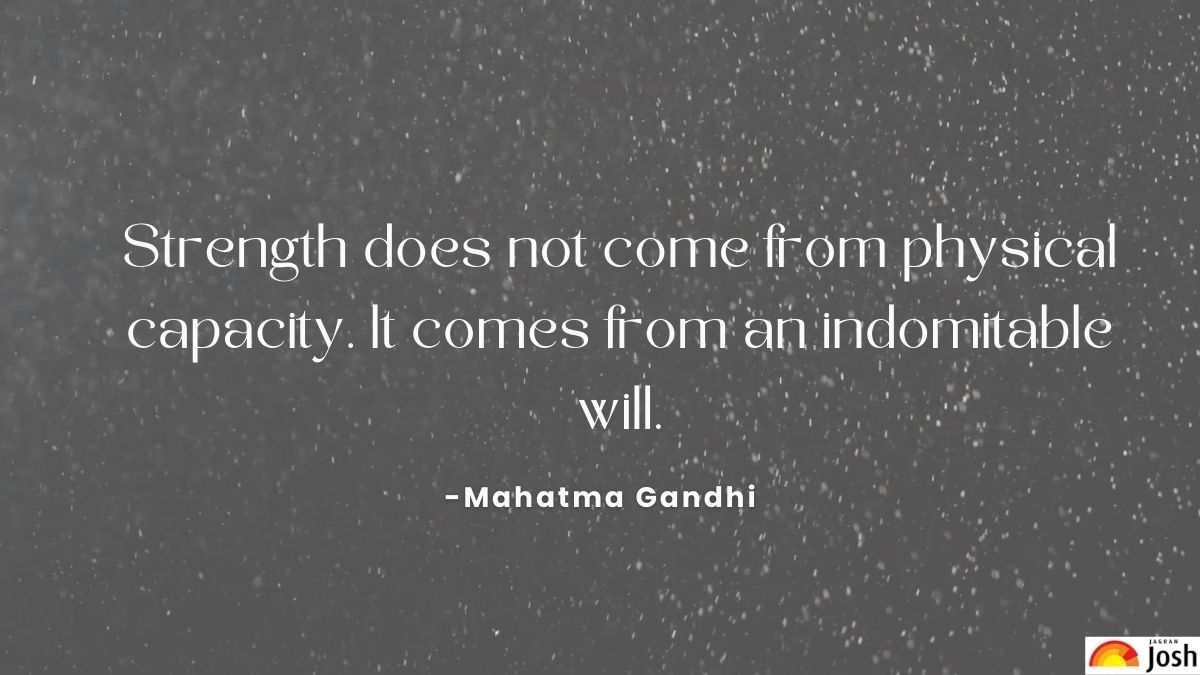 "A man is but the product of his thoughts and what he thinks he becomes."

"Prayer is not asking. It is a longing of the soul. It is a daily admission of one's weakness. It is better in prayer to have a heart without words than words without a heart."

"The essence of all religions is one. Only their approaches are different."

"It is health that is real wealth and not pieces of gold and silver."

"Strength does not come from physical capacity. It comes from an indomitable will."

"In a gentle way, you can shake the world."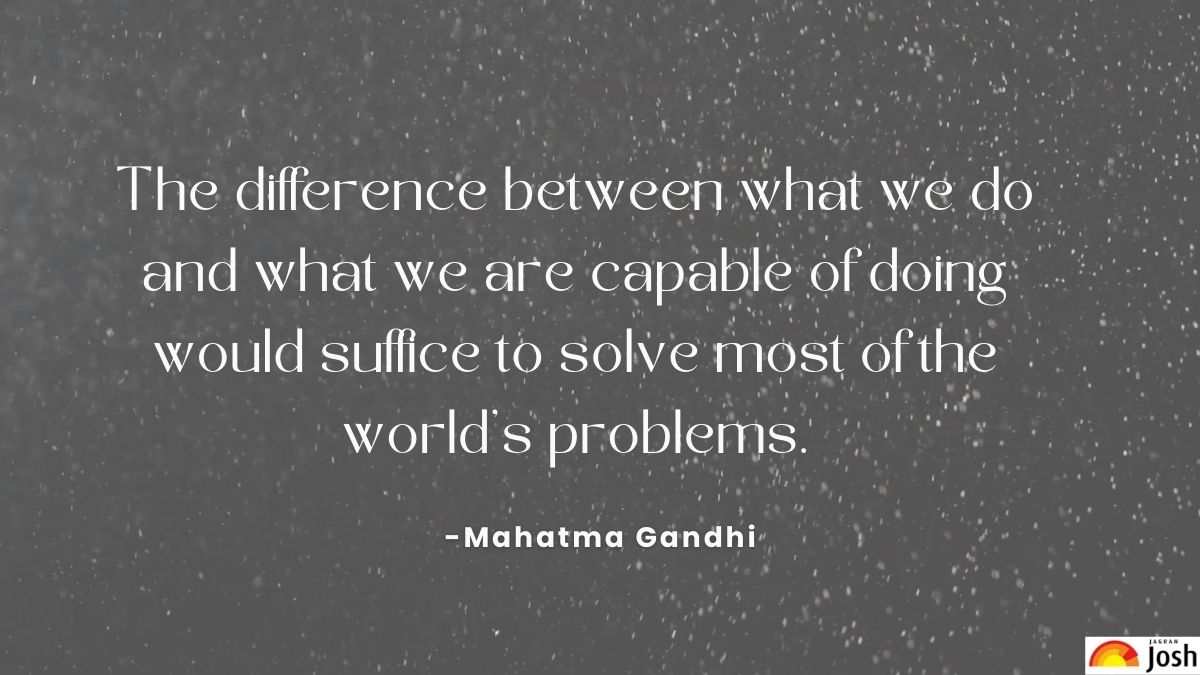 "No one can hurt me without my permission."

"Where there is love there is life."

"All compromise is based on give and take, but there can be no give and take on fundamentals, Any compromise on mere fundamentals is a surrender. For it is all give and no take."

"Self-respect knows no considerations."

"My religion is based on truth and non-violence. Truth is my God. Non-violence is the means of realising Him."

"The difference between what we do and what we are capable of doing would suffice to solve most of the world's problems."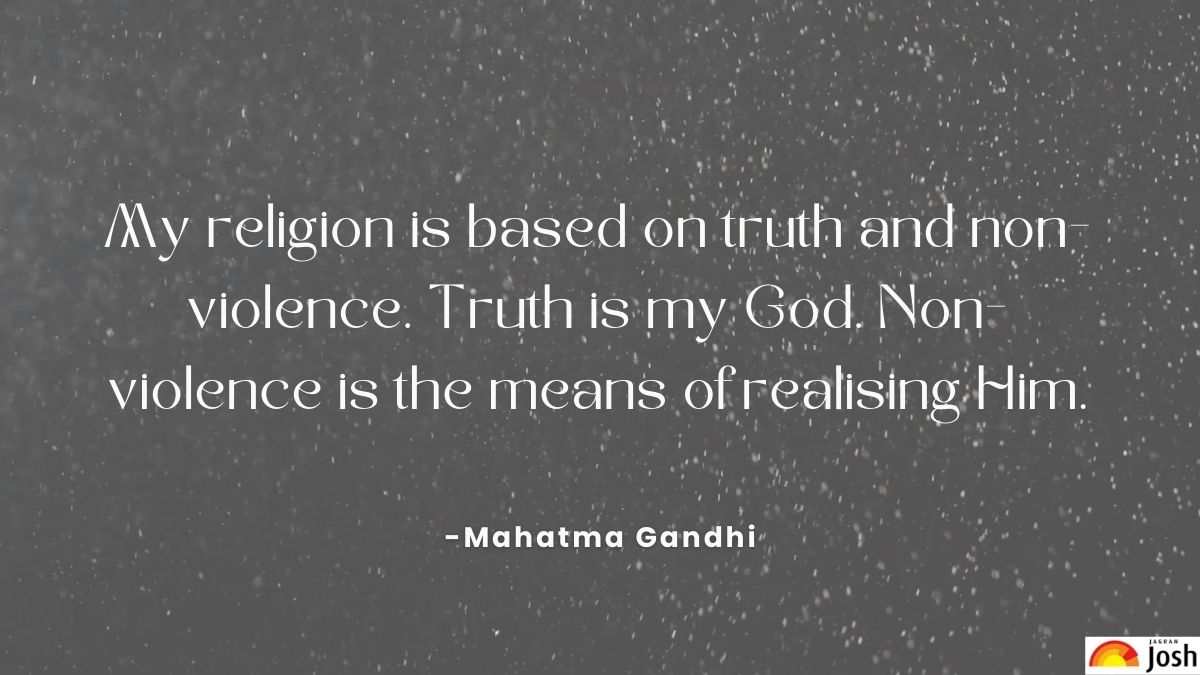 "Faith is not something to grasp, it is a state to grow into."

"An eye for an eye only ends up making the whole world blind."

"Gentleness, self-sacrifice, and generosity are the exclusive possession of no one race or religion."

Do not judge others. Be your own judge and you will be truly happy. If you try to judge others, you are likely to burn your fingers."
Gandhi Jayanti Quiz: GK Questions and Answers About Mahatma Gandhi
Famous Mahatma Gandhi Quotes Images

"The future depends on what we do in the present."

"It's easy to stand in the crowd but it takes courage to stand alone."

"Our greatest ability as humans is not to change the world, but to change ourselves."

"Service without humility is selfishness and egotism."

"It does not require money to live neat, clean, and dignified."

To lose patience is to lose the battle."




"Speak only if it improves upon the silence."

"Carefully watch your thoughts, for they become your words. Manage and watch your words, for they will become your actions. Consider and judge your actions, for they have become your habits. Acknowledge and watch your habits, for they shall become your values. Understand and embrace your values, for they become your destiny."

"Strength does not come from winning. When you go through hardships and decide not to surrender, that is strength."

"Seek not greater wealth, but simpler pleasure; not higher fortune, but deeper felicity."

"Be the change you are trying to create."

"Our greatest ability as humans is not to change the world, but to change ourselves."

"There are two days in the year that we can not do anything, yesterday and tomorrow."

"Happiness is when what you think, what you say, and what you do are in harmony."

"There is nothing that wastes the body like worry, and one who has any faith in God should be ashamed to worry about anything whatsoever."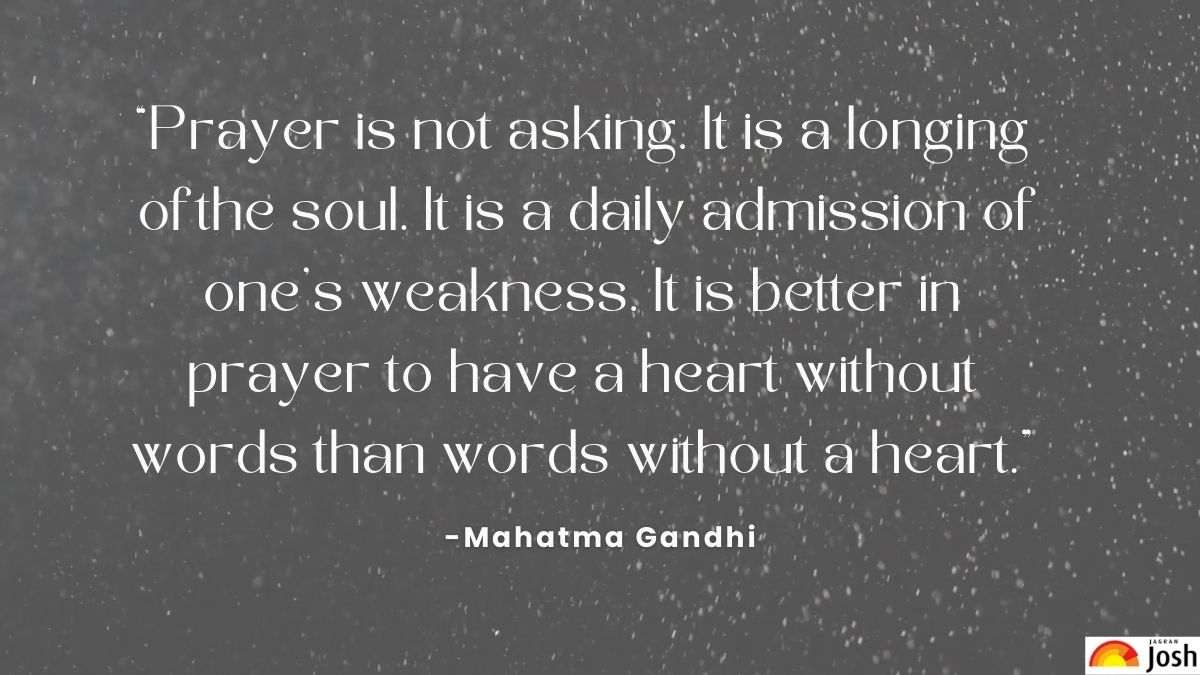 "Those who know how to think need no teachers."

"A coward is incapable of exhibiting love; it is the prerogative of the brave."

"The best way to find yourself is to lose yourself in the service of others."

Honest disagreement is often a good sign of progress."

"Each night, when I go to sleep, I die. And the next morning, when I wake up, I am reborn."

"Look at the sparrows; they do not know what they will do in the next moment. Let us literally live from moment to moment."

"Man should forget his anger before he goes to sleep."

"Man often becomes what he believes himself to be. If I keep on saying to myself that I cannot do a certain thing, it is possible that I may end up really becoming incapable of doing it. On the contrary, if I have the belief that I can do it, I shall surely acquire the capacity to do it even if I may not have it at the beginning."

"A 'No' uttered from deepest conviction is better and greater than a 'Yes' merely uttered to please, or what is worse, to avoid trouble."
List of Mahatma Gandhi Memorials
Conclusion
Every year, the birth anniversary of Mahatma Gandhi on October 2 is observed as Gandhi Jayanti. The day celebrates the legacy of Mahatma Gandhi, his ideology of truth and non-violence. Time magazine named Gandhi the Man of the Year in 1930. Gandhi did not receive the Nobel Peace Prize, although he was nominated five times between 1937 and 1948, including the first-ever nomination by the American Friends Service Committee, though he made the shortlist only twice, in 1937 and 1947.