Monetary Allowance for the Gallantry Award Winners of India
The highest gallantry award of India on the battlefield is 'Paramvir Chakra'. At present, a Paramvir Chakra winner or his kin gets a monthly compensation of Rs. 20,000 a month. Read this article, to know more about monthly compensation for Gallantry awards.
Gallantry Awards India
The conclusion of British Rule in India saw the end of the old institution of British awards and honours. British awards were basically made to please the anti-India elements. So after Independence India changed this practice and introduced first three gallantry awards on 26th January, 1950 which were deemed to have effect from the 15th August, 1947. These Gallantry Awards are announced twice in a year; once on the occasion of the Republic Day and the second on the occasion of the Independence Day.
First three Gallantry Awards were;
1. The Param Vir Chakra,
2. The Mahavir Chakra and the
3. The Vir Chakra
The government of India introduced three other gallantry awards i.e. the Ashoka Chakra Class-I, the Ashoka Chakra Class-II and the Ashoka Chakra Class-III on 4th January, 1952, which were renamed as the Ashoka Chakra, the Kirti Chakra and the Shaurya Chakra respectively in January, 1967.
Some of these awards are given posthumously also that is why government provides financial assistance to the kin of the diseased person.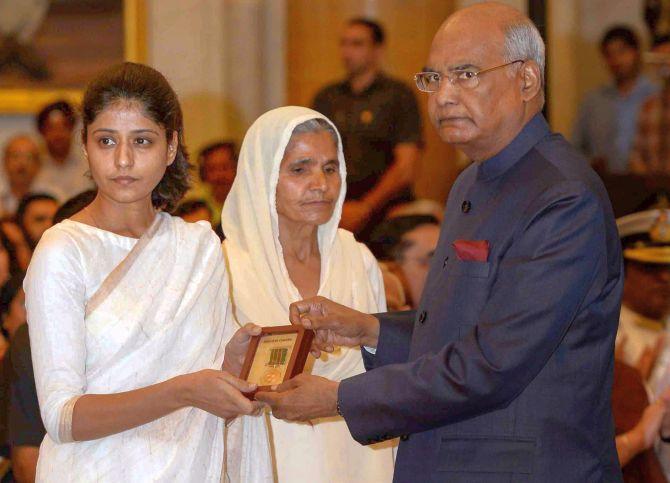 At present; the new rate of Monetary Allowance is as follows; (effective from August 1, 2017);
Gallantry Awards

The previous rate of Monetary Allowance

(Rupees per month)

Revised rate of Monetary Allowance

(Rupees per month)

ParamVir Chakra (PVC)

10,000

20,000

Ashoka Chakra (AC)

6,000

12,000

MahaVir Chakra (MVC)

5,000

10,000

Kirti Chakra (KC)

4,500

9,000

Vir Chakra (VrC)

3,500

7,000

Shaurya Chakra (SC)

3,000

6,000

Sena / Nao Sena / Vayu Sena Medal (Gallantry).

1,000

2,000
Source: PIB
In addition to the monetary assistance from the central government the winners of Gallantry awards also get one-time cash awards or plots from their state governments but they vary state to state. Reward ranges from Rs. 2 crore (PVC) and Rs. 1 crore (AC) in Punjab and Haryana for PVCs and Himachal Pradesh, Kerala, Tamil Nadu, Mizoram and Bihar give between Rs. 8 lakh to Rs. 50 lakh for ACs and PVCs while in Gujarat it is meagre Rs. 22,500 (PVC) and Rs. 20,000 (AC).
It is being observed that the prize money announced for the kin of the diseased martyr does not get sanction easily and the kin have to roam around offices to get the promised amount or benefit. So it is the need of the hour that government should make strict guidelines in this regards for prompt delivery of the promises.
Mahavir Chakra: India's Second Highest Gallantry Award
Padma Awards (The Award of Excellence): 15 Facts at a Glance