Today In History, 12 January: What Happened On This Day
What happened today in history (12 January): The birthday of Swami Vivekananda, Jeff Bezos and Zayn Malik, the deaths Agatha Christie and Amrish Puri, launch of Deep Impact space probe, premiere of Batman series, and more.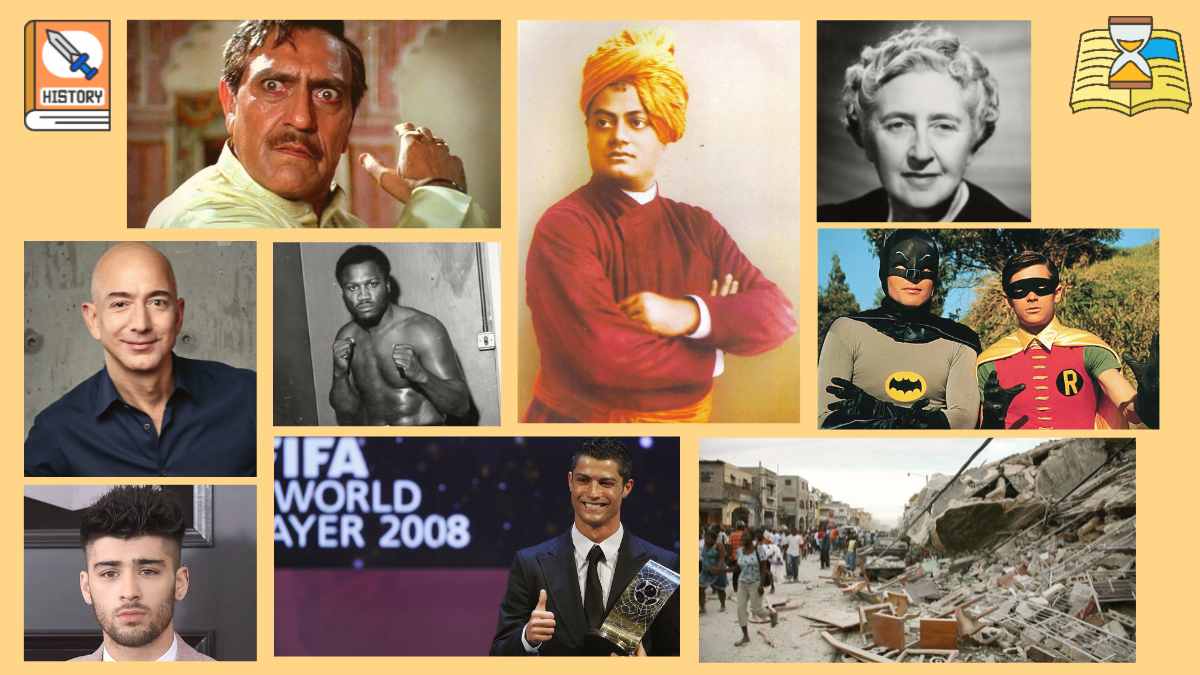 This day in history (12 Jan): Birth of Swami Vivekananda and Jeff Bezos
Today in History, 12 January: 2023 is off to a shivering start. As most of the world battles the bitter cold, let's not slow down our learning process. On that note, take a look at the historical significance of the first month of the year.
Today is 12 January. It may not mean much to you now, but by the end of this article, you will have learned that January 12 holds an important place in history.
From the birth of one of the world's most revered spiritual teachers and the former richest man in the world to the demise of the greatest female author ever and a veteran Indian actor to one of the most devastating earthquakes of the century, many pivotal events occurred on 12 January.
Read on to find out what happened on this day (Jan. 12) in sports, politics and art, along with famous birthdays and deaths in world history.
Historical Events On This Day
In 1932, Hattie Ophelia Caraway became the first woman to be elected to the U.S. Senate.
In 1962, the first US combat mission in Vietnam, Operation Chopper, began.
In 1972, Abu Sayeed Chowdhury became the President and Sheikh Mujibur Rahman the Prime Minister of the Republic of Bangladesh.
In 1991, the US Congress voted to authorise President George H.W. Bush to wage war against Iraq to free Kuwait.
In 2005, the U.S. space probe Deep Impact was launched by NASA to study the interior of the comet Tempel 1.
In 2006, 362 Hajj pilgrims were killed in a stampede in Mina, Saudi Arabia, during the Stoning the Devil Ritual.
In 2010, a devastating earthquake (magnitude: 7.0) struck Haiti, killing nearly 160,000 people.
In 2017, US Vice President Joe Biden was awarded the Presidential Medal of Freedom by President Barack Obama.
In 2021, the Supreme Court of India stayed three controversial farm laws brought by the ruling BJP government.
Sports Events Today
In 1967, the Louisville, Kentucky, army draft board refused an exemption for popular boxer Muhammad Ali to serve in the Vietnam War.
In 1995, the murder trial against American football star O.J. Simpson for killing his wife and her alleged lover began in LA.
In 2009, Portugal forward Cristiano Ronaldo was awarded the 2008 FIFA World Player of the Year for the first time.
Art and Culture Events Today
In 1966, the campy live-action TV series Batman, starring Adam West and Burt Ward, premiered on ABC and went on to be a smash hit.
In 1971, the revolutionary television series All in the Family, known for its thoughtful yet humorous depiction of sensitive issues, premiered on CBS.
In 1995, the iconic English rock band Led Zeppelin was inducted into the 10th Rock and Roll Hall of Fame.
Important Days
National Youth Day (India): 12 January, the birth anniversary of Swami Vivekananda is celebrated as the Nation Youth Day in India due to inspire the young generation with the ideals of Swami Vivekananda.
Notable Deaths On This Day
| | | |
| --- | --- | --- |
| Sr No | Death Year | Personality |
| 1 | 1665 | Pierre de Fermat, French mathematician who is known for his work in number theory and laying the foundation of calculus |
| 2 | 1909 | Hermann Minkowski, German mathematician who founded the geometry of numbers and contributed to Einstein's theory of relativity |
| 3 | 1910 | Bass Reeves, American lawman who became the first Black deputy U.S. marshal west of the Mississippi River, and was known for his upright morals and exceptional detective skills |
| 4 | 1976 | Agatha Christie, English author who wrote the best selling detective novels like Murder on the Orient Express and Death on the Nile and created iconic detective characters Hercule Poirot and Miss Marple |
| 5 | 2001 | William Hewlett, American engineer and businessman who co-founded the computer and technology company Hewlett-Packard company. |
| 6 | 2005 | Amrish Puri, veteran Indian actor who starred in nearly 500 films and is best known for his roles in Indiana Jones and the Temple of Doom, Mr. India, and Dilwale Dulhania Le Jayenge |
Famous Birthdays On This Day
| | | |
| --- | --- | --- |
| Sr No | Birth Year | Personality |
| 1 | 1628 | Charles Perrault, French author who kickstarted the fairytale genre of writing through his version of the classic folk tales, Cinderella, Little Red Riding Hood, Puss in Boots and Sleeping Beauty |
| 2 | 1863 | Swami Vivekananda, Indian Hindu monk, philosopher and spiritual leader who spread Hinduism in various parts of the world and called for global peace |
| 3 | 1876 | Jack London, American novelist and short story writer known for the the books The Call of the Wild and White Fang |
| 4 | 1893 | Hermann Goring, German politician and military leader who was one of the most powerful figures in the Nazi Party |
| 5 | 1910 | Luise Rainer, German-American-British actress who was the first person to win two Academy Awards back-to-back |
| 6 | 1944 | Joe Frazier, American boxer and former world heavyweight champion who ended Muhammad Ali's win streak |
| 7 | 1957 | John Lasseter, American animator and filmmaker who developed the Pixar Animation Studios and directed the films Toy Story and Cars |
| 8 | 1964 | Jeff Bezos, American entrepreneur who founded the e-commerce giant Amazon in 1994 and served as its CEO till 2021 |
| 9 | 1970 | Zack de la Rocha, American singer and the frontman of the hard rock band Rage Against the Machine |
| 10 | 1993 | Zayn Malik, English pop singer and former member of the boy band One Direction |
Related | Today in History (11 January)
Related | Today in History (10 January)
FAQ
What major cinema events took place on 12 January?
The live-action Batman television series, starring Adam West as Batman and Burt Ward as Robin, premiered on ABC on this day, 12th January.
What happened today in history (12 January)?
A devastating earthquake struck Haiti on this day in 2010 and the Indian Supreme Court stayed the implementation of the three controversial farm laws in 2021.
Which famous personality was born on this day, 12 January?
Indian spiritual leader Swami Vivekananda, English pop singer Zayn Malik and Amazon founder Jeff Bezos were born today (Jan 12).