Today In History, 16 January: What Happened On This Day
What happened today in history (16 January): The birth of Guru Har Rai, Kate Moss and Sidharth Malhotra, the demise of Christopher Tolkien and Lakshmikant Jha, Persian Gulf War began, Ivan the Terrible crowned Tsar of Russia, League of Nations' first meeting, battle of Narela, India's first COVID-19 vaccination, and more.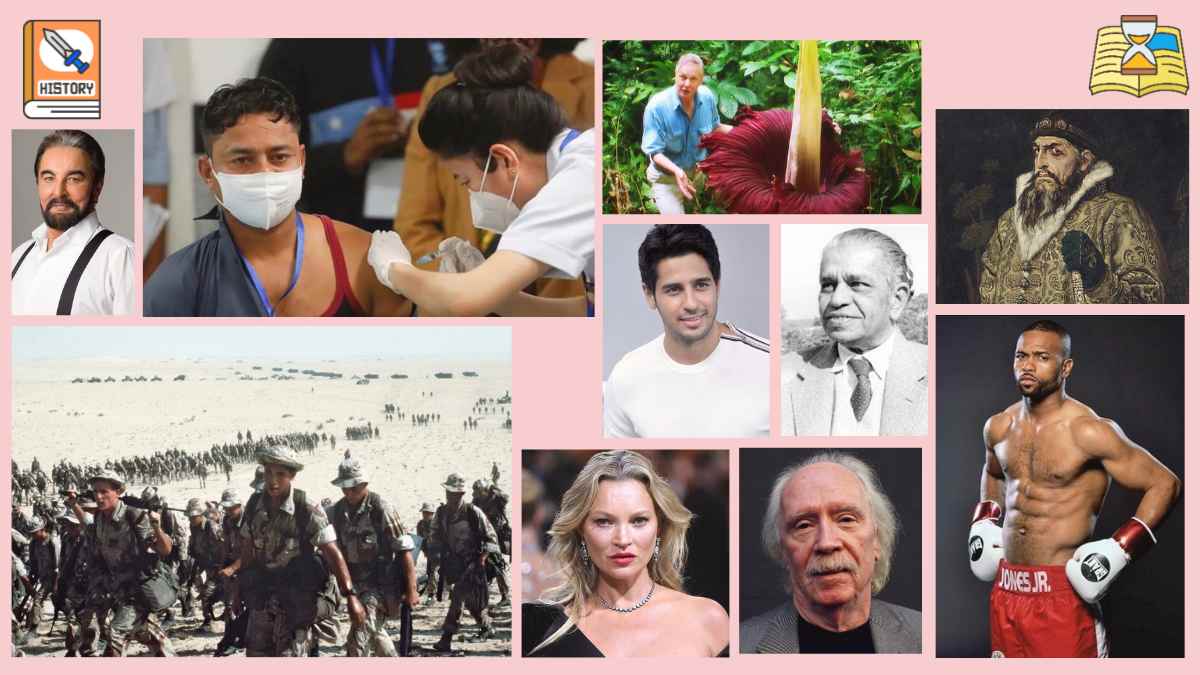 This day in history (16 Jan): India Administered the first COVID-19 Vaccine
Today in History, 16 January: We're past the midway point of the first month of 2023. Today is 16 January. Days are flying by like leaves in a storm. But self-development and learning should never stop.
On that note, take a look at the historical significance of 16th January. It feels just like another ordinary day, but January 16th holds a key place in world history.
Many crucial events transpired on this day (Jan. 16) in sports, politics and art, along with famous birthdays and deaths in world history.
Related: Today in History, (14 January)
Historical Events On This Day
In 27 BC, the Roman Senate proclaimed the title of Augustus to Gaius Julius Caesar Octavian, beginning the start of the Roman Empire.
In 1547, Ivan the Terrible was crowned "Tsar and grand prince of all Russia."
In 1761, the British East India Company captured the city of Pondicherry from the French.
In 1757, the Maratha Empire forces defeated the invading army of the Durrani Empire in the Battle of Narela.
In 1793, Louis XVI was sentenced to death by the National Convention during the French Revolution.
In 1920, the League of Nations held its first meeting in Paris, France.
In 1945, German Nazi dictator Adolf Hitler retreated to his underground bunker after his defeat in World War II.
In 2003, the final flight of the Space Shuttle Columbia aboard the STS-107 commenced, carrying Kalpana Chawla and six other crew members.
In 2006, Ellen Johnson Sirleaf was sworn in as president of Liberia and became the first elected leader of an African country.
In 2021, India kicked off the COVID-19 vaccination program, with sanitation worker Manish Kumar receiving the first shot.
Sports Events Today
In 2019, Golden State guard Stephen Curry became the first player in NBA history to hit 8+ three-point FGs in 3 consecutive games; goes 9-of- 17 threes in the Warriors' 147-140 win over New Orleans.
In 2022, World No. 1 ranked tennis player Novak Đoković was deported by the Australian government due to his unvaccinated status against the COVID-19 virus.
Art and Culture Events Today
In 1605, the first edition of "El ingenioso hidalgo Don Quijote de la Mancha" (Book One of Don Quixote) by Miguel de Cervantes was published in Madrid, Spain.
In 1973, the popular American western series Bonanza concluded on NBC after 14 seasons.
In 1979, BBC's iconic nature series "Life on Earth," presented by David Attenborough, was first shown on BBC One.
Notable Deaths On This Day
| | | |
| --- | --- | --- |
| Sr No | Death Year | Personality |
| 1 | 1901 | Hiram R. Revels, American clergyman and politician who was the first African-American in congress |
| 2 | 1936 | Albert Fish, American serial killer, rapist, and cannibal who killed and ate several children in the 20th Century USA |
| 3 | 1938 | Sarat Chandra Chattopadhyay, Indian Bengali novelist and short story writer best known for writing Devdas |
| 4 | 1957 | Arturo Toscanini, Italian music conductor |
| 5 | 1988 | Lakshmikant Jha, Indian diplomat, eight Governor of the Reserve Bank of India and governor of Jammu and Kashmir from 1973 to 1981 |
| 6 | 2017 | Eugene Cernan, American astronaut and the last person to walk on the Moon (1972) |
| 7 | 2020 | Christopher Tolkien, author, editor and illustrator who was the son of J.R.R Tolkien, writer of the Lord of the Rings, and completed many of his father's unfinished works |
| 8 | 2021 | Phil Spector, American record producer and convicted murderer, known for his collaborations with famous rock bands like The Beatles, Tina Turner, John Lennon and Leonard Cohen |
Famous Birthdays On This Day
| | | |
| --- | --- | --- |
| Sr No | Birth Year | Personality |
| 1 | 1630 | Guru Har Rai, seventh of the ten Sikh Gurus |
| 2 | 1853 | Andre Michelin, French businessman and co-founder of the Michelin Tyre Company |
| 3 | 1931 | Subhash Mukherjee, Indian scientist and physician known for creating the world's second and India's first child using in-vitro fertilisation, aka, test tube baby |
| 4 | 1932 | Dian Fossey, American primatologist and conservationist known for efforts to study mountain gorilla groups in Rwanda |
| 5 | 1946 | Kabir Bedi, Indian actor and a descendant of Guru Nanak Dev ji, best known for his roles in films Octopussy and Khoon Bhari Maang |
| 6 | 1948 | John Carpenter, American filmmaker, actor and composer who made several iconic films in the late 20th century, like The Thing, Halloween, and Escape from New York |
| 7 | 1959 | Sade, Nigerian-British singer who is one of the most successful female and British artists in history and headlined the band Sade |
| 8 | 1969 | Roy Jones, Jr., American professional boxer and former world champion in four weight classes including heavyweight. Jones was known for his impeccable technique and speed. |
| 9 | 1974 | Kate Moss, English model and fashion designer who popularised the size zero trend and is one of the richest and most recognized models of all time |
| 10 | 1979 | Aaliyah, American singer, actress and model known for her R&B and pop music, especially her debut album "Age Ain't Nothing but a Number" |
| 11 | 1980 | Lin-Manuel Miranda, American actor, filmmaker, composer, lyricist, singer and playwright who is best known for his groundbreaking Broadway musicals like Hamilton and In the Heights |
| 12 | 1985 | Sidharth Malhotra, Indian actor known for films Shershaah and Student of the Year |
Related | Today in History (15 January)
Related | Today in History (14 January)
FAQ
What happened today in history (16 January)?
The Persian Gulf War began on this day in 1991 with a US-led coalition commencing Operation Desert Storm to free Kuwait from Iraqi occupation.
Which famous personality was born on this day, 16 January?
Bollywood actor Sidharth Malhotra and English supermodel Kate Moss were born today (16 Jan).
What major events in India happened on 16 January?
India kicked off the campaign to vaccinate its 1.3 billion population against COVID-19 virus, with sanitation worker Manish Kumar becoming the first person to receive the dose.