Today In History, 31 January: What Happened On This Day
What happened today in history (31 January): Franz Schubert, Justin Timberlake and Preity Zinta born, Guy Fawkes and Suraiya died, Family Guy debuted on NBC, first daytime soap opera aired, UK formally left the EU, first US satellite launched, and more.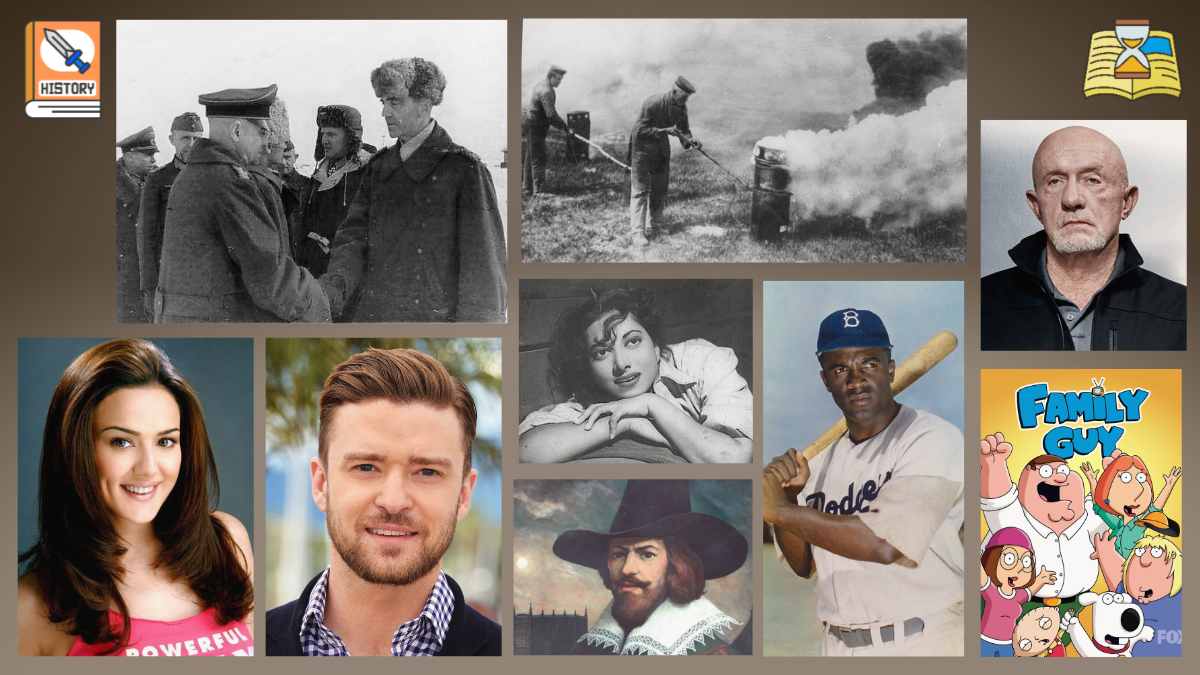 German Field Marshal Friedrich Paulus surrendered at Stalingrad
Today in History, 31 January: The last day of the first month of the year 2023 is here. Time has passed by like a gust of wind. But let's not fall behind in gaining knowledge.
Today is 31 January, an important day in world history. Many pivotal events occurred on this day on 31st January.
Check what major world-altering things transpired on this day (Jan. 31) in sports, politics and art, along with famous birthdays and deaths in history.
Historical Events On This Day
In 1504, the Italian war ended with the Treaty of Lyon after King Louis XII of France conceded Naples to Ferdinand II of Aragorn.
In 1915, the first major poison gas attack in history took place when Germany attacked Russia during the Battle of Bolimow.
In 1943, German Field Marshal Friedrich Paulus surrendered to the Soviet Red Army at Stalingrad, marking a turning point in World War II.
In 1958, the United States entered the Space Race with the launch of its first artificial satellite, Explorer 1.
In 1966, the Soviet Union launched Luna 9, the first spacecraft to make a soft landing on the Moon.
In 2019, the Quarternary Science Reviews published a report saying the Colonization of the Americas in the 1500s killed so many people it cooled the planet and brought a "little ice age."
In 2020, the United Kingdom officially departed the European Union, three years after the "Brexit" referendum.
Sports Events Today
In 1941, famed American boxer Joe Louis made his 13th title defence by knocking out Red Burman at the MSG to retain the NYSAC heavyweight boxing title.
In 1988, Doug Williams became the first African-American quarterback to play in a Super Bowl and led the Washington Redskins to victory in Super Bowl XXII.
In 2016, Serbian tennis star Novak Djokovic beat England's Andy Murray to retain the Australian Open championship for the 6th time.
Art and Culture Events Today
In 1949, the first television daytime soap opera, "These Are My Children," debuted on NBC.
In 1961, the final movie of iconic pair Clark Gable and Marlyn Monroe, The Misfits, premiered.
In 1999, Seth McFarlane's long-running animated sitcom Family Guy debuted on FOX.
Notable Deaths On This Day
| | | |
| --- | --- | --- |
| Sr No | Death Year | Personality |
| 1 | 1606 | Guy Fawkes, British soldier who was part of the Gunpowder Plot to assassinate King James I |
| 2 | 1956 | A.A Milne, English writer who created the beloved children's character Winnie-the-Pooh |
| 3 | 1994 | Pierre Boulle, French novelist who penned the popular sci-fi novel Planet of the Apes |
| 4 | 2004 | Suraiya, Indian actress and playback singer rose to prominence during the black-and-white film era and starred in films like Mirza Ghalib, Anmol Ghadi and Dillagi |
Famous Birthdays On This Day
| | | |
| --- | --- | --- |
| Sr No | Birth Year | Personality |
| 1 | 1543 | Tokugawa leyasu, founder and first shogun of the Tokugawa Shogunate of Japan who unified the country and brought peace and prosperity |
| 2 | 1797 | Franz Peter Schubert, Austrian composer of the late Classical and early Romantic eras who is best known for the iconic song "Ave Maria" |
| 3 | 1865 | Henry Desgrange, French cyclist, journalist and founder of the Tour de France championship |
| 4 | 1919 | Jackie Robinson, renowned American baseball player who became the first black man to play Major League Baseball |
| 5 | 1923 | Major Somnath Sharma, Indian army officer who was the first recipient of the Param Vir Chakra, India's highest gallantry award for displaying great bravery during the first Indo-Pak war of 1947 |
| 6 | 1937 | Philip Glass, one of the most influential music composers of the 20th century |
| 7 | 1947 | Jonathan Banks, veteran American actor best known for playing the rugged cop turned enforcer Mike Ehrmantraut in AMC's Breaking Bad |
| 8 | 1975 | Preity Zinta, Bollywood actress and entrepreneur who starred in several blockbusters in the early 2000s like "Kal Ho Naa Ho", "Veer-Zaara" and "Koi… Mil Gaya" |
| 9 | 1981 | Justin Timberlake, American singer and actor who is one of the top selling artist in the world and is known for his acting roles in films like Friends with Benefits and The Social Network |
Related | Today in History (29 January)
Related | Today in History (28 January)