Today In History, 7 February: What Happened On This Day
What happened today in history (7 February): Charles Dickens, Manmath Nath Gupta and Ashton Kutcher were born, Josef Mengele and Pope Pius IX died, Beatlemania began in the US, Grenada gained independence, Great Seige of Gibraltar was lifted, and more.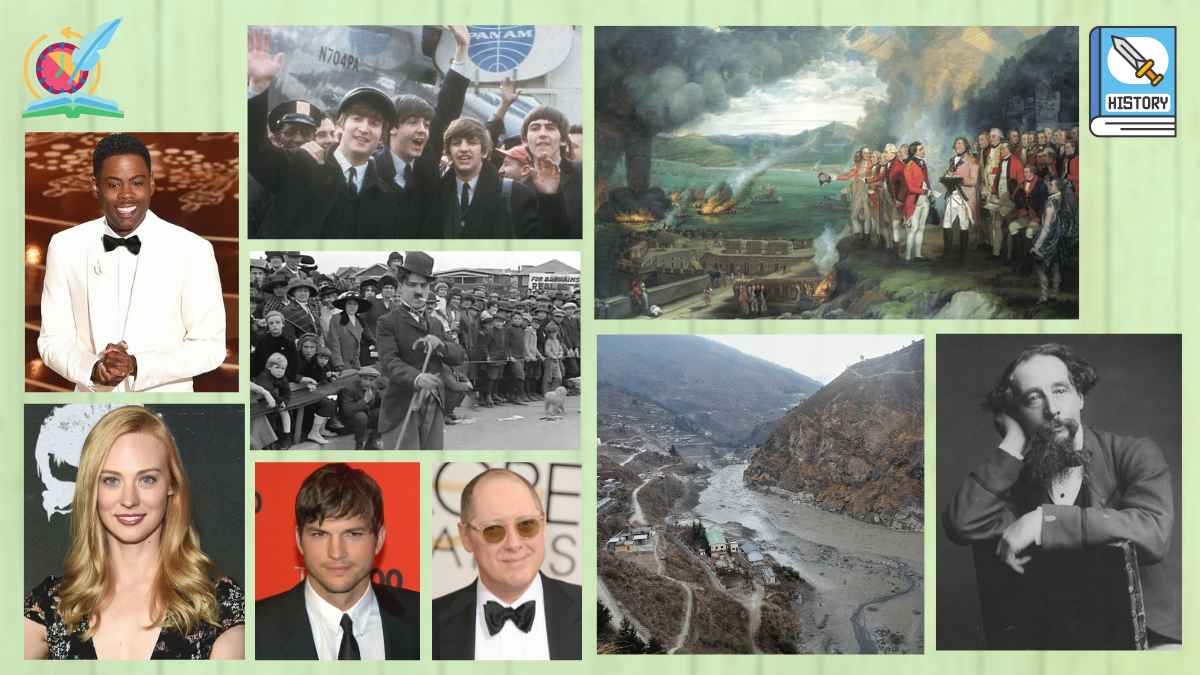 This day in history (7 Feb): Celebrated English Author Charles Dickens Was Born
Today in History, 7 February: It's the end of the first week of February 2023. The new year is going by fast, which calls for even more effort to be put into learning. Expand your general knowledge with the historical significance of the second month of the year.
Today is 7 February, a seemingly ordinary day in February. However, 7th February holds a key place in world history.
Check out what world-altering events occurred on this day (Feb. 7) in sports, politics and art, along with famous birthdays and deaths in history.
Related | Today in History (6 February)
Historical Events On This Day
In 1783, the Great Siege of Gibraltar was lifted by France and Spain after three years and seven months of unsuccessfully fighting the British during the American Revolution.
In 1974, Grenada gained independence from Britain after three centuries of colonial rule.
In 1984, American astronaut Bruce McCandless made the first untethered space walk.
In 1999, Abdullah II became king of Jordan after the death of his father, Hussein. He is known for bringing economic reforms and stabilising Jordan against terrorism, poverty and revolts in the neighbouring countries.
In 2018, the DNA analysis of Chedder Man, the UK's oldest complete skeleton, revealed that he had dark skin and blue eyes.
In 2018, it was revealed that all citrus fruits originated in the southern foothills of the Himalayas millions of years ago.
In 2021, the Indian state of Uttarakhand was struck by devastating floods after a Himalayan glacier crashed into the Dhauliganga river.
Sports Events Today
In 1989, Swedish tennis legend Bjorn Borg, known for never showing emotion while playing, reportedly attempted suicide. Borg later dismissed reports as false, blaming his hospitalization on food poisoning.
In 2021, The Weeknd became the first Canadian solo artist to headline the Super Bowl halftime show.
Art and Culture Events Today
In 1914, English actor, comedian and filmmaker Charlie Chaplin debuted his iconic character "The Tramp" in the film Kid Auto Races at Venice.
In 1940, Walt Disney's second animated feature film, Pinocchio, premiered in New York City.
In 1964, the Beatles landed at New York's JFK airport to begin their first US tour, giving birth to the Beatlemania.
Notable Deaths On This Day
| | | |
| --- | --- | --- |
| Sr No | Death Year | Personality |
| 1 | 1878 | Pope Pius IX, longest serving head of the Catholic Church from 1846 to 1878 who is famous for losing control of the Papal States to the Kingdom of Italy |
| 2 | 1894 | Adolphe Sax, Belgian inventor and musician known for inventing the Saxophone |
| 3 | 1979 | Josef Mengele, German SS officer and physician who became known as the Angel of Death during World War II for performing deadly experiments on prisoners at the Auschwitz II concentration camp |
| 4 | 2001 | Dieter Dengler, American pilot who became the second captured US airman to escape during Vietnam War after six months of imprisonment and torture |
| 5 | 2020 | Li Wenliang, Chinese ophthalmologist who warned his colleagues about early COVID-19 infection in Wuhan |
Famous Birthdays On This Day
| | | |
| --- | --- | --- |
| Sr No | Birth Year | Personality |
| 1 | 1812 | Charles Dickens, English author considered the greatest novelist of the Victorian era and best known for his classic novels A Christmas Carol, Oliver Twist and Great Expectations |
| 2 | 1870 | Alfred Adler, Austrian doctor and psychotherapist who founded the school of individual psychology, emphasizing the importance of feelings of belonging, family, community and birth order |
| 3 | 1877 | G.H Hardy, English mathematician known for his contributions in the fields of number theory and mathematical analysis. He also gave the Hardy-Weinberg principle in population genetics. |
| 4 | 1906 | Puyi, eleventh and final Qing dynasty monarch who served as the last emperor of China |
| 5 | 1908 | Manmath Nath Gupta, Indian Marxist revolutionary writer who was imprisoned multiple times during the British Raj and also participated in the Kakori train robbery of 1925 |
| 6 | 1919 | Desmond Doss, US Army corporal and combat medic who became famous as the only conscientious objector to win the Medal of Honor for saving 75 men in the Battle of Okinawa during World War II without ever firing a weapon |
| 7 | 1960 | James Spader, American actor known for his distinctive voice and playing villains or eccentric characters in films and TV shows like The Blacklist, Sex, lies and Videotape, and Crash |
| 8 | 1965 | Chris Rock, American actor and one of the greatest stand-up comedians of the century |
| 9 | 1978 | Ashton Kutcher, American actor, producer and entrepreneur known for starring in That '70s Show, Two and a Half Men, and Jobs |
| 10 | 1985 | Deborah Ann Woll, American actress and model who starred in the popular television show True Blood and Netflix's Daredevil |
Related | Today in History (4 February)
Related | Today in History (5 February)
FAQ
What happened today in history (7 February)?
The Great Siege of Gibraltar was lifted after 3 years and 7 months. Spain and France failed to capture Gibraltar and suffered numerous losses against the British during the American Revolutionary War.
Which famous personality was born on this day, 7 February?
American actor and businessman Ashton Kutcher, actress Deborah Ann Woll, known for starring in Netflix's Daredevil, and the popular stand-up comedian Chris Rock were born today (7 Feb).
What major pop culture events took place on 7 February?
Charlie Chaplin's iconic character of The Tramp debuted and The Beatles landed in America on this day 7th February.