[Latest] Virat Kohli Net Worth 2023: Salary, Net Worth in Rupees (INR), Income
Updated Virat Kohli Net Worth: Virat Kohli is an Indian cricketer and one of the most successful players in the sport. His net worth is estimated at $127 million.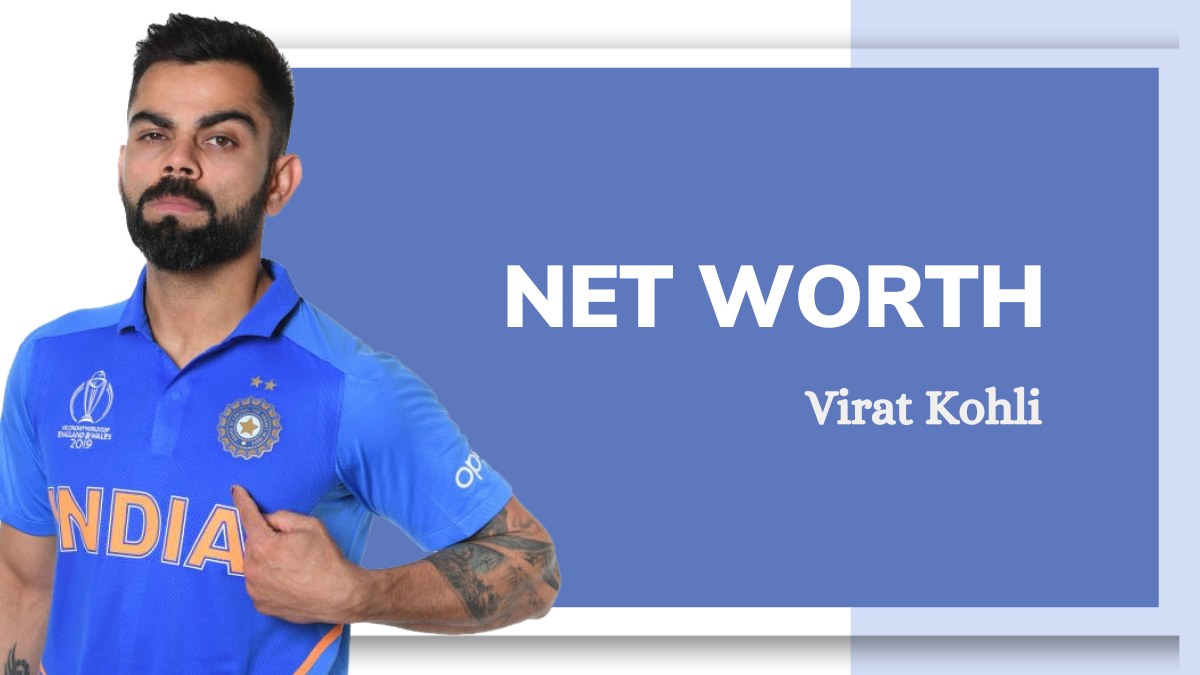 Virat Kohli net worth
Who is Virat Kohli?
Virat Kohli is an Indian cricketer and former captain of the Indian national cricket team. He was born on November 5, 1988, in Delhi, India. Kohli is widely considered one of the best batsmen in the world and has broken several records in his career. Virat Kohli's net worth in rupees is INR 1050 crores.
Kohli made his international debut for India in August 2008 and since then, he has played in all formats of the game - Test, ODI, and T20. He was appointed as the captain of the Indian team in all formats in 2017 after the retirement of MS Dhoni.
Kohli has scored over 25,000 runs in international cricket and has the most number of centuries in cricket, after Sachin Tendulkar. He has also led India to many victories, including the 2011 ICC World Cup and the 2013 ICC Champions Trophy. He is also the fastest to score 25,000 runs in international cricket.
He is one of the most successful and prominent players in the cricket world. Virat Kohli's net worth is $127 million.
Read | Virat Kohli's Biography.
Virat Kohli

Net Worth

$127 million

Date of Birth

November 5, 1988

Age

34

Height

1.75 m

Nationality

Indian
Virat Kohli Early Career
Virat Kohli started playing cricket at a very young age and was part of the Delhi Under-15 and Under-17 teams. He made his first-class debut for Delhi in 2006 at the age of 18 and scored a century in his debut match. He was also part of the Indian U-19 team that won the 2008 ICC U-19 Cricket World Cup.
Kohli's talent and consistency soon caught the attention of the Indian selectors and he made his ODI debut for India in August 2008 against Sri Lanka. However, he did not have an impressive start to his international career and struggled to score runs initially.
It was only in the year 2010 that Kohli's career started taking off. He scored his first ODI century against Sri Lanka in Kolkata and followed it up with a century against Bangladesh. He was then selected for the Indian team for the 2011 World Cup and played a crucial role in India's victory, scoring 282 runs in 9 matches.
Kohli's performance in the World Cup established him as a reliable middle-order batsman for India and he soon became a regular member of the Indian team. He also made his Test debut in 2011 against the West Indies and scored his maiden Test century in his fourth Test match against Australia in Adelaide.
Related | What Is Fake Fielding In Cricket? The Rules Explained.
Virat Kohli Net Worth and Earning Assets 2023
Virat Kohli is one of the highest-paid cricketers in the world. He earns from various sources including his cricketing contracts, brand endorsements, and business ventures. Virat Kohli's net worth today is estimated at around $127 million.
Kohli is a contracted player of the Board of Control for Cricket in India (BCCI) and also plays for the Indian Premier League (IPL) franchise Royal Challengers Bangalore (RCB). His annual income from cricket alone is estimated to be around $24 million.
Apart from cricket, Kohli has several brand endorsements and has been associated with brands such as Puma, Audi, MRF, and many others. He also has his own fashion label, Wrogn, and a chain of gyms and fitness centers called Chisel.
Kohli also has several real estate investments and owns luxurious properties in Mumbai and Delhi. In 2021, he also became a co-owner of the football club Mumbai City FC in the Indian Super League (ISL).
Virat Kohli Houses and Real Estate Properties
Virat Kohli owns several luxurious properties in India, including houses and apartments. Here are some of the real estate properties owned by him:
Mumbai house: Kohli owns a luxurious apartment in Mumbai's Worli area, which he bought in 2016 for around Rs. 34 crores.
Gurugram house: Kohli also has a house in the upmarket DLF Phase-1 area in Gurugram, which he bought in 2015 for around Rs. 80 crores.
Virat Kohli Cars
Virat Kohli is known to have a penchant for luxury cars and has owned several high-end cars over the years. Here are some of the cars owned by him:
| | |
| --- | --- |
| MODEL | PRICE |
| Audi R8 V10 Plus | INR 2.72 crore |
| Audi R8 LMX | INR 2.97 crore |
| Audi A8 L | INR 1.58 crore |
| Audi Q8 | INR 1.33 crore |
| Audi Q7 | INR 69.27 lakh to INR 81.18 lakh |
| Audi RS 5 | INR 1.11 crore |
| Audi S5 | INR 79.06 lakh |
| Renault Duster | INR 10.49 lakh to INR 13.59 lakh |
| Toyota Fortuner | INR 29.98 lakh to INR 37.58 lakh |
| Range Rover Vogue | INR 2.11 crore |
| Bentley Continental GT | INR 3.29 crore to 4.04 crore |
| Flying Spur | INR 1.70 crore to INR 3.41 crore |
Credit: Sportskeeda
Does Virat Kohli have any or do charities?
Virat Kohli is actively involved in various charitable initiatives and has also established his own foundation, the Virat Kohli Foundation (VKF), to support various social causes.
The VKF was founded in 2013 and focuses on supporting underprivileged children, providing education, and promoting sports in India. The foundation has undertaken several initiatives, including the establishment of the Virat Kohli Sports Scholarship, which provides financial assistance to budding athletes in India. The VKF has also collaborated with several NGOs to support various social causes.
Apart from the VKF, Kohli has also been associated with several other charitable initiatives.
Some Interesting Facts and Quotes of Virat Kohli
Interesting Facts:
Kohli was born on November 5, 1988, in Delhi, India. His father was a criminal lawyer, and his mother is a housewife.

Passion for cricket: Kohli started playing cricket at a very young age and was inspired by his father, who used to take him to matches. He joined the West Delhi Cricket Academy when he was just nine years old.

International debut: Kohli made his international debut for India in 2008 in an ODI match against Sri Lanka in Dambulla. He was only 19 years old at the time.

Fastest century by an Indian batsman: Kohli holds the record for the fastest century by an Indian batsman in ODIs. He scored a century off just 52 balls against Australia in 2013.

Fitness enthusiast: Kohli is known for his strict fitness regime and is often seen working out in the gym. He is also a vegetarian and follows a strict diet to maintain his fitness levels.

Brand ambassador: Kohli is a brand ambassador for several high-profile brands in India, including Audi, Puma, and MRF.

Awards and accolades: Kohli has received several awards and accolades for his achievements in cricket, including the prestigious Sir Garfield Sobers Trophy for ICC Cricketer of the Year in 2017 and 2018.

Social media presence: Kohli is one of the

most followed Indian celebrities on social media

, with millions of followers on platforms like Instagram and Twitter.
Quotes:
"Whatever you want to do, do it with full passion, and work really hard towards it. Don't look anywhere else."
"Self-belief and hard work will always earn you success."
"I love playing under pressure. In fact, if there's no pressure, then I'm not in the perfect zone."
"Pretension is a poor joke that you play on yourself. Snap out of it. Recognize your strengths, and work on your weaknesses. Real achievement is liking what you see in the mirror every morning."
To sum up, Virat Kohli is not only a cricketing legend but also a role model for millions of people, with his passion for the game, commitment to fitness, and philanthropic efforts.
Recommendations |