What is Cyclone Vayu and how it is formed?
As we know that cyclone Vayu will soon hit Gujarat at a gust speed of 135kmph. According to the Indian Meteorological Department the thunderstorm and lightning will accompanied with the gusty wind in the coastal region of Gujarat. It may cause landfall over the Saurashtra coast of Gujarat as a severe cyclonic storm. Do you know what is tropical cyclone Vayu, how it is formed. Let us find out.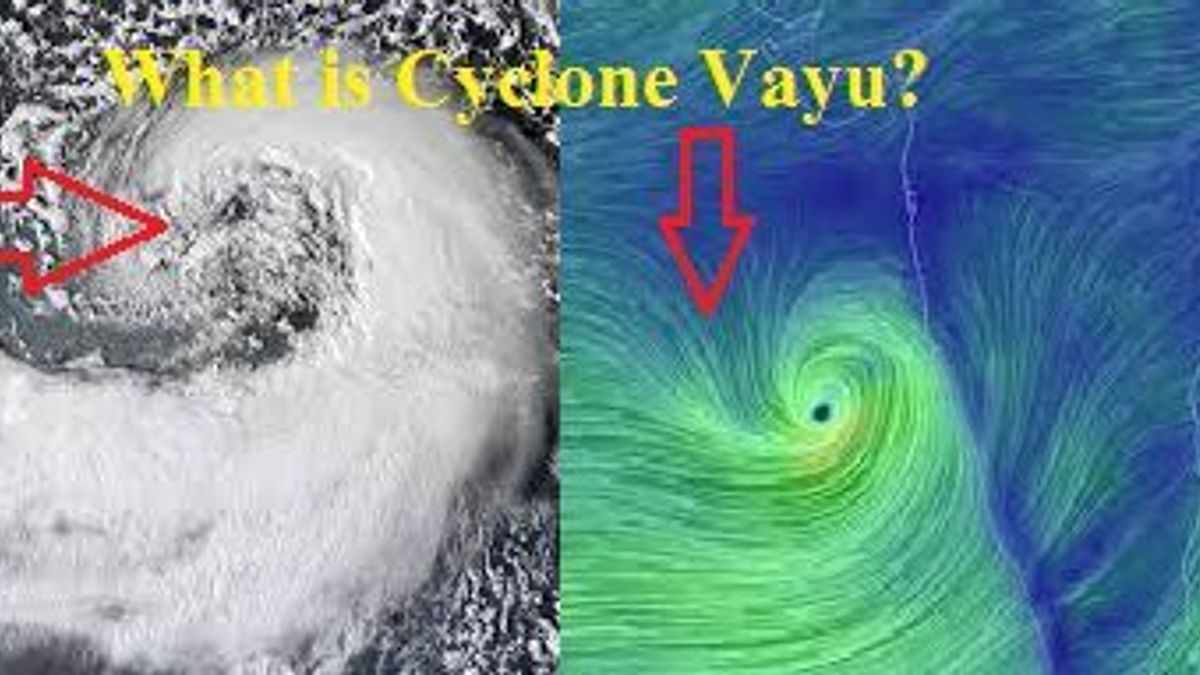 What is Cyclone Vayu and how it is formed?
It is said that Tropical Cyclone Vayu could become the strongest cyclone to strike north western India in decades. It comes just after one month of the powerful Tropical cyclone Fani which slammed into India's north eastern coastline. Before making landfall in Gujarat, tropical cyclone will pass about 200 kilometers (125 miles) west of Mumbai. Let us tell you that Tropical Cyclone Vayu was formed on 10 June, 2019 and strengthened on 11 June into hurricane strength tropical cyclone in the Arabian Sea. Do you know that Gujarat state has not had a hurricane-strength storm make landfall in 20 years? It is the strongest cyclone in 20 years.
About Cyclone Vayu
- The heavy storm of winds is known as Cyclone Vayu which may cause landfall in the state of Gujarat. According to IMD Cyclone Vayu emerges from the Arabian Sea and enter India from Gujarat with gusty speeds of nearly 135kmph. It may cause a significant delay in the arrival of monsoon in some parts of the country.
- The IMD issued an alert that Cyclone Vayu is expected to touch Gujarat coast between Porbandar and Mahuva around Veraval and Diu region as a 'Very Severe Cyclonic Storm' with wind speed 140-150 kmph gusting to 165 kmph during the early morning of 13 June. Over the next three days, coastal areas in Karnataka, Kerala, Konkan, Goa and Lakshadweep are also expected to receive fairly widespread rainfall.
- The forecast for Tropical Cyclone Vayu verifies that this would be the strongest to strike the region since 1998. At that time winds of 195kmph speed killed around 10,000 people.
How are Cyclones named in the World?
Now let us tell you that what is Tropical Cyclone?
The terms Hurricane, Typhoon and Cyclone are all different words for the same phenomena. The terms hurricane and typhoon are regionally specific names for a strong tropical cyclone.
Therefore, tropical cyclone is a generic term for a non-frontal synoptic scale low-pressure system over tropical or sub-tropical waters with thunderstorm and definite cyclonic surface wind circulation.
So we can say that tropical cyclone, typhoon or hurricane are intense circular storm that originates over warm tropical oceans and is characterised by low atmospheric pressure, high winds and heavy rain. A tropical cyclone generates winds that exceed 119kmph. Also, in extreme cases winds may exceed 240kmph and gusts may surpass 320kmph.
No doubt such combination of high winds and water make cyclone to cause serious hazard for coastal areas in tropical and subtropical areas of the world.
In different parts of the world, tropical cyclones are known by various names like in the North Atlantic Ocean and the eastern North pacific they are known as hurricanes, in the western North Pacific around the Philippines, Japan and China they are termed as typhoons. And in the western South Pacific and Indian Ocean they are known as severe tropical cyclones, tropical cyclones or only cyclones. But remember all these different names are of the same type of storm of winds.
How Tropical Cyclone Vayu is formed?
Cyclone forms over different areas and revolve around low-pressure eye. As we know that warm air rises and when it rise, it cools. Cool air cannot hold much moisture like warm air and so water gets squeezed out and clouds begins to form. If warm air rises quickly it creates updraft. Similarly, if the water in the clouds is build enough then it may fall into the ground in the form of rain and is known as downdraft. When they work together that is updraft and downdraft, a storm cell is created. This process continues, the cloud grows and we get a large thunderstorm cloud. These thunderstorm clouds are ready to diversify into other storms like tropical cyclone Vayu and tornadoes.
So, now you may have come to know about cyclone Vayu and how it is formed.
What is Climate Change and How does it affect us?
What is Western Disturbance and its impact on the Indian subcontinent?