World Refugee Day 2019: Current Theme and History
World Refugee Day is observed on 20 June every year to raise awareness about the conditions and problems that refugee faces in their lives. This day provides an opportunity to show globally that we all are with refugees. Do you know who are refugee, why they became refugee, theme of 2019 and history of World Refugee Day?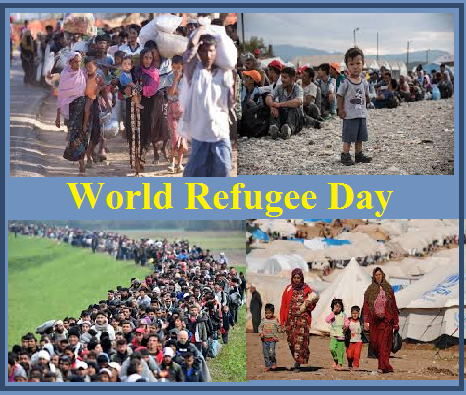 World Refugee Day 2019: Current Theme and History
Millions of people are forced to move from their homes every year to keep safe from war, persecution or natural disaster. According to United Nation (UN) every minute, around 25 people have to leave everything in search for better and safer life. The British Red Cross latest figures suggest that there are almost 120,000 refugees living in the UK. In 2018, UN suggested that, the UK offered protection to approx 15,891 people. And of all these more than two in five were children.
Who are Refugees?
Refugees are the people who have to leave their homes due to war or violence. They always have a fear of race, religion, nationality, political opinion or membership in a particular social group. We can say that, they cannot return their home or they always feared to do so. The main reason for the refugee to leave their homes are war, ethnic, tribal and religious. It is also seen that two-thirds of all refugees from the whole world come from just five countries namely Syria, Afghanistan, South Sudan, Myanmar and Somalia.
Word refugee comes from refuge which means "the state of being sheltered from pursuit, danger or difficulty". The global definition of refugees was recognised in the Geneva Convention.
What is the Meaning and Reasons of Human Trafficking?
World Refugee Day 2019: Theme
The theme for World Refugee Day 2019 is #StepWithRefugees — Take A Step on World Refugee Day. The theme focuses on that there is a need to take big and small steps in solidarity with refugees from around the world.
The theme of World Refugee Day 2018 was "Now More Than Ever, We Need to Stand with Refugees".
The theme of World Refugee Day 2017 was "Embracing Refugees to celebrate our Common Humanity."
The theme of World Refugee Day 2016 was "We stand together with refugees".
The theme of World Refugee Day 2015 was "With courage let us all combine".
The United Nations High Commissioner of Refugees (UNHCR) is a UN Refugee Agency that every year organises various events on World Refugee day. This time an event will be organised at Delray Beach, Florida where Refugees will share their personal experiences on their refuge or asylum. Also, they will share their experiences about settling down in Florida, America.
World Refugee Day: History
To celebrate World refugee was declared by the United nations General Assembly in the Resolution 55/76 on 4th December, 2000. From 2001, as an annual event it was started celebrating. The 2001 celebration of World Refugee Day was marked as the 50th anniversary of 1951 Convention Refugees status by the United Nations General Assembly. In various countries it is celebrated in different dates and days.
Reasons behind celebrating World Refugee Day
This day is celebrated every year on 20 June to support millions of families who have left their homes and dear ones because of war or any other reason. This day also provide an opportunity to help the refugees worldwide to provide quality life through various activities. Several government agencies and organisations also provide variety of life saving assistance, safety and protection. They provide tents, shelter, several life-saving services etc.
The main aim to celebrate this day is to increase awareness among the people by sharing the experiences of refugees and their stories. It also reminds people about the failures of an international community or home conflicts due to which people are forced to leave their homes. We can't ignore the fact that UNHCR has taken big steps to support refugees and similarly governments and other private organisations should come together on national or regional basis to support and help in controlling the condition of refugees.
What is the definition and Rules under the Geneva Convention?
It is necessary to eliminate all the horrible conditions and violence due to which people displaces and become refugee. We should take refugee as the asset and strength of the country rather treating them as a burden. They are also human beings and should get proper support, help when they need. Therefore, it is necessary to draw attention of people towards the refugee's to honour their courage and solve their problems. According to UNHRA, there are around 170,000 unaccompanied children worldwide that is children travelling without any parents.
After leaving homes, what happened to the Refugees?
After leaving their countries, Refugees travel long journey via car, lorry, boat, or even by foot to get safety. Various times it is seen that these journeys are dangerous and some people don't able to reach to its final destination. Sometime, they struggle for shelter, food and water. That is for basic amenities. They gather in places known as refugee camps, which are very huge in which around thousands of refugees live in poor conditions.
How Refugee camps look like?
Do you know refugee camp can be as big as cities and are usually managed by the charities? The aim is to provide support and safety to the people who had left their homes. But the living conditions here is poor, overcrowded. Also, some camps have schools and hospitals where children can continue their education but some even don't full fill properly basic needs of the refugees.
Who is an asylum seeker?
When people left their own country and seek shelter in another country they apply for asylum. Their rights are recognised as a refugee but they receive legal protection and material assistance. In the UK, asylum seekers do not have the same rights as a refugee or a British citizen. Like, they are not allowed to work. They must rely on state support. Housing to them is provided but they can't choose where it is. In 2018, around 29,380 people applied for asylum.
About 1951 Refugee Convention
The main international instrument of refugee law is the 1951 Geneva Convention. It tells us that who is a refugee and the kind of legal protection, other assistance and social rights he or she should receive from the countries who have signed the document. The Convention also defines the obligations of refugees to host governments and certain categories or people such as war criminals, who do not qualify for refugee status. The Convention was mainly to protect European refugees at the time of World War II but the 1967 Protocol expanded the scope of the Convention as the problem of displacement spread around the world.
Therefore, we can say that World refugee Day is celebrated on 20 June annually worldwide to raise awareness among the public about the issues that refugee faces after leaving their country and dear ones.
Difference between United Kingdom, Great Britain and England