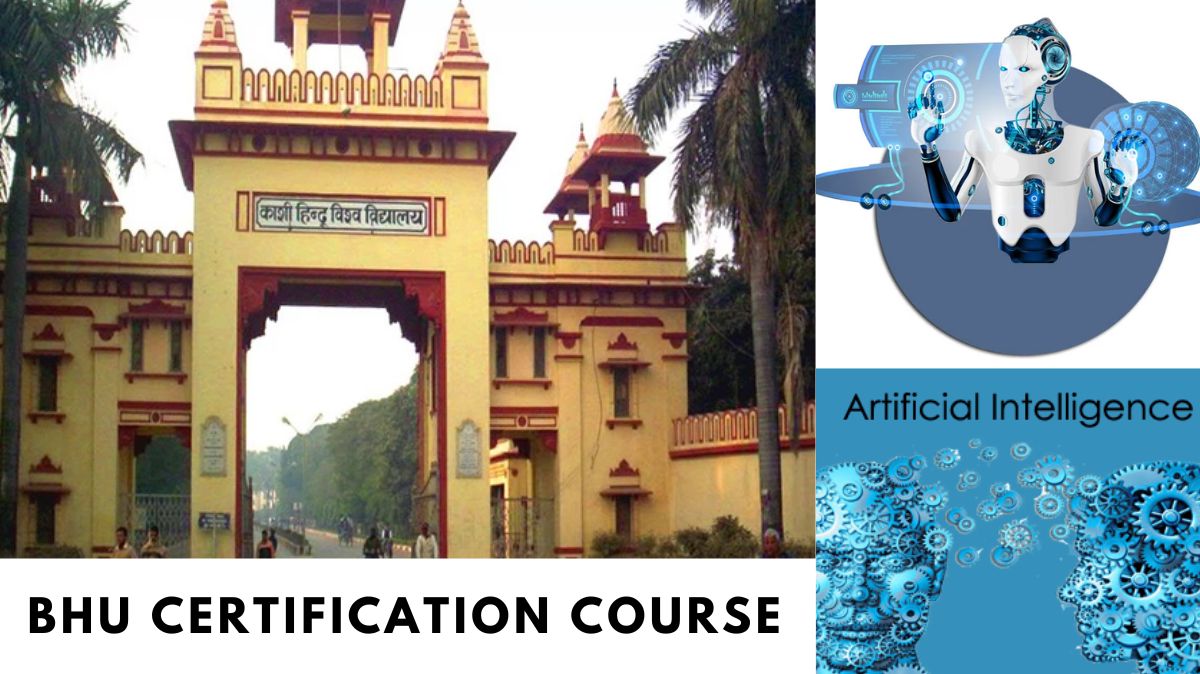 CBSE Term 2 Accountancy Syllabus- Class 11th
BHU 2023: The Banaras Hindu University introduces a specialized training and certification programme on Artificial Intelligence (AI) leading to job roles of AI - Applied Scientist and Data Scientist. The Department of Computer Science at BHU has started admissions to the programme which will be completely based on the entrance test.
According to the BHU notification, a total number of 100 seats are available to offer for this certification programme. Interested candidates must apply for the 6-month AI certification course on the official website. Text Analytics Research centre is hosting the BHU application form for the AI course.
CBSE Term 2 Accountancy Syllabus- Class 11th
BHU Artificial Intelligence Course Registration 2023 - Apply Here
How to Apply for BHU AI Course
Candidates who seek admission to the Artificial Intelligence certification programme and desire to build their careers in Data Science and Machine Learning can apply at the online portal. Here are the easy steps given for submitting the registration forms for the academic session 2023.
Step 1 - Visit the link of the webpage - textanalytics.in/ai/
Step 2 - Go through the AI course eligibility criteria and more details
CBSE Term 2 Accountancy Syllabus- Class 11th
Step 3 - Click on the "Register" tab available on the screen
Step 4 - Enter your personal information such as name, dob, contact details, educational details, etc as required in the registration form
Step 5 - Submit the details and then proceed to the form
Step 6 - Provide documents in the online accepted formats
Step 7 - Pay the BHU AI application fee
Step 8 - Review the form before the final submission
Step 9 - Save the confirmation page and keep a copy for further purposes
CBSE Term 2 Accountancy Syllabus- Class 11th
Department of Computer Science, Institute of Science, BHU today launched a new specialised training and six month certification programme on "Artificial Intelligence".
Interested candidates can register for the programme accordingly.
For more details please go through the flair. pic.twitter.com/YvaDXYNbyx

— Dean, Faculty of Science (@DeanScienceBHU) January 11, 2023
BHU AI Course Eligibility Criteria

Students who have completed a Bachelor's degree in the disciplines of Computer Science, Mathematics, Statistics, Engineering, Technology or an equivalent degree.

The course is also open to students who are in the final year of the above-mentioned fields

Working professionals with the minimum required qualification as stated above are also eligible to apply

AI Course Evaluation & Certification Details

CBSE Term 2 Accountancy Syllabus- Class 11th

According to Banaras Hindu University, the training is free of cost for all participants and the certificate will be provided upon successful completion of the programme. The registration portal for admission to BHU's six-month certificate programme is open till January 25, 2023. The Artificial Intelligence Certification programme will operate from February to July 2023.

The candidates will be evaluated based on their performance in assessments and end-term examinations. Students will be assessed in both theoretical and practical skill sets. They will have to pass the examination with a minimum number of marks as prescribed by the university to complete the course. Also, an option will be given to students to appear for evaluation by NASSCOM and certificates will also be awarded.

CBSE Term 2 Accountancy Syllabus- Class 11th

BHU AI Certificate Programme Structure

BHU asserted that the AI programme is specifically designed and focused on training university students and also working professionals and helping them grow in the transforming field of AI and machine learning. The curriculum will be based on the framework of NASSCOM.

The programme will cover introductory and advanced level topics in the AI field comprising Introduction to AI and Big Data, Statistical Concepts and Applications, Statistical Tools, Importing and Preprocessing Data, Exploring and Manipulating Data, Data Structures and Algorithms, Graph and String Algorithms, Artificial Neural Networks, Programming for Data Science, Programming in Python, Creating Visualizations, Managerial Skills, Organizational Behavior, and Persuasive Communication.

CBSE Term 2 Accountancy Syllabus- Class 11th

The Ministry of Electronics and Information Technology (MeitY), Government of India, is supporting the Department of Computer Science at BHU for the Artificial Intelligence free-training programme. The training will be imparted to students and individuals who are either working or aspiring to work in various targeted fields of Computer Science and AI.

Also Read: CBSE's Parinam Manjusha Bags Gold at Digital India Awards 2022, See Details Here