4 steps to take if you didn't get the college internship you wanted
With tough competition, landing a college internship that you desire might be difficult. If you have also not earned your college internship, try these steps to succeed.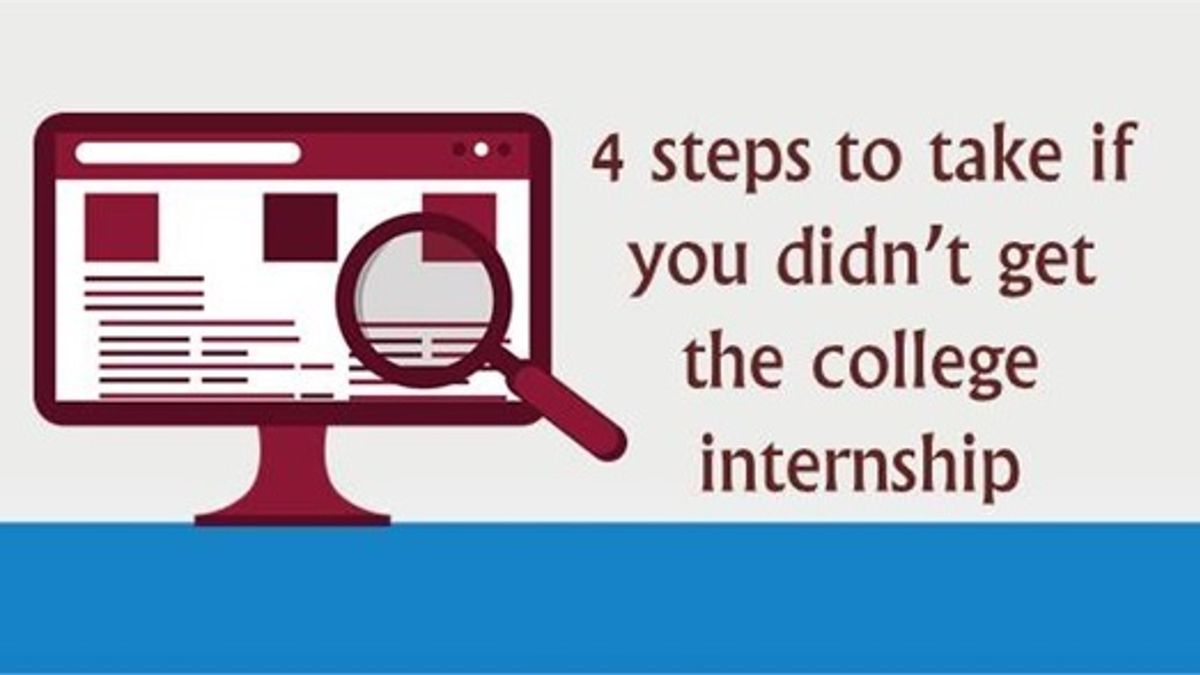 4 steps to take if you didn't get the college internship you wanted
Internships are the mainstay of the final year of the college life. College students undergo vigorous training in order to earn their internships which help them learn the basics of professional life that waits ahead for them. But while the importance of college internships is known to everyone, getting one or earning one that interests you is very difficult to get. With thousands of college students walking out of campuses every year, finding the college internship that you love would be a challenging task. At times, you would also be faced with failure or be stuck in internship profile that doesn't really interest you.
This is just a by-product of the high competition and is not really a reflection of your academic qualifications. If you are also faced with rejected in an internship interview or unable to land an internship role that you desire, the world doesn't come to an end. There are plenty of other options available to you to correct the course and start preparing to get a college internship again. Below, we shall discuss a few of these things.
1. Get Feedback from the Placement Co-ordinator
Not getting the right internship after college might seem like a major setback at the start of your work career, but is it really that bad. The first step that you must take if you are rejected in an internship interview or unable to find an internship that interests you is to seek feedback from your hiring manager. You must identify the reason because of which you missed the mark to land your dream college internship.
At first, approaching the hiring manager or the placement co-ordinator of your college might seem intimidating; but remember internship is your first step towards a lucrative career. So, be brave and seek feedback from the manager. In majority of the cases, not getting an internship would be due to mismatch between your skills, educational experience, or accomplishments and the ones that are needed for the internship you are targeting. Once you realize that the shortcomings, you can make the necessary corrections accordingly.
2. Revamp Your Application
The second most common reason of not getting the college internship that you applied for would be your internship application. As college students do not have the necessary experience to build a strong job application, they often end up highlighting the wrong things on their internship applications. At times, even if all the correct things have been mentioned on the internship form, the application format or the presentation is quite chaotic, costing you the perfect college internship opportunity. If you have also done this mistake, it's high time to revamp your application.
For instance, if you have mentioned or highlighted everything committee and every social club that you were part of in college, it might not be looked upon very kindly by the interviewer. As a college fresher hunting for the internship, you must highlight your key accomplishment and that too in a way that strengthens your candidature. In addition to great content, a well-designed internship application and a supporting cover letter that house links to your social platforms or portfolio may coax them to hire you for the internship gig.
How to find internships in college?

3. Apply to Different Companies / Departments
The third important thing to realize after facing rejection in internship interview is the internship opportunity itself. At times, college students often get very ambitious and end up applying for internships for which they do not have the relevant skills or experience. In such cases, rejection is the best thing that can happen to you.
If you realize that you were denied an internship because of your profile was not suited for the internship, you can try applying to different departments within the same organization. At times, realizing that you are more or well-suited to another department or company can be a blessing in disguise for college students to find the right career path.
Even if you don't want to deviate from your interest area, you can also find an internship role that is similar or close to what you were looking for. For example: if you were hunting for an internship in advertising, trying to get one in marketing wouldn't be such a farfetched thought. The knowledge and skills you pick-up during the marketing internship would surely be useful later-on even if you decide to go for advertising job.
How to get an internship at Google?
4. Build your Core Skills
Let's say you didn't land the internship you wished for and going by the high competition there is very likely chance of that happening; it wouldn't be so bad. At the start of your professional career, the key skills and knowledge that must gain through internship remains quite constant. Take the example mentioned above; the skills you gain through marketing or an advertising internship would be quite similar; in certain cases even common. Therefore, even if you land a wrong internship or an internship that you are fully not satisfied with; you can always look at the positives and try to focus on your core skills and develop them further.
Do's and don'ts of internships for college students

Facing a rejection, especially as a youngster just walking out of a college campus might be a big blow to your morale. But, when you look at it from a different perspective, it is surely not the end of the world. However, despite not getting the college internship of your dreams, you can still work on different aspects to improve your chances of landing an internship. If you ended up getting an internship that you didn't want, try to be positive and develop your core skills; they will surely play a major role in the job hunt that awaits you.
Liked this article? Please share it among your college friends and fellow internship hunters to help them out. Want more 'Gyaan' related to hunting the right college internship? Visit our dedicated section for college placements and internships related article. You can also opt to get these articles delivered to your inbox directly by registering for our weekly newsletter. Trust us, we promise you no spam emails and assure you complete privacy and security of your data.
Also Read: