Bad score? Good Career? Yes Sure!
When scores play foul it is time to play the talent card. Don't let anyone tell you cannot become a Chartered Accountant with 50% in class 12 because if you think you can, you can. We all are result of the percentage of dedication in life not the percentage we score in class 12.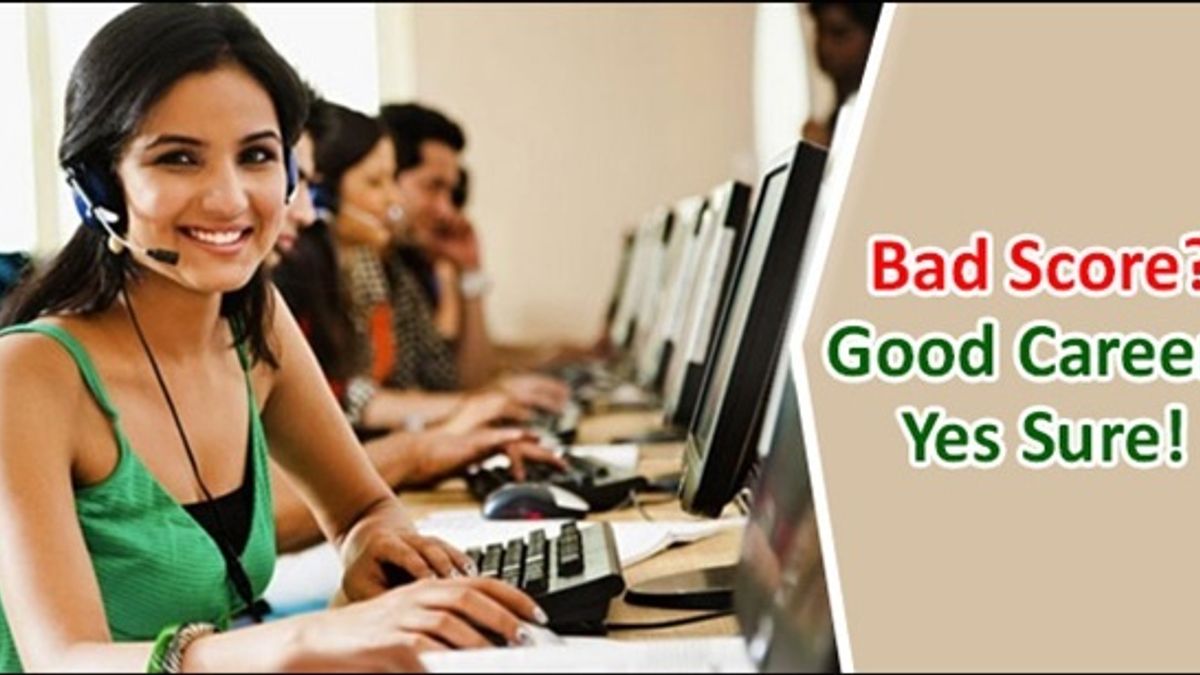 Bad score? Good Career? Yes Sure!
Good marks are great but bad marks are not so bad after all!
When scores play foul it is time to play the talent card. Don't let anyone tell you that you cannot become a Chartered Accountant with 50% in class 12 because if you think you can, you can. We all are the result of the percentage of dedication in life not the percentage we score in class 12.
Have you ever wondered about the number of super-rich tycoons in India? Trust me, they are only a handful. But the number of brave hearts, courageous, determined, go-getters with never say die attitude, youngsters brimming with an undying optimism are on the rise. This new breed of youngsters are dedicated and focused; they learn from their mistakes and bounce back to life even if things go south for them. You are one of them. You are the future. The quick learners and forward thinkers-You are one of them. Because you believe life is not about what was, or what is, life is about what can be if you keep your hopes high, mind alert and heart focused on your next goal. Who knows 'You' can be the next big thing! Your life is the result of your attitude towards it. It is not what happens to us but how we respond to it that makes all the difference.
Have you ever wondered that every budding entrepreneur despite an IIT background has to start from ZERO? If you have decided to build your way to the top you have to start from the Bottom. An IIT degree does not automatically guarantee success because success is like a collage of colours, the most vibrant of which is the hue of hard-work, followed by a splash of common sense, a handful of optimism and a chunk of attitude that helps to accept failure as an opportunity to evolve. Your future is your attitude towards your present.
Now, let us start from the given scenario: You have scored low grades. May be 60%, No? Alright, may be 50% No? Then may be 45% what next? The next step is to introspect, think about your skills and talents, and ask a crucial question: What am I good at? And find alternatives. The best way to come out of a problem is to find solutions. Let us explore the solutions.
Stand Up comedy
Why not? If your jokes have a LOL effect, if you can make someone laugh with your humorous gigs, and can do that for an hour then go for it! Look at the bright side; you get paid for tickling laughing muscles of your audience. I do not have to tell you about the popular stand-up comedians in the country. I am sure each one of you has a personal favourite!
Photography
Do you remember at every event, outing or hangout, you were asked to be the official photographer? May be, you did not notice it back then but you can certainly pay attention to it now. May be you find beauty everywhere and in everything. It is time to click a selfie for your self-growth and turn that hobby into a habit. You can do a professional photography course, choose a specialization such as fashion photographer, wild life photographer, and wedding photographer or specialize in television videography.
Mass Communication
Television anchor, journalist or behind the camera production engineer, sound engineer, the list is endless and career options are broad. You can pick the one that best aligns with your personality and skills required for such courses. For example, if you consider yourself as someone with a pleasing demeanour and charming looks, you can opt for an undergraduate or diploma program in Television anchor. If you think you have a knack for technology then you can very well try your hand at being a sound technician and opt for a related course, which will hone your technical knowledge. If you enjoy penning your thoughts on a particular topic, well, internet is open to accept talented content writers like you. You can also opt for related fields such as proofreading and editing. A certification will come handy before applying for jobs in newspapers or publishing houses.
Public Relations
It is also an excellent field for you if you are an extrovert and enjoy addressing people and managing interpersonal relations. Every company and even banks have a PR department, which handles its official communication with press and the outside world in general. You can opt for a variety of courses that help you to build a career as a public relations officer.
Administration
Do you enjoy keeping things in order? The idea of handling responsibility makes you more confident, and then administration is the way forward for you. It not only involves stacking papers, files and folders in order but also administering people and supervising the day to day company affairs. A course in office administration is handy as it may open doors for secretarial jobs in companies.
Travel Blogger
Born with travelling wings? Then, go fly away. The world is your office. Host a travel show. Join a travel television channel and help people decide the best travel destinations. Tell them where to eat, what to try and what to see. Be a tourist guide in style and enjoy the perks associated with travelling. You don't need high scores to do well in the travel industry. All you need is an ability to describe what you see and put them across your readers/ viewers.
Fashion Designing
You always knew you wanted to dress up people. If yes, a career in fashion design might be the right choice for you. All you need is imagination. If you can imagine, you can draw and if you can draw, you can design. You can open a design studio of your own, then who knows, sky is the limit.
Interior Designing
If you believe home is where your heart is then, who is stopping you? Put your creativity, ideas and colours in your bag and join a course in interior designing that helps you to understand the nuances of design, structure and planning.
Tourism
The ever flourishing tourism industry offers several career options including travel consultant, ticketing or tour guide. A diploma or certification course in the related field can be a starting point.
Accounts
Do you find excel sheets and numbers attractive? Go ahead and enrol in Tally course or take a course in MS Office and MS Excel and you never know, the next thing could be you applying for a data entry operator's position.
Hospitality, Catering and Culinary arts
You have been watching Master Chef since you were a child. Your mothers have also noticed your polite personality and ability to cook well under pressure such as Mummy's sudden kitty parties. Now you know why you did not do that well in exams because you were in the wrong school all along! You need to join hospitality management if culinary art excites you.
Web design and Animation
We awed at the breath-taking graphics of Bahubali, didn't we? If you want to create such breath-taking scenes, join a graphic design course right away. The mushrooming cartoon channels need intelligent animators too. Gaming industry is also a related avenue. Explore your interest and make a choice.
Software developer
An undergraduate degree or a diploma can be a beginning in nurturing the technical guy in you. The only thing to remember is, no matter what you choose as your career, put your heart and soul in it. Be the best in your domain.
Event management
You have always been good at problem solving, sorting issues and organizing events. A course in logistics or event management will open your mind to the technical details of organizing events.
Jewellery designer
With the growth in the fashion industry, the jewellery and fashion accessories industry has also witnessed a boom. Just like fashion design, jewellery design doesn't require a degree; rather it is completely dependent upon the creativity and imagination of the artist. So, if you know how to create special and exquisite designs, being a jewellery designer might be your life's calling. It is never too late, join a related course to learn about the tools and techniques and play with one of the most favourite metals of all times: Gold or may be even diamonds.
Soft Skills/Technical Trainer
This is a fantastic career for those who know how to effectively express their ideas. It doesn't need any degree but excellent communication skills, spontaneity and a grip on content. If you can learn to teach and make others enjoy the learning process, you can choose training as a career.
As far as remuneration is concerned, remember, everything pays, if you are excellent in it. At the beginning of your career, focus on learning and earning will follow you by default. There is a reason why somebody up there has created a sky full of stars. If one dims, you can always look at another. There is only one condition: keep your head high and look up.
About the Author
Ms Neha Sharma Jha is a professional CAT, GMAT, GRE,SAT, TOEFL, IELTS and ESL English Trainer, GD/PI Instructor, Life Skills Coach, Author , Content writer, Educational Modules Designer, and English Literature faculty. She also holds MA and M.Phil. degrees in English along with being a certified TESOL Instructor.
Her core areas of expertise include: Life Skills Training, Entrance Exam Training, Personality Makeover, GD/ PI training, Business Communication Skills, Soft Skills and Corporate Training.
She has also authored a book titled 'Ctrl+ Alt but don't always Delete'.