How should engineering students prepare for SBI PO exam 2018?
In this article, we are going to discuss the preparation strategy for SBI PO exam for students belong to an engineering background.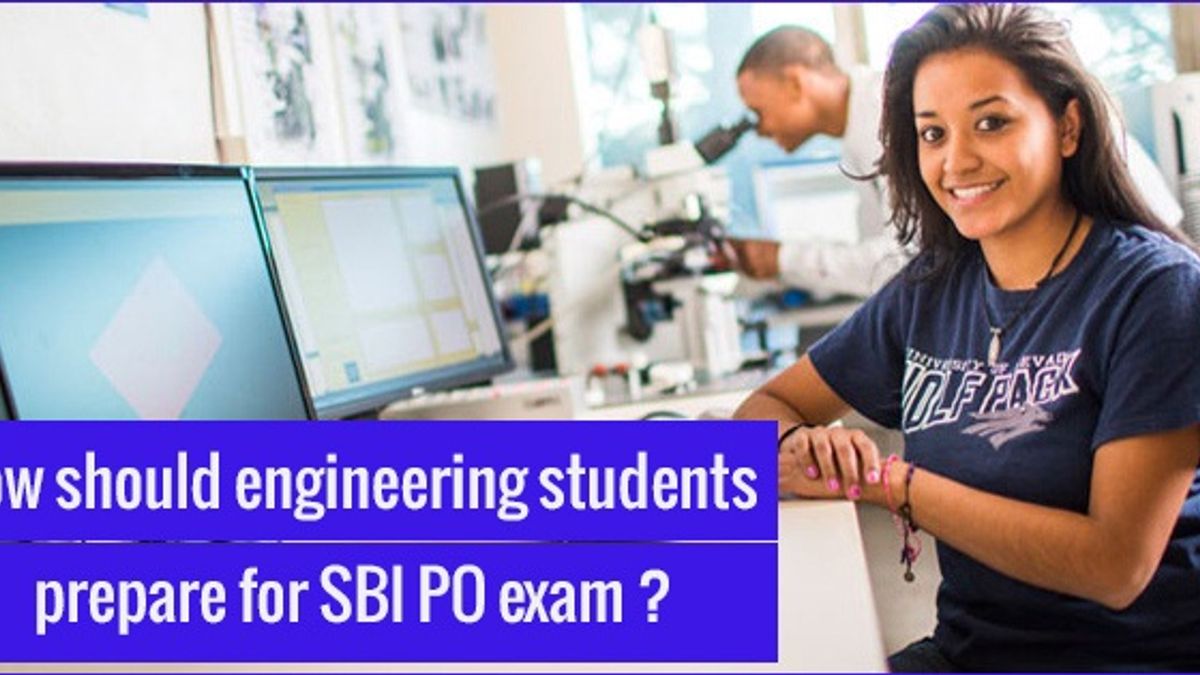 How should engineering students prepare for SBI PO exam?
SBI PO 2018 is coming ahead and it is needless to say that it is one of the most coveted and popular examinations in the banking sector. Lakhs of aspirants appear in this examination to become an officer in the largest lender of the country.
According to the recent statistics regarding the academic background of the students who are appearing in and also cracking the bank recruitment examinations, more than 50 per cent of the candidates belong to the an engineering background.
If you attend the induction training of any bank fresh recruit batch, you will find that majority are from engineering background. It is a good sign for the engineers out there though others are also in with an equal chance.
SBI PO 2018: The Pattern that will test you
SBI PO 2018 will be conducted in three phases and once you pass one stage, you will be eligible for the next stage of screening. The components of the whole process are:
Preliminary Exam (Total Marks 100)
Mains Examination (Total Marks 250)
Group Discussion and Interview (Total Marks 50)
The marks obtained in the preliminary exam will not be counted for the final merit list whereas the marks in the mains examination and the personal interview round will be taken into consideration in order to prepare the final merit list.
Now, if we go into the details of the topics on which this examination is going to be conducted, there will be five topics namely:
1. Quantitative Aptitude and data interpretation
2. English language
3. Reasoning ability
4. General Awareness with a special focus on the banking industry
5. Computer awareness
Among these topics, general awareness and computer will be there only in the mains examination whereas the rest will be there in both the stages of the exam i.e. prelims and mains.
In the mains examination, there will be both objective English and descriptive English.
SBI PO 2018: The Ultimate Guide to Success
Now that you have come to know the pattern of the examination along with the syllabus, the next part is to understand the subjects and plan accordingly so that you can prepare properly and take the examination with full confidence.
SBI PO Syllabus 2018: Detailed Syllabus for Prelims & Mains Exam
Let us see a symbolic blueprint in this regard that may be considered as a reference by you guys:
Data interpretation and Quant
Since we are talking about engineers here, all of you are very much in touch with mathematics and data interpretation part of the paper. The prelims examination will check you mainly on quant knowledge whereas the mains exam paper will only have data interpretation.
You may go through the topics once to be sure that you are well aware of the basics of all the chapters. After that the only thing that you should keep on doing till the exam is practice.
One thing should be kept in mind – make it your strength and never ever show over-confidence because you are well acquainted with this section.
Keep on practicing all types of questions within a specified time limit.
Reasoning Ability
This is another area where you people are expected to score big time because this is another forte for the engineers. However, over-confidence can kill your chances in this section.
So, do not let complacency affect your preparation for this very crucial part of the examination.
Again, go through the topics that have come in the previous years to get the idea of the pattern and level of the questions and also to check if you need to learn anything new.
If you are well versed with all the topics, the only thing left for you is to practice as much as you can till the date of the examination. Just make sure that you are giving your 100% in all the sections.
English language
This section may be a favorite for some of you but must be a nightmare for the rest. English consists of mainly two parts – grammar and vocabulary.
For the grammar part, take any standard book from the market such as Wren and Martin or SP Bakshi (good for revision) and go through the chapters that have featured in the previous year papers.
Practice from each chapter extensively so that you are well versed with questions from any topic. Once you are done with the concepts, practice questions from all the chapters combined just like the examination scenario in sectional tests offered by various websites.
For the vocabulary part, the main thing is to strengthen your word stock and that can be done by reading newspaper daily.
Go through any standard newspaper such as the 'The Hindu' or 'The Economic Times' or 'The Times of India' or 'The Business Standard' and try to learn the roots and usage of new words.
Start this from tomorrow onwards and till the time of the examination, you will see a lot of change in your confidence in this part of English.
Another benefit of this exercise is that you will learn to understand contextual meaning of words that will also help you in case of Reading Comprehension questions in the section. There is no end to vocabulary preparation. Hence, take it as a hobby to learn new words so that your interest grows in this area.
General Awareness and Computer
General Awareness is one section that is completely unknown to almost all of you and that is why it requires extensive preparation. This section can be divided into static GK, Banking awareness and current affairs.
For static GK and banking awareness, it is not enough to study from any good book or online source but you should make it a point that you revise on regular basis.
There are many websites that provide you current affairs updates regularly. Just go through them and bookmark those pages in your computer so that you can go back to them.
Once a month is gone, revise the current affairs of the whole month and take a test on that immediately or a day after. You can try a number of websites for taking tests multiple times. It will also help you in coming across any new piece of important news.
The computer syllabus is very easy for all of you since you have lived your engineering days with that gadget. Nevertheless, pick up a book and study so that you do not get overconfident regarding this section.
Group Discussion and Personal Interview
This is the last leg of the marathon process of recruitment and the selected ones will have the expectation of making it to the final list. Just remember that the GD round is there not to shout but to have a healthy discussion just like a boardroom of a company.
It is not important that you start first but make sure you say relevant points about the given topic.
Do not repeat same points time and again. If you want to oppose some point made by a fellow candidate, do it with logic and numbers rather than by shouting at him or her.
The personal interview is conducted to understand the temperament of the candidate for the job. So, be yourself and do not try to show something off. Just learn by heart the things in your bio-data and most of the questions will be formed based on that.
Keep track of the developments in the banking industry and also the particular bank till the date of the interview.
Apart from this, keep track of the stream of engineering in which you have graduated.
Be polite even if the interviewers try to cut you short or make some nasty remark regarding anything in your CV (curriculum vitae).
It is a test for your patience and ability to handle pressure in the real-life scenario. And it is perfectly okay if you are not able to answer all the questions in the interview since you are not expected to.
Best newspapers for SBI PO Exam Preparation 2018
SBI PO 2018 is a lifetime opportunity for all of you and you guys already know that by heart. Otherwise, you wouldn't be here going through the strategy meant only for you. Just make sure that you remain fit and practice as much as possible till the end. Just remember that practice only can make a man perfect. Be confident but let that confidence comes from within. It will only come if you are prepared to take the challenge. So, prepare well first and then do well in the exam.
All the best!!
Salary and Allowances of SBI PO