IIM Lucknow secures 100% placement for PGP Batch 2016-18
IIM Lucknow secures 100% placement for PGP batch of 2016-18. Know the top recruiters, highest salary packages and general hiring trends of MBA world here.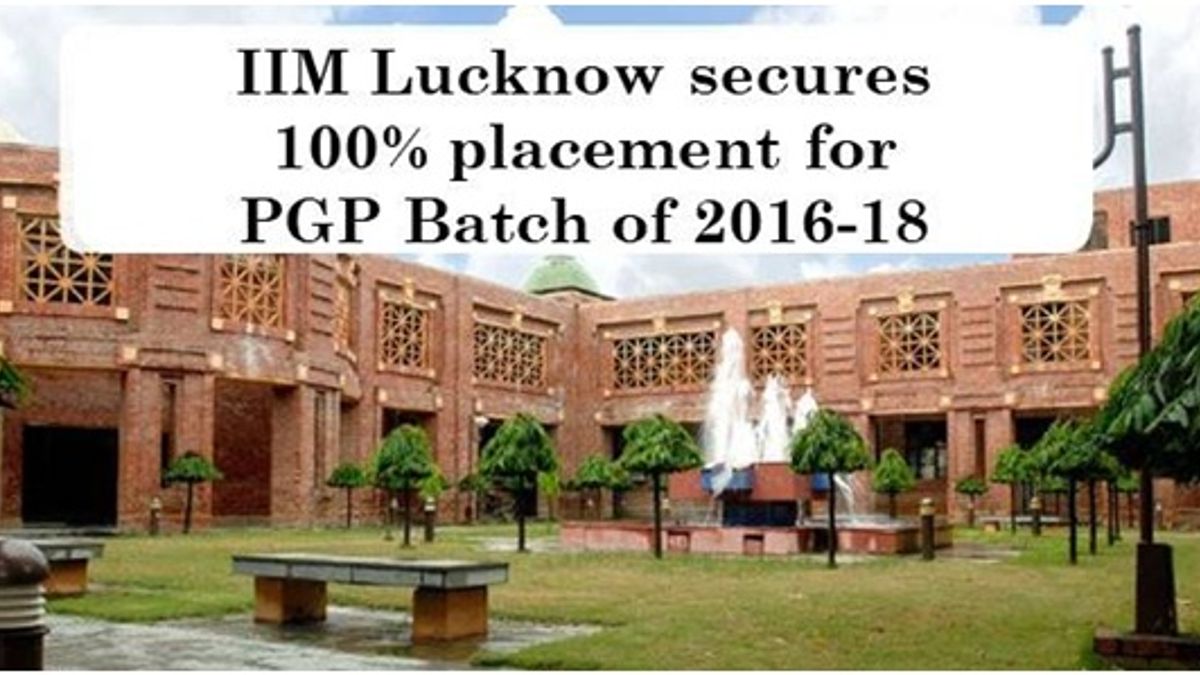 IIM Lucknow
IIM Lucknow – one of the best MBA colleges in India, has completed the final placement for the students of PGP batch of 2016-18. The B-school, which is known among the MBA circles for timely completion of placement process, has again completed the final MBA placement process for this year earlier than any other IIMs. Following the general market trend, Finance and Consulting emerged as the top sectors where management graduates walking out of IIM Lucknow campus received maximum number of offers. You can find the detailed analysis of IIM Lucknow 2018 placement and sector-wise analysis of top recruiters below.
IIM Lucknow secures 100% placement
Being one of the premier B-schools of the country, IIM Lucknow has yet again secured 100% placement for the PGP batch of 2016-18. During the final placement process, a total of 454 offers were made by 143 recruiters. Of the 143 recruiters, 47 were first-time recruiters, which clearly shows the trust that industry has placed in the quality management education that the MBA institute offers to its students. Another interesting aspect about IIM Lucknow final placement report 2018 was that, the B-school has registered 20% increase in the PPOs / Pre-Placement Offers being extended to the students. On a similar note, 30% increase was also noted in the number of offers made through the Higher Entry Placement Process (HEPP), which is again a notable achievement for the B-school..
Top Recruiting Sectors
As discussed above, finance and consulting sectors emerged as the top sector, with each securing nearly 23% of the total offers (104 offers) being made to the students. Other dominant sectors included Sales and Marketing, e-Commerce and IT / ITeS. The percentage-wise breakup of offers being extended in different sectors is given in the table below:
| Sector | % of Offers |
| --- | --- |
| Consulting | 23% |
| Finance | 23% |
| Sales & Marketing | 24% |
| e-Commerce | 12% |
| General Management | 11% |
| IT/ITeS | 7% |
Commenting upon the successful completion of the final placement process for IIM Lucknow's PGP Batch 2016-18, Nishant Uppal, Chairman Students' Affairs & Placement said"With this year's placements, IIM Lucknow has yet again reinforced its presence among the top B-schools in the country and has proven to be a preferred destination for organizations which select barely 2-3 B-schools to recruit,"
Prominent HEPP
The key take away from this year's IIM Lucknow Final Placement Report was the significant increase in the number of offers being made through HEPP / Higher Entry Placement Process (HEPP). The B-school saw 30% increase in the number of offers being extended through HEPP process. Top recruiters through route included:
Amazon
Paytm
Citi
Yes Bank
Aditya Birla Group
Deloitte
Flipkart
Accenture
Everest Group
Hinduja
PwC
Tredence Analytics
KPMG
Sector-wise top recruiters
With 143 recruiters hiring students from IIM Lucknow, the final placement process has been termed as a great success for the students as well as the B-school. The placement process saw several repeat recruiters return back to the campus for the placement drive. The names of sector-wise top recruiters for IIM Lucknow placement is given below:
Consulting & Finance: Deutsche Bank, Fidelity, McKinsey & Company, Alvarez & Marsal, Societe Generale, Kotak, Citi Markets, MasterCard Advisors and The Boston Consulting Group.
BFSI / Banking Financial Services & Insurance: EY, Arete Advisors, CRISIL, HSBC, ICICI Bank, Hinduja, Airtel, Lodha Group, Avendus Capital, DBS, Capgemini, Altisource, American Express.
FMCG/Consumer Goods/Telecom/Digital Media: ITC, Nestle, Dr.Reddy's, Reckitt Benckiser, ABInBev, Procter & Gamble, Samsung and Star TV, Hindustan Unilever, GSK.
IT/e-Commerce/Technology: Flipkart, Uber and Wipro, OYO, Paytm, Amazon, Cloudtail.
Looking at the positive trend among the recruiters and the positive number of the IIM Lucknow's final placement report, it seems that the B-school has managed to over-ride challenges of economic slowdown due to demonetization and GST implementation. For more interesting news and updates related to MBA placements and IIM placements, please visit mba.jagranjosh.com.