International Child Art Competition 2017 Calls Artists of all Age Groups
Star Creative Art invites application from all age groups including class 1 students to class 12 students to participate in Internatinal Child Art Competition 2017. Read here all about International Child Art Competiton of Star Creative Art including eligibility, Applications/online registraion, rewards etc.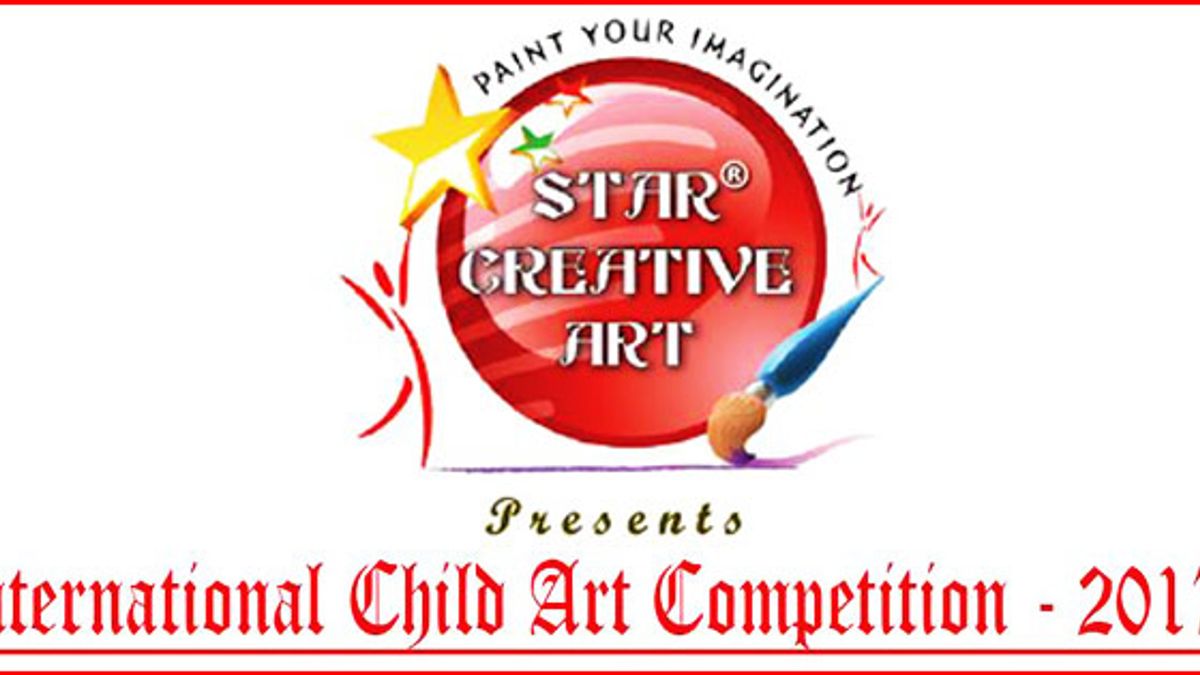 International Child Art Competition 2017 by Star Creative Art
Artists of all age groups are invited to participate in art competition organized by Star Creative Art with art works in water colors, pastels, pencils, acrylic, crayons or paper cuttings, oil paints, charcoal, colour pencil, etc. on any type of paper or canvas sheet. Theme can be of any subject of entrant's choice.
Last date to submit applications is November 30, 2017. To check the eligibility and application procedures follow the proceedings:
Eligibility:
Minimum 50 entries are expected from participating institutes and in case of individual entry, 5 is the minimum requirement. The competition will be conducted under following groups:
Group A- Kids up to class 1, of 6 years of age
Group B- Class 2 to 4, age 7 to 9 years
Group C- Class 5 to 8, age 10 to 13 years
Group D- Class 9 to 12, age 14 to 18 years
Group E- Age 18 and above, for individual participation
An opportunity for students to showcase their filming talent
Kind Circle Meritorious Scholarship 2018

Rewards:
Different cash rewards will be given based on the position attained:
30 prizes will be given to 1st position bagger with gifts worth INR 700 and medal
50 prizes will be given to 2nd position bagger with gifts worth INR 500 and a medal
150 prizes will be given to 3rd position bagger with gifts worth INR 300 and a medal
500 consolation prizes and special cash prize of INR 1000 and medal to best three art works
Certificate of appreciation to every participating candidate
The Institute of Company Secretaries of India and SOF Organizes Olympiad for High-Schoolers

Miscellaneous Details:
The size of greetings, cartoons and drawing should not be more than 17*14 inches. However, Canvas paintings can be of any size.
The entry fee for candidates applying through their schools and institutions is INR 80 per entry.
The entry fee for individual participants is INR 120 per entry that will cost around INR 600 for minimum 5 entries.
Application:
Applications along with necessary entries are to be sent via post to
Madhuri Rungta, Star Creative Art
A/10, Silver Valley-2, Shivaji Nagar, Vakola Bridge,
Santacruz (E), Mumbai-400055
About:
Star Creative Art has been found with a motive to boost the creation of upcoming talented artist who wish to create a niche in art. Creative Art is found with an aim to provide a platform for the upcoming as well as established artist. Creative Art acts as a beacon light for the amateurs and the professional artists. Its basic aim is to develop an artistic milieu in the society.
Click Here:
To apply
For more information
Disclaimer: The content has been provided by buddy4study.com