6 simple ways to win your next job promotion faster
Every professional wants to clinch the highest position in the field where he is performing his duties. But, getting a promotion is a very hard nut to crack, especially in the competitive times that we live in. If you are also targeting to get your next job promotion quickly, these simple tips and tricks might help you strengthen your case.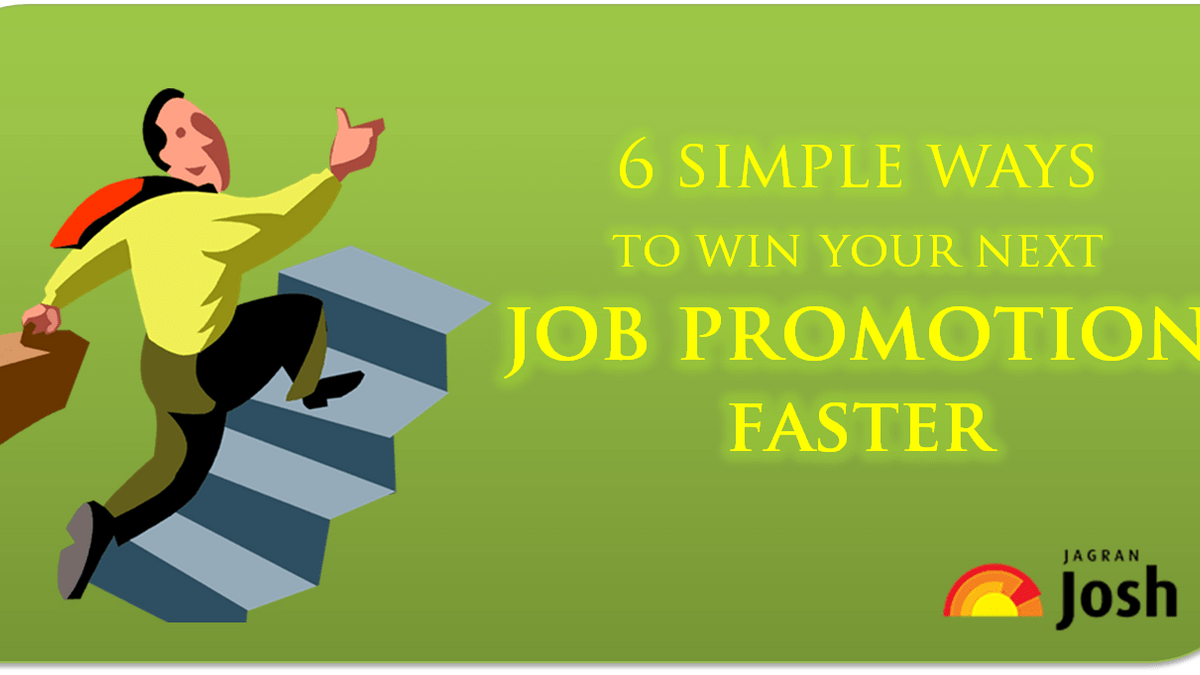 6 simple ways to win your next job promotion faster
Building a successful career is a super tough task, especially in the challenging times that we live in! If you thought getting a job was the end of all your hardships and misery, you couldn't be any more wrong. Winning a job promotion, especially during the early stages of your career is something that can break the moral of even the toughest of professionals.
Unlike previously, where you had to impress the interviewer on that particular day or during the few rounds that we underwent, winning a job promotion is an ongoing process that keeps you on your toes. Many underestimate the challenge of being promoted on one's job and often get stuck in a same role or position for long periods of time. This eventually erodes the motivation and morale of the employee while also degrading their skills and ability to perform well in the role assigned to them. Therefore, as a new professional who is just starting out their journey in the corporate world, it is very important to target to win that promotion in job quickly and build a solid pathway for your career advancements.
In this article, we have discussed different aspects related to job promotion, career advancement, career progression and moving up the corporate ladder. These will help you understand the job promotion process and in turn help you prepare well for the challenge which lies ahead.
The process of Job Promotion
There are various corporate and government institutions employing workers and officials to execute their plans. Though, the organisations operate in almost similar way, there are thin-line differences in work culture of organisation. Hard work, determination, skills, productivity, extra efforts and sense of responsibility are factors which ensure the success of a professional or an individual. In an organisation, the management keeps on observing its employees and workers during the course of the routine work. It strategically outlines the work performances of their workers and maintains records for it at certain time intervals. Therefore, the growth of professional in an organisation depends on his/her overall performance and prospect. If a professional wants to get a promotion in his work area, he should understand the work culture of the organisation and strategies his way of functioning.
1. Asses your work, performance and extra efforts
Self assessment is the best method to eliminate the shortcomings, mistakes, and other things which create negative environment around a professional. There are certain criteria, parameters, and ways of employee assessment through which an organisation asses its employees before promoting him/her to next level of the job. If you are looking for promotion in your work area, you need to start self assessment before applying for promotion. You should look into each and every aspects of your performance. After critical self-assessment, you will require to ascertain if your manager, colleagues, and other stakeholders are satisfied with your performance or not.
2. Self-Discipline is the Key
Time respects and benefits those who respect it. The line has significance especially for the different working classes. There is nothing rather than joining one's duty on scheduled time to get noticed by the others who are authorized to promote a professional. If you want to distinguish yourself from your colleagues, then you'll need to attend your duties as per the time scheduled by the organisation. Though, this is the simplest way, but it'll help you to be noticed by your superiors which will create a positive environment for your promotion.
3. Throw "Can't" and "Won't" Into the dustbin
Organizations hate people with negative attitudes, they want winners who are ready to go beyond the conventional boundaries to achieve their personal goals as well as the organizational goals which are set for them as part of their KRAs. Do next time, you plan to say no to a new and challenging assignment, remember this fact. Denying for any assignment being given by the superiors may create negative environment for you which might become major roadblock in your promotion. So, if you want to clinch a notch higher, then throw "Can't" and "Won't" into the dustbin. However, this doesn't meant that you have to be a 'Yes Man', if you feel that something is wrong, back it up with logical arguments and data centric proofs, you manager would be more than happy to address your concerns then.
4. Confidence will impress your superiors
Confidence is the first thing which impresses the superiors when his employee enters the office. A confident professional also fears the superiors as the other persons and always tries eliminate that fear. If you want become confident professional, then you'll need to speak, to spearhead, to explore, to innovate, and to try new experiments.
5. Find Your Mentor
Inspiration and proper guidance plays major role in the success of the raw professional. If you want to get the proper guidance and inspiration for the work, then you'll identify the source the same. So, find your mentor and keep close contact with him .
6. Work Hard but Work Smart
A professional who wants become successful in his respective work area needs to decide how to utilise his time. If a professional feels that a specific work benefits him or his organisation a lot then he should mostly do that activity. The benefits incorporated by professionals' efforts would certainly catch the attention of the superiors which will entirely create a positive environment for promotion.
Conclusion
Hard work, determination, skills, productivity, extra efforts and sense of responsibility take an individual, especially a professional to the next notch of success. A professional who wants growth should work efficiently and he should meet the daily/monthly/yearly targets. He should complete his assignments, projects, and works within the given time limit. Though, all these play crucial and significant role in one's growth, the other things which create appositive environment and persuade the employer or management of the organisation to promote a professional are that we're discussing here.
For more interesting advice in your Career Advancement, You can visit our Career Section.