Advertising: An ever-growing industry
Looking for an opportunity in advertising? Find out about some interesting career options in this field.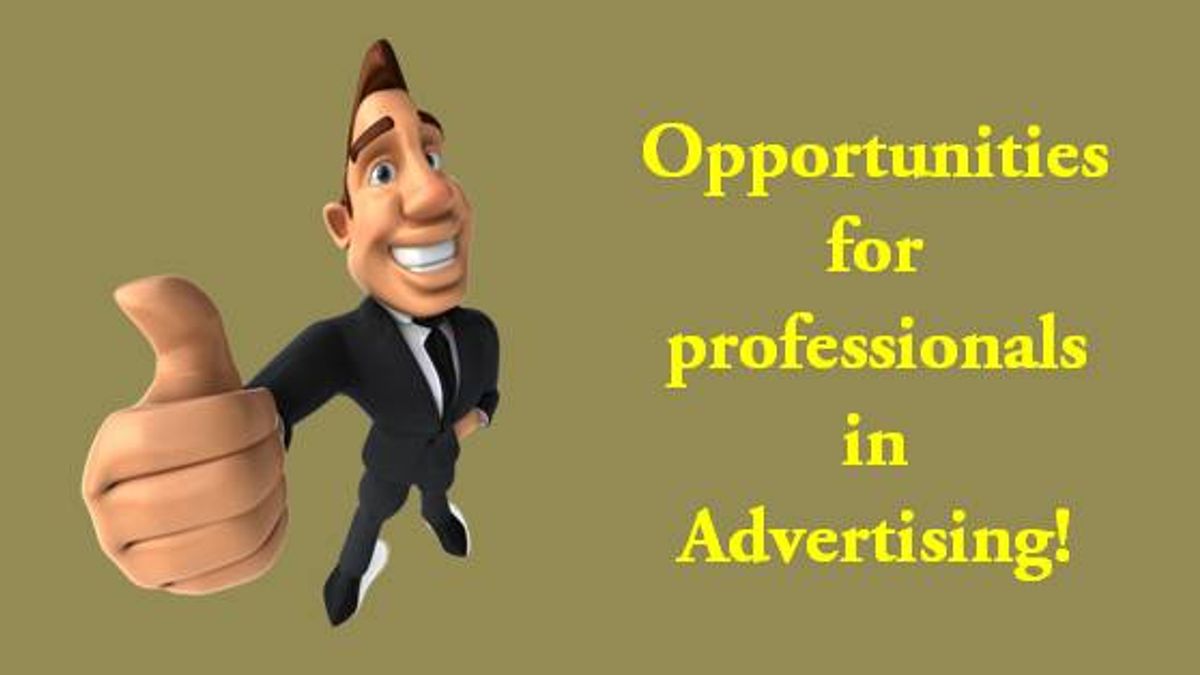 Opportunities for professionals in Advertising
So, what do you find, when you surf the web, watch television or flip through the pages of a newspaper? Apart from the interesting pieces of news items and TV programmes, the advertisements of different products and services grab your eyeballs and persuade you to buy the product. Basically, these catchy and persuasive advertorials are intended to create awareness among viewers about a respective product or service. The advertising industry has grown by leaps and bounds and now offering the different kinds of job opportunities to the job seekers. Honestly, the advertising industry promises plenty of opportunities, success, and growth to young professionals. If you are looking for an opportunity in advertising and want to know about the various career options in this field, then you must go through this article.
Job description of an Advertising Manager
The job of an Advertising Manager is to oversee everything that defines the structure of an agency. An advertising manager is responsible to look after the implementation of advertising campaigns and to ensure the success of a particular campaign while supervising the advertising professionals. The satisfaction of clients is the top priority of advertising managers. Further, it's their responsibility to understand the clients brief (the campaign idea) properly and pass it on comprehensively to the creative team in the agency.
Role of an Advertising Sales Representative
Also known as an Advertising sales agent, an advertising sales representative allocates the media space to advertisers. If you work for a newspaper, then you're supposed to take a decision on the allocation of the Ad space in the newspaper while following the rate list that has been set by the company. In the same manner, you will have to sell the airtime to advertisers if you're working in a TV station. To increase the Ad revenue, an advertising sales representative is supposed to locate and organize meetings with potential clients.
Graphics Designing and its role in an Ad Agency
A graphic designer is responsible to create a visual concept, either manually or by using computer software. The importance of a Graphic designer in an Ad agency can't be ignored as he/she is among one of the brains that play a crucial role in attracting the consumers at large. For it, they use creative and attractive visuals. As a Graphic Designer, you can get a full-time job in advertising firm or in a company where you might have to work under the direction of an art director. An art director is considered to be the main professional in the development and execution of the visually appealing and creative advertising concepts.
The role of a Marketing Associate
A marketing associate ensures the smooth operation of marketing and advertisement work. Apart from it, you might have to perform some administrative and some other advertisement related task, such as conducting research, analyzing consumer data, creating marketing and advertising materials. In order to interact with employers, colleagues, clients, and vendors, a marketing associate must have strong written and oral communications skills.
Other Job Opportunities in Advertising
Other than the main work areas in Advertising, here's a list of some other job profiles that are commonly found in an Ad agency:
| | | | |
| --- | --- | --- | --- |
| Account Associate | Account Coordinator | Account Director | Account Executive |
| Account Manager | Account Planner | Account Representative | Account Specialist |
| Account Supervisor | Advertising Assistant | Advertising Buyer | Advertising Coordinator |
| Advertising Copywriter | Advertising Director | Advertising Photographer | Advertising Sales Director |
| Advertising Specialist | Advertising Traffic Manager | Agency Account Coordinator | Assistant Account Executive |
| Assistant Buyer | Assistant Media Planner | Brand Manager | Broadcast Account Manager |
| Client Strategist | Client Support Specialist | Communications Coordinator | Content Marketer |
| Copy Associate | Copyeditor | Copywriter | Creative Director |
| Developer | Digital Advertising Manager | Digital Advertising Sales Manager | Digital Advertising Specialist |
| Digital Media Planner | Editorial Photographer | Events Manager | Graphic Artist |
| Illustrator | Interactive Media Buyer | Internet Advertising Buyer | Junior Account Planner |
| Major Account Manager | Marketing Coordinator | Marketing Manager | Media Account Director |
| Media Buyer | Media Coordinator | Media Director | Media Planner |
| Media Research Analyst | Media Specialist | Motion Graphics Designer | Multi-Media Advertising Sales Manager |
| Multi-Media Sales Manager | National Account Coordinator | Online Advertising Coordinator | Online Advertising Director |
| Online Advertising Manager | Online Advertising Specialist | Preprint Analyst | Print Traffic Coordinator |
| Print Traffic Director | Print Traffic Manager | Production Artist | Producer |
| Promotions Manager | Public Relations Specialist | Researcher | Sales Manager |
| Sales Planner | Senior Account Director | Senior Account Planner | Social Media Advertising Manager |
| Target Marketing Strategist | Traffic Manager | Web Analytics Consultant | Web Designer |
Conclusion
Advertising is one of the fastest growing industries that offer various job opportunities to job seekers. But, these job opportunities can't be availed by the job seekers without having important knowledge about them. In this article, we have enlisted and explained about some important job opportunities available in this industry. It would help you select the most suitable job that could be a ladder to your success and growth.