UP Board class 10th maths study material
Get study material for UP Board class 10th maths paper. UP Board Class 10 Mathematics is a scoring subject if you practice well. Attempt online test, practice papers, sample papers ect and score good grade in UP Board class 10th examination 2018.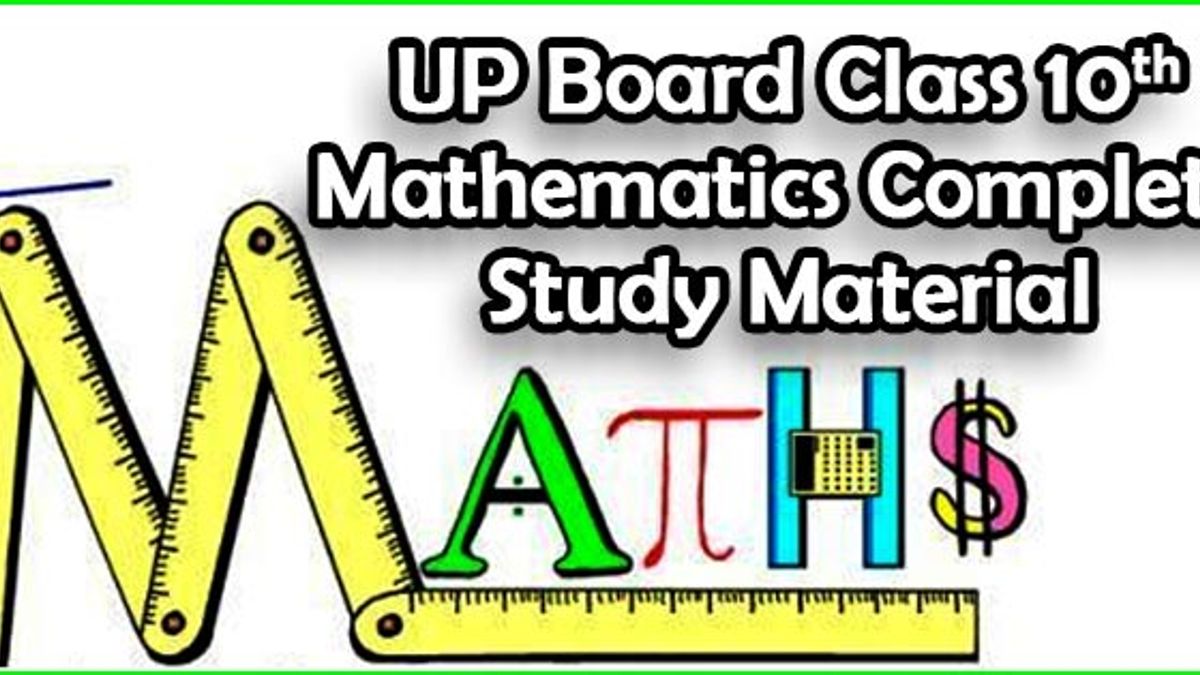 Class 10th maths study material
In this article we are providing study material for UP Board class 10th maths paper. The material consist detailed syllabus, practice paper, online test, guess paper, sample paper,last five year solved question paper,last five year very short questions,last five year long questions, examination pattern etc…. Students are advised to go through the material and make their preparation strategy accordingly.
1. Syllabus:
Syllabus for UP Board Class 10th mathematics subject for the academic session 2017‒2018. UP Board Syllabus contains all the topics to be taught in a year divided as per the academic session. Students can make proper study plans with the help of syllabus. Read this article to get complete syllabus.
The key contents of the syllabus issued by UP Board for Class 10th Mathematics subject :
Name of the Units and their Weightage in Board Exam,
Details of topics and sub-topics to be covered in each unit,
Question Paper Design for UP Board Class 10th mathematics Board Exam (2017-18).
Click here, to get the complete syllabus.
2. Examination pattern:
To score maximum marks in the UP Board Class 10th Maths Exam, students must know about the paper pattern and other essential information related to the UP Board class 10th exam paper.
Click here, to get examination pattern.
3. Online Test:
These online MCQ tests include all important questions from all the chapters of UP board Class 10 Mathematics. Students can join this test without registration and absolutely free of cost.
Find free online test for science paper.
4. UP Board Class 10th Last 5 Years' Science Solved Question Papers:
Here you will find UP Board Class 10 maths solved question papers. These questions not only help the students to prepare for exam in a better manner, but also help them in understanding the depth with which a topic should be studied.
Click here, to get solved paper
5. Guess Paper:
Guess papers are useful learning resources for students especially while preparing for the UP Board Exams 2018. Guess papers help the students to have a clear perception about the real question paper and give them an idea about the different types of questions that might be asked in the UP board class 10th Science paper 2018.
Links are below:
Mathematics Solved Guess Paper Set-1
6. Sample Paper:
UP Board Sample Papers for class 10th mathematics subject are designed to make you at ease with the exam pattern and the type of regularly-asked questions. Practicing from sample papers relieve your stress and nervousness about the exam as you know exactly what to expect from the paper on the exam day.
Links are below:
Mathematics Sample Paper Set-1: 2017
Mathematics Sample Paper Set-2: 2017
7. Practice Paper:
Solving practice papers makes you familiar with the marking pattern of questions. You get a clear-cut picture of the weightage assigned to each section and hence, you get to know how much value is to be given to each section.
Links are below: