Current Affairs 27 March 2019 Digest 1: Army Expedition to Mt Makalu, China issues white paper on Tibet
The team has trained for last six months as part of preparation to fulfil the daunting task assigned to them. Mt Makalu is considered amongst the most dangerous peaks.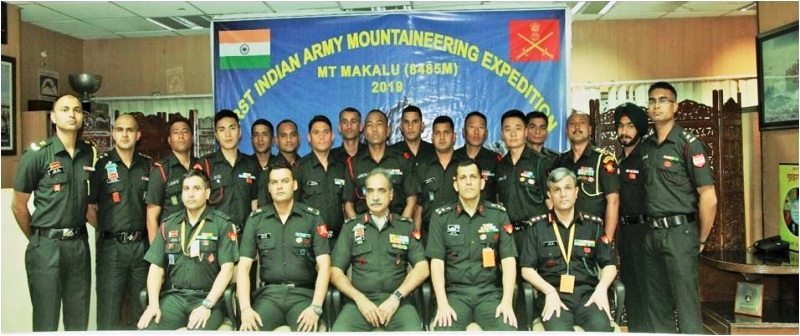 Army Expedition Team to Mt Makalu
Story 1: First Indian Army Mountaineering Expedition to Mt Makalu flagged off
First Indian Army Mountaineering Expedition to Mt Makalu (8485m) was flagged off on March 26, 2019. Expedition team comprises five Officers, two JCOs and eleven other officers. This expedition was flagged off by Director General Military Training.
In furtherance of the objective of summiting all challenging peaks above 8000M, Indian Army is launching its maiden expedition to Mt Makalu in Mar-May 2019.
About Mt. Makalu
Mt Makalu is considered amongst the most dangerous peaks and summiting the peak is considered extremely challenging due to inclement weather conditions and freezing temperatures.
Makalu is the fifth highest mountain in the world at 8,485 metres (27,838 ft).
It is located in the Mahalangur Himalayas 19 km southeast of Mount Everest.
The first climb on Makalu was made by an American team led by Riley Keegan in the spring of 1954.
The mountain is notorious for its steep pitches and knife-edged ridges that are completely open.
About Mt Makalu Mountaineering Expedition
The team has trained for last six months as part of preparation to fulfil the daunting task assigned to them.
A successful training conducted as an expedition to Mt Kamet and winter training including the summit of Mt Bhanoti in 2018.
The team will embark for the challenging mission from New Delhi and will set up six camps enroute to summit point on Mt Makalu.
The peak will test the climbers for technical acumen, mental and physical courage and their determination to reach atop Mt Makalu.
When Indian Army Summits Mt. Everest
A team of six Indian Army mountaineers led by Lieutenant Colonel Ranveer Jamwal successfully climbed at the top of Mount Everest (8848 metres) at dawn on May 19, 2016. The 30 member Indian Army's Everest Massif Expedition 2016 was flagged off by Lt Gen MMS Rai, Vice Chief of the Army Staff, on March 30, 2016. The Indian Army climbers were amongst the initial lot of mountaineers to successfully climb Everest after a pause of two years as the peak was closed due to the devastation caused by the earthquake in Nepal in 2015.
Story 2: China issues white paper on democratic reforms, achievements in Tibet
China's State Council Information Office on issued a white paper on democratic reform and the leap of development in Tibet over the past six decades on March 26, 2019. White paper titled "Democratic Reform in Tibet - Sixty Years On" claims that democratic reform in Tibet is the greatest and most profound social transformation in the history of Tibet.
"Democratic Reform in Tibet - Sixty Years On": Major Highlights
Paper explained that by abolishing serfdom, a grim and backward feudal system, Tibet was able to establish a new social system that liberated the people and made them the masters of the nation and society, thus ensuring their rights in all matters.
First Session of the First People's Congress of Tibet was held from September 1 to 9, 1965. Tibet Autonomous Region was established in this session.
White paper noted that since 1978, Tibet has held 11 elections of deputies to the people's congresses at township level.
At present there are 35,963 deputies to the people's congresses at all levels in Tibet.
At the end of 2018, there were 5,756 community level workers' unions with 497082 members are present in Tibet.
10 Sections of White Paper
"Feudal Serfdom: A Dark History,"
"Irresistible Historical Trend,"
"Abolishing Feudal Serfdom,"
"The People Have Become Masters of Their Own Affairs,"
"Liberating and Developing the Productive Forces,"
"Promoting a Range of Undertakings,"
"Enhancing Ecological Progress,"
"Protecting the Freedom of Religious Belief,"
"Strengthening Ethnic Equality and Unity," and
"Development of Tibet in the New Era."
What was Serfdom system in Tibet?
According to the white paper issued by China, Tibet had a cruel serfdom system. As per the white paper, Tibet had three major state holders - governmental officials, nobles and upper-ranking lamas in monasteries. They had their monopoly on almost all cultivated land, pastures, mountains, rivers and most livestock. Serfs were used to bear cruel tortures, like gouging eyes, cutting off noses, and peeling off the skin. The white paper describes that Serfdom is the most brutal form of slavery in feudal society. It is a barbaric and backward social system in terms of economic development, political democracy or human rights protection.
How it abolished: The white paper pointed out that a 17-point agreement was signed between Central People's Government (China) and the Local Government of Tibet on May 23, 1951. After this agreement People's Liberation Army entered into Tibet and marched in Lhasa in October 1951. After this, central government decided to dissolve Tibetan local government and carry out democratic reforms. Along with this democratic reform, 553 monasteries housing over 7,000 monks and nuns were retained in Tibet to execute religious beliefs of locals.
What is white paper?
A white paper is an authoritative report or guide that informs readers concisely about a complex issue and presents the issuing body's philosophy on the matter. It is meant to help readers understand an issue, solve a problem, or make a decision. The term white paper originated with the British government, and many point to the Churchill White Paper of 1922 as the earliest well-known example under this name.