Dutee Chand wins 100m Gold; Congratulations pour in from President, PM and Bollywood
As soon Dutee Chand won 100m gold at world university games, President of India, Prime Minister and celebrities of bollywood took to twitter to congratulate her.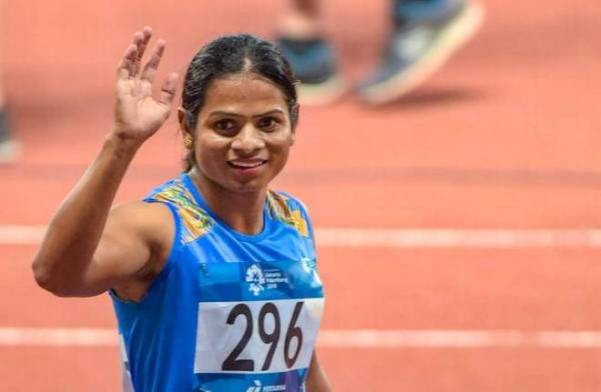 Dutee Chand
Dutee Chand has created a history by winning first position in 100 meter race at the Universiade, the World University Games in Naples. She has become first Indian sprinter to win 100m Gold in this race. Dutee Chand clocked 11.32 seconds to win this gold.
Dutee Chand was running in the fourth lane but reached at the finish mark ahead of all eight athletes. She got a maximum challenge from Del Ponte of Switzerland who finished her race in 11.33 seconds. However, for third position athlete of Germany took 11.30 seconds to win bronze medal.
President Ram Nath Kovind's Tweet
President Kovid congratulated her for winning 100m gold in world university games in a tweet. He said that Dutee Chand's victory is India's first such gold and moment of immense pride for our country.
She replied to the President with a
PM Modi congratulates her
Prime Minister Narendra Modi tweets, "Exceptional achievement of an exceptional athlete! Congratulations @DuteeChand for winning a hard earned and well deserved Gold in the Women's 100m finals."
Apart from PM Modi Sports Minister, Bollywood celebrities like Anurag Kashyap, Arjun Kapoor, Ayushmann Khurrana, Dia Mirza among others took to twitter to congratulate her. Now Dutee Chand has become India's second Indian sprinter who won a gold medal in global event after Hima Das, who grabbed the top position in 400m in the World Junior Athletics Championships.
Arjun Kapoor writes on twitter, "Congratulations @DuteeChand on becoming the first Indian woman to win the 100-metre sprint at the 30th Summer University Games in Italy!"
Dutee Chand's records

• She was born on February 3, 1996 in Odisha.
• Dutee Chand became a national champion in year 2012 when she won first position under-18 category with 11.8 seconds win in the 100 meter race.
• She won two gold medals at Asian Junior Athletics Championships in 200 metres and 4x400m relays held in June 2014.
• She became the third Indian woman to participate for the Women's 100 metres at Rio 2016 Olympics.
• At the Asian Athletics Championships 2017 she clinched two bronze medals, one in the Women's 100 metres, another in the Women's 4×100 m relay.
• Dutee Chand also won silver medal in women's 100m finals at 2018 Asian Games.
Also Read | World Population Day 2019: India's population to reach 1450 million by 2100