ICC World Cup 2019 Schedule: Complete World Cup Records, schedule, result, winner
World Cup Schedule 2019: England lift maiden ODI World Cup trophy after super over victory.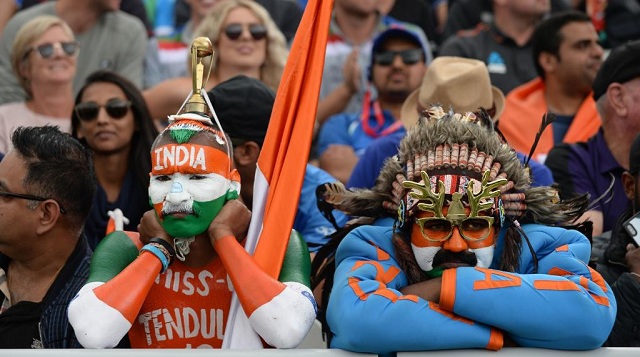 ICC World Cup 2019 Schedule: Complete World Cup Records, schedule, result, winner
ICC World Cup 2019: May 30 – July 14, 2019

Total Matches: 48

Total Teams: 10
World Cup Schedule 2019: England are the new World Champions. England triumphed over New Zealand in a nail-biting Super Over. The World Cup 2019 final between England and New Zealand went into the Super Over after the match result ended in a tie. England got all out for 241 in 50 overs, one run short of a win. Though the Super Over also ended in a tie with both New Zealand and England getting the same number of runs off a single over, but as per Super Over rule, as England had hit more boundaries in their innings, the hosts were declared the winners. With this, England won their maiden World Cup title.
India were knocked out of the ICC World Cup 2019 after they were beaten by New Zealand by 18 runs in the first semi-final. The match had originally begun on its scheduled date on 9th July but the play was called off for the day due to poor weather and pushed to the reserve day on 10th July. This was the first World Cup knockout match to have been continued on a reserve day. Overall, the men-in-blue won 7 out of their total 9 World Cup matches. India lost only two matches in this tournament, first against England and the semi-final narrowly against New Zealand. Overall, ten teams participated in ICC World Cup 2019 including England, India, South Africa, New Zealand, Australia, Pakistan, Sri Lanka, West Indies, Bangladesh and Afghanistan. India, England, New Zealand and defending Champions Australia were initially the World Cup title favourites. There were 48 matches in total in the world cup, among which 45 were in the group stage. Each of the ten teams played nine group stage matches, among which, the top four progressed to the semi-finals.
Check out > World Cup 2019: World Cup point table, highest run scorer, highest wicket-taker, century record, 5 wicket-haul | Key Records Broken

ICC Cricket World Cup 2019- Points Table
India finished at the top of the world cup points table at the end of the group stage with 15 points from 9 matches thus becoming the first semi-finalist, followed by Australia at the second place with 14 points from 9 matches. England became the third semi-finalist with 12 points, while New Zealand narrowly became the fourth semi-finalist.
World Cup 2019- Points Table

No.

Team

M

W

L

T

Pts

NRR

1

Australia

8

7

1

-

14

+1.000

2

India

7

5

1

1

11

+0.854

3

New Zealand

8

5

2

1

11

+0.572

4

England

8

5

3

-

10

+1.000

5

Pakistan

8

4

3

1

9

-0.792

6

Bangladesh

7

3

3

1

7

-0.133

7

Sri Lanka

7

2

3

2

6

-1.186

8

South Africa

8

2

5

1

5

-0.080

9

West Indies

7

1

5

1

3

-0.320

10

Afghanistan

8

-

8

-

-

-1.418
Click here for complete ICC player rankings and team rankings
Indian skipper Virat Kohli and fast-bowler Jasprit Bumrah lead their respective ICC player rankings, ahead of ICC World Cup 2019.
ICC Cricket World Cup 2019: Complete list of teams & squads
ALSO READ: Team India unveils new orange jersey for 'away' matches
India's world cup schedule 2019:

India's match schedule for 2019 Cricket World Cup

Matches

Teams

Date/Time

Venue

Result
ICC Cricket World Cup 2019: Frequently Asked Questions (FAQs)
This Beard Trimmer will improve your personality instantly. You have to use it to believe it, buy it now@ just Rs. 1,199

Full World Cup Schedule 2019:
Cricket World Cup Schedule 2019

Matches

Date/ Time

Venue

Result

Match 2: West Indies vs Pakistan

May 31 (Fri) at 3:00 PM IST

Trent Bridge, Nottingham

West Indies won by 7 wickets

Match 3: New Zealand vs Sri Lanka

Jun 1 (Sat) at 3:00 PM IST

Sophia Gardens, Cardiff

New Zealand won by 10 wickets

Match 4: Afghanistan vs Australia

Jun 1 (Sat) at 6:00 PM IST

County Ground, Bristol

Australia won by 7 wickets (91 balls left)

Match 5: South Africa vs Bangladesh

Jun 2 (Sun) at 3:00 PM IST

Kennington Oval, London

Bangladesh won by 21 runs

Match 6: England vs Pakistan

Jun 3 (Mon) at 3:00 PM IST

Trent Bridge, Nottingham

Pakistan won by 14 runs

Match 7: Afghanistan vs Sri Lanka

Jun 4 (Tue) at 3:00 PM IST

Sophia Gardens, Cardiff

Sri Lanka won by 34 runs (DLS method)

Match 9: Bangladesh vs New Zealand

Jun 05 (Wed) at 6:00 PM IST

Kennington Oval, London

New Zealand won by 2 wickets

Match 10: Australia vs West Indies

Jun 06 (Thu) at 3:00 PM IST

Trent Bridge, Nottingham

Australia won by 15 runs

Match 11: Pakistan vs Sri Lanka

Jun 07 (Fri) at 3:00 PM IST

County Ground, Bristol

Match abandoned due to rain, both teams get one point each

Match 12: England vs Bangladesh

Jun 08 (Sat) at 3:00 PM IST

Sophia Gardens, Cardiff

England won by 106 runs

Match 13: Afghanistan vs New Zealand

Jun 08 (Sat) at 3:00 PM IST

Cooper Associates County Ground, Taunton

New Zealand won by 7 wickets

Match 15: South Africa vs West Indies

Jun 10 (Mon) at 3:00 PM IST

Rose Bowl, Southampton

Match abandoned due to rain, both teams share one point each

Match 16: Bangladesh vs Sri Lanka

Jun 11 (Tue) at 3:00 PM IST

County Ground, Bristol

Match abandoned without a ball bowled, both teams share one point each

Match 17: Australia vs Pakistan

Jun 12 (Wed) at 3:00 PM IST

Cooper Associates County Ground, Taunton

Australia won by 41 runs

Match 19: England vs West Indies

Jun 14 (Fri) at 3:00 PM IST

Rose Bowl, Southampton

England won by 8 wickets

Match 20: Sri Lanka vs Australia

Jun 15 (Sat) at 3:00 PM IST

Kennington Oval, London

Australia won by 87 runs

Match 21: South Africa vs Afghanistan

Jun 15 (Sat) at 6:00 PM IST

Sophia Gardens, Cardiff

South Africa won by 9 wickets

Match 23: West Indies vs Bangladesh

Jun 17 (Mon) at 3:00 PM IST

Cooper Associates County Ground, Taunton

Bangladesh won by 7 wickets

Match 24: England vs Afghanistan

Jun 18 (Tue) at 3:00 PM IST

Emirates Old Trafford, Manchester

England won by 150 runs

Match 25: New Zealand vs South Africa

Jun 19 (Wed) at 3:00 PM IST

Edgbaston, Birmingham

New Zealand won by 4 wickets

Match 26: Australia vs Bangladesh

Jun 20 (Thu) at 3:00 PM IST

Trent Bridge, Nottingham

Australia won by 48 runs

Match 27: England vs Sri Lanka

Jun 21(Fri) at 3:00 PM IST

Headingley, Leeds

Sri Lanka won by 20 runs

Match 29: West Indies vs New Zealand

Jun 22 (Sat) at 6:00 PM IST

Emirates Old Trafford, Manchester

New Zealand won by 5 runs

Match 30: Pakistan vs South Africa

Jun 23 (Sun) at 3:00 PM IST

Lord's, London

Pakistan won by 49 runs

Match 31: Bangladesh vs Afghanistan

Jun 24 (Mon) at 3:00 PM IST

Rose Bowl, Southampton

Bangladesh won by 62 runs

Match 32: England vs Australia

Jun 25 (Tue) at 3:00 PM IST

Lord's, London

Australia won by 64 runs

Match 33: New Zealand vs Pakistan

Jun 26 (Wed) at 3:00 PM IST

Edgbaston, Birmingham

Pakistan won by 6 wickets

Match 35: Sri Lanka vs South Africa

Jun 28 (Fri) at 3:00 PM IST

Riverside Ground, Chester-le-Street

South Africa won by 9 wickets

Match 36: Pakistan vs Afghanistan

Jun 29 (Sat) at 3:00 PM IST

Headingley, Leeds

Pakistan won by 3 wickets (2 balls remaining)

Match 37: New Zealand vs Australia

Jun 29 (Sat) at 6:00 PM IST

Lord's, London

Australia won by 86 runs

Match 39: Sri Lanka vs West Indies

Jul 1 (Mon) at 3:00 PM IST

Riverside Ground, Chester-le-Street

Sri Lanka won by 23 runs

Match 41: England vs New Zealand

Jul 03 (Wed) at 3:00 PM IST

Riverside Ground, Chester-le-Street

England won by 119 runs

Match 42: Afghanistan vs West Indies

Jul 04 (Thu) at 3:00 PM IST

Headingley, Leeds

West Indies won by 23 runs

Match 43: Pakistan vs Bangladesh

Jul 05 (Fri) at 3:00 PM IST

Lord's, London

Pakistan won by 94 runs

Match 45: Australia vs South Africa

Jul 06 (Sat) at 6:00 PM IST

Emirates Old Trafford, Manchester

South Africa won by 10 runs

Match 47: Second Semi-Final- Australia vs England

Jul 11 (Thu) at 3:00 PM IST

Edgbaston, Birmingham

England won by 8 wickets

Match 48: Final- New Zealand vs England

Jul 14 (Sun) at 3:00 PM IST

Lord's, London

England won the Super Over

Click here for full updates of England vs South Africa match