National Waterway-2: First container cargo movement on Brahmaputra
National Waterway-2 is located between Sadiya-Dhubri regions of the Assam. It is a section of 891 km long stretch.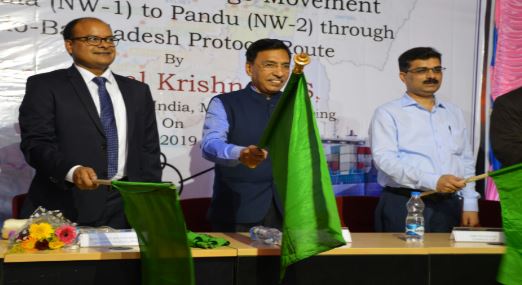 Image: PIB
India's first container cargo consignment was recently flagged off by Ministry of Shipping to sail on waterways from Haldia Dock Complex (National Waterway-1) to Pandu, Guwahati (National Waterway-2). Inland vessel MV Maheshwari is carrying 53 containers of Petrochemicals, Edible oils, Beverages among others.
The 12-15 days sea voyage will be an integrated movement through National Waterway-1 (Ganges River), National Waterway-97 (Sundarbans), India-Bangladesh Protocol (IBP) route and National Waterway-2 (Brahmaputra River).
Benefits of National Waterway-2 Voyage
• It is the first container cargo movement on this Inland Water Transport (IWT) route.
• This 1425 km long movement is expected to establish technical and commercial feasibility of IWT mode using these diverse waterways.
• The purpose of this latest cargo movement is to promote the industrial development of the North East region by opening an alternative route for the transportation of raw materials and goods.
Also Read | IWAI, Indian Oil sign MoU on fuel needs for national waterways
National Waterway-2
• National Waterway-2 is located between Sadiya-Dhubri regions of the Assam. It is a section of 891 km long stretch which was declared National Waterway-2 in 1988.
• In India, 111 waterways have been declared as National Waterways as per the National Waterways Act, 2016.
• It has nine floating terminals – Dibrugarh, Saikhowa, Jogighopa, Dhubri Port, Silghat, Jamuguri, Bogibil, Tezpur and Sadiya.
• Pandu port is the largest and the most important port in National Waterway-2.
What is India-Bangladesh Protocol (IBP)?
• IBP is an inland water transportation and trade protocol signed between India and Bangladesh. It allows vessels of one country to transit through the specified routes of the other country.
• The existing protocol routes between India and Bangladesh are - Kolkata-Pandu-Kolkata, Rajshahi-Dhulian-Rajshahi, Pandu-Karimganj-Pandu and Kolkata-Karimganj - Kolkata.
• Apart from the above, India and Bangladesh have taken major steps in recent times to increase the use of waterways.
• An agreement has been signed by both countries to facilitate the movement of goods from India through the Chittagong and Mongla ports in Bangladesh.
Also Read | India, Uzbekistan sign three agreements to enhance military ties
Also Read | Union Government launched Phase-I of River Information System