Rahul Gandhi Resignation: Ten key points from Gandhi's resignation letter, "I have no hatred towards the BJP"
Rahul Gandhi Resignation Letter: "The state objectives of the RSS, to capture India's institutional structure are now complete."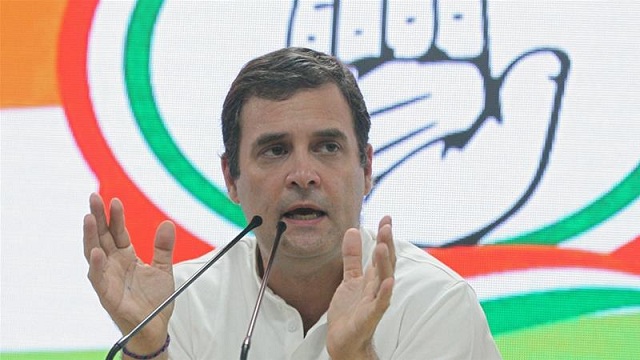 Rahul Gandhi Resignation: Ten key points from Gandhi's resignation letter
Rahul Gandhi Resignation Letter: Rahul Gandhi has resigned from his post of Congress President. Rahul Gandhi had announced his decision to quit as Congress President on May 25, during the meeting of the Congress Working Committee. Despite reports that Rahul Gandhi will continue as the Congress Chief, Gandhi stepped down from the position on July 3, 2019.
Rahul Gandhi tweeted an open letter announcing his decision along with a post that read, "It is an honour for me to serve the Congress Party, whose values and ideals have served as the lifeblood of our beautiful nation. I owe the country and my organisation a debt of tremendous gratitude and love. Jai Hind"
Gandhi said that the state objectives of the RSS, to capture India's institutional structure are now complete. He further claimed that India's democracy has been fundamentally weakened and there is a real danger that from now on, elections will go from being a determinant of India's future to a mere ritual.
Rahul Gandhi further said that the Congress Working Committee (CWC), the party's top decision-making body, should call a meeting on an urgent basis and decide on the new Congress President without further delay. Despite reports that Rahul Gandhi will be deciding the new Congress Chief, Gandhi said that he was "not going to get involved in the process as it would complicate things".
Rahul Gandhi said that he has already submitted his resignation to the Congress Party and that he is no longer the party president. However, Gandhi reiterated that he would continue to work for the Congress Party. Rahul Gandhi's resignation comes after many senior Congress Party leaders and several Congress state units requested him to reverse his resignation decision.
Rahul Gandhi's Resignation Letter: Ten Key Points
1. As President of Congress Party, I am responsible for the loss of the 2019 election. Accountability is critical for the future growth of Congress. It is for this reason that I have resigned as Congress President.
2. I have no hatred or anger towards the BJP but every living cell in my body instinctively resists their idea of India. This resistance arises because my being is permeated with an India idea that is and has always been in direct conflict with theirs. Where they see hatred, i see love. What they fear, i embrace.
3. The attack on our country and our cherished Constitution that is taking place is designed to destroy the fabric of our nation. In no way, shape or form am I stepping back from this fight. I am a loyal soldier of the Congress party and a devoted son of India and will continue to serve and protect her till my last breath.
4. We fought a strong and dignified election. Our campaign was one of brotherhood, tolerance and respect for all of India's people, religions and communities. I personally fought the Prime Minister, RSS and the institutions they have captured with all my being. At times, i stood completely alone and am extremely proud of it.
5. A free and fair election requires the neutrality of a country's institutions, an election cannot be fair without arbiters- a free press, an independent judiciary and a transparent election commission that is objective and neutral. Nor can an election be free if one party has a complete monopoly on financial resources.
6. The state objectives of the RSS, the capture of our country's institutional structure is now complete. Our democracy has been fundamentally weakened. There is a real danger that from now on, elections will go from being a determinant of India's future to a mere ritual.
7. The capture of power will result in unimaginable levels of violence and pain for India. Farmers, unemployed youngsters, women, tribals, dalits and minorities are going to suffer the most. The impact on our economy and nation's reputation will be devastating.
8. The Prime Minister's win does not negate the breadth of corruption allegations against him, no amount of money and propaganda can ever hide the light of the truth.
9. The Indian nation must unite to reclaim and resuscitate our institutions. To achieve this, the Congress Party must radically transform itself.
10. Today the BJP is systematically crushing the voice of the Indian people. It is the duty of the Congress party to defend those voices. India has never and will never be one voice. I am available to the party whenever they require my services, input or advice.