Top 10 Weekly Current Affairs: 16 September to 21 September 2019
Supreme Court recently fixed October 18, 2019, as the deadline for concluding the hearings of the Ram janmabhoomi-Babri Masjid case.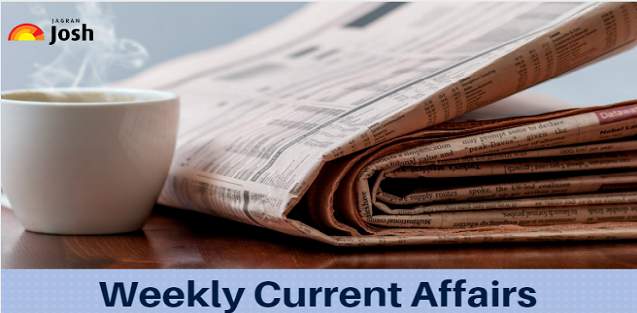 Weekly Current Affairs
'Howdy Modi' Event: Trump to join Modi in Houston Rally
US President Donald Trump announced recently that he will be joining Prime Minister Narendra Modi at a mega event called 'Howdy Modi' at Houston. This will be for the first time that US President Donald Trump and Indian PM Narendra Modi will be addressing a rally jointly. The event will be a major opportunity to highlight the strong bonds between teh Indian and American community. The event will also mark the third meeting between Trump and Modi in 2019.
Top US lawmakers urge President Trump to reinstate India's preferred trade status
A total of 40 US lawmakers have urged the US President Donald Trump to reinstate the preferential trade status of India. The group of lawmakers led by Congressmen Jim Himes and Ron Estes submitted a letter signed by 26 Democrats and 18 Republicans in this regard to Robert Lighthizer, Trump's trade representative.
Moti Bagh: Documentary on Indian farmer's life nominated for Oscars
A documentary based on Uttarakhand farmer's life "Moti Bagh" has been recently nominated for the Oscars. Moti Bagh has been directed by Nirmal Chander and is based on the life of Vidyadutt, a farmer who belongs to a remote village of Pauri Garhwal region of Uttarakhand.
IIFA Awards 2019: Alia Bhatt, Ranveer Singh Win Best Actor Awards, See Complete List
Alia Bhatt and Vicky Kaushal's film 'Raazi' won the 'Best Film Award' at the IIFA Awards 2019. Alia Bhatt won Best Actress for her role in the film, while Ranveer Singh won Best Actor award for Padmaavat. Overall Raazi won four awards, while Andhadhun and Padmaavat received two awards each. Ishan Khattar won the Best Debut (Male) Award for the film Dhadak, while Sara Ali Khan won the Best Debut Female for Kedarnath.
SC sets October 18 as deadline to conclude Ayodhya hearing
Supreme Court recently fixed October 18, 2019, as the deadline for concluding the hearings of the Ram janmabhoomi-Babri Masjid case. The motive behind this deadline is to deliver the verdict in Ayodhya case before the retirement of CJI Ranjan Gogoi in November 2019.
"PoK is a part of India," says EAM S Jaishankar
Indian External Affairs Ministry while speaking at a press conference on September 17, 2019 stated clearly that PoK (Pakistan occupied Kashmir) is, has always been and will always be a part of India. He also added that India expects to have jurisdiction over the area one day. Further, the EAM clarified that their main objective in the Kulbhushan Jadhav case was to gain consular access to him and to know his wellbeing.
Saudi Oil Facility Attack: Explained
On September 14, 2019, drones attacked the oil facilities of one of the world's biggest crude oil exporters, Saudi Aramco. The drone attacks have resulted in the rise of Global Oil prices. Saudi Aramco's oil facilities contribute to about 5 percent of global oil supply. The United States has accused Iran of being behind the attack, citing intelligence and satellite images as evidence.
Rajnath Singh becomes first defence minister to fly fighter jet Tejas
Rajnath Singh has become the first Defence Minister to fly indigenously-built fighter aircraft Tejas. The Defence Minister flew a 30-minute sortie in the twin-seater version of Tejas. DRDO Chief Dr G Satheesh Reddy said that the Defence Minister controlled and flew the Tejas for sometime. Tejas became the first Indian aircraft to successfully carry out "arrested landing" on September 13, demonstrating its ability to land onboard an aircraft carrier.
What is Public Safety Act of Jammu & Kashmir: All you need to know
Former J&K Chief Minister Farooq Abdullah was booked under the Public Safety Act (PSA) on September 16, 2019. The Public Safety Act, 1978 of Jammu and Kashmir is a defensive detention law that allows taking a person into custody to prevent him or her from acting in any matter that is prejudicial to "the security of the state or the maintenance of the public order".
E-cigarettes banned, Nirmala Sitharaman announces in Cabinet Briefing
Union Finance Minister Nirmala Sitharaman announced during a cabinet briefing that E-cigarettes have been banned across the country. Under this complete ban, no company would be allowed to produce, sell, manufacture or advertise the e-cigarettes across India. Soon, an ordinance will be issued in this regard.