International Day of Democracy 2019: Current Theme and Significance
The International Democracy Day is observed on 15 September every year to raise awareness among people about democracy. This day provides an opportunity to review the democracy of the state in the world. Let us read more about International Democracy Day, its theme and significance.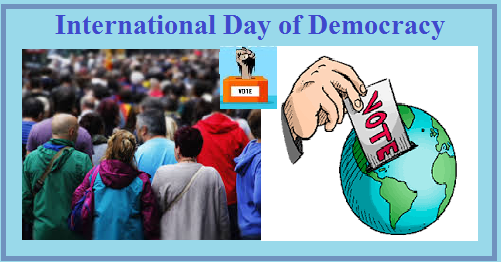 International Day of Democracy
International Democracy Day provides an opportunity to recall that democracy is about people. We can't ignore the fact that democracy generates the natural environment for the protection and effective realisation of human rights. It is built on a constant dialogue between civil society and the political class. Therefore, it is rightly said that democracy shall gives us the rule, which shall be of the people, by the people and for the people.
International Day of Democracy 2019: Theme
The theme of International Day of Democracy 2019 is 'Participation'. According to UN, democracy is built on inclusion, equal treatment and participation. It is a fundamental building block for peace, sustainable development and human rights. Political participation, civic space and social dialogue make up the very foundation of good governance. It works with the impact of globalisation and technological progress. No doubt, nowadays civic space is shrinking in the whole world at an alarming rate.
Democratic elements in Ancient India
International Day of Democracy: History
UN always believes that human rights and the rule of law are always protected in democratic societies. UN always focuses on the goals of piece, human rights and development. Democracy provides a strong, active and vocal civil society. On 8 November, 2007, the UN General Assembly decided to make 15 September to observe the International Day of Democracy annually. On this day the assembly incites people and organisations from government and non-government, to commemorate the International Day of Democracy. In 2008, the International Day of Democracy was fist time celebrated. In fact UN General Assembly recognised 2008 year and marked it as the 20th anniversary of the first International Conference of New or Restored Democracies. It gave chance to the people to come forward, promote and consolidate democracy worldwide.
The main significance of International Day of Democracy is that it provides an opportunity to urge people, all governments to respect the rights of the citizens and provide substantive and meaningful participation in democracy. Even the 2030 Agenda for Sustainable Development is to address democracy in Sustainable Development Goal 16 and recognise the links of individuals between peaceful societies, effective and accountable and inclusive institutions.
International Day of Democracy: Events
On this day, several people and organisations work together to raise awareness about democracy and for that they also hold several events like conferences, debates, discussions etc. In fact with the help of distribution of leaflets, posters, flyers with UN logo on them various publicity campaigns are organised. At UN headquarters, major events are organised to commemorate the International Day of Democracy. It is the need for the people to understand that democracy and human rights are closely linked. Democracy gives right to vote, to elect government of choice, regulation from themselves rather than being controlled by a government. If there is no democracy then there will be lack of rights or a voice and on the other hand impact human rights.
Therefore, we can say that International Day of Democracy is a day to educate the public on issues of concern, to mobilise political will and resources to address problems worldwide and to reinforce the achievements of humanity.
Important Days and Dates in September 2019
Important Days in 2019: National and International