Lal Bahadur Shastri: Life, History, Death and Achievements
Lal Bahadur Shastri was the second Prime Minister of Independent India and he was greatly impressed by Mahatma Gandhi. He gave the slogan of "Jai Jawan Jai Kisan" which means "Hail the soldier, Hail the farmer. Let us read more about Lal Bahadur Shastri.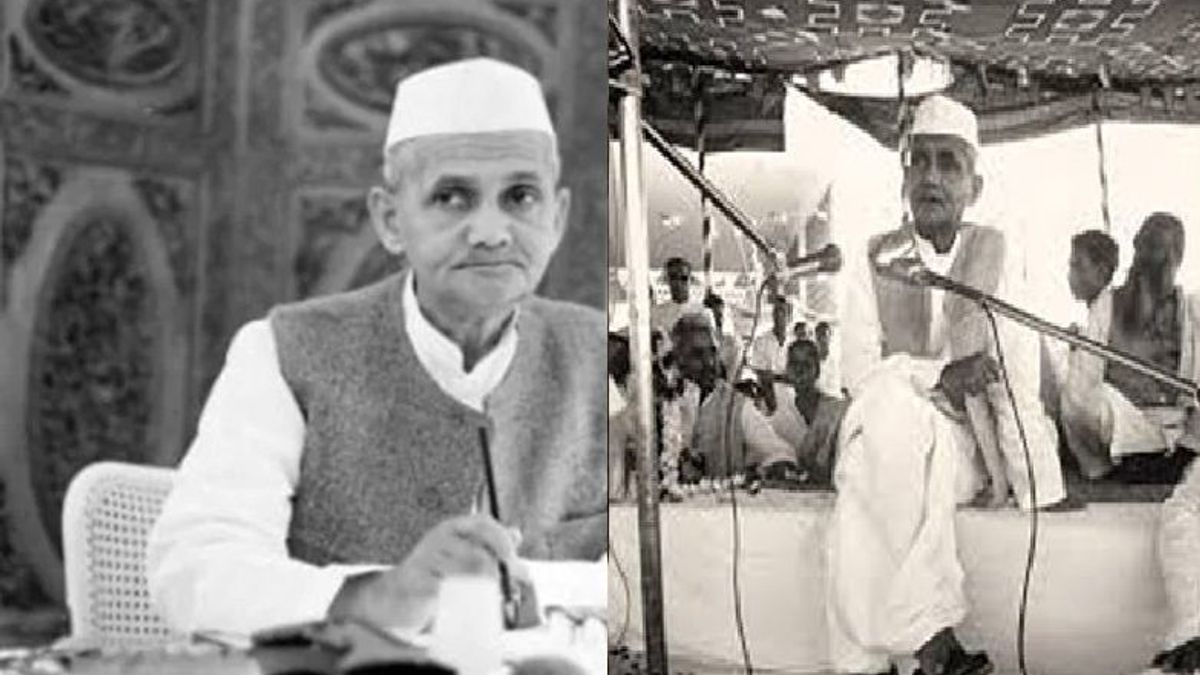 Lal Bahadur Shastri: Life, History, Death and Achievements
Lal Bahadur Shastri dedicated more than 30 years to the country and he came to be known as a man of great integrity and competence. He was a man of great inner strength, humble and tolerant. He understood people's language and was a man of vision towards the country's progress.
Born: 2nd October, 1904
Birth Place: Mughalsarai, Varanasi, Uttar Pradesh
Father: Sharada Prasad Shrivastava
Mother: Ramdulari Devi
Wife: Lalita Devi
Political Association: Indian National Congress
Movement: Indian Independence Movement
Death: 11 January, 1966
Memorial: Vijay Ghat, New Delhi
Lal Bahadur Shastri was born on 2nd October, 1904 at Mughalsarai, Varanasi, Uttar Pradesh. He was the second Prime Minister of Independent India and also a leader of the Indian National Congress Party.
Brief Biography
Lal Bahadur Shastri studied in East Central Railway Inter College in Mughalsarai and Varanasi. He completed his graduation from the Kashi Vidyapeeth in 1926. He was given the title "Shastri" meaning "Scholar" by Vidya Peeth as a part of his bachelor's degree award. But this title got into his name. Shastri was very much influenced by Mahatma Gandhi and Tilak.
He got married to Lalita Devi on 16 May 1928. He became a life member of the Servants of the People Society (Lok Sevak Mandal), founded by Lala Lajpat Rai. There he started to work for the upliftment of backward classes, and later he became the President of that Society.
During 1920s, Shastri ji joined the Indian Independence Movement, in which he participated in the non-cooperation movement. He was sent to jail for some time by the Britishers.
In 1930, he also participated in the Salt Satyagraha, for which he was imprisoned for more than two years. In 1937, he joined as the Organising Secretary of the Parliamentary Board of U.P. He was again sent to jail in 1942, after Mahatma Gandhi issued the Quit India speech in Mumbai. He was imprisoned until 1946. Shastri had spent some nine years in jail in total. He utilized his stay in prison by reading books and familiarizing himself with the works of western philosophers, revolutionaries and social reformers.
Political Achievements
Post India's Independence, Lal Bahadur Shastri became the Parliamentary Secretary in U.P. He also became the Minister of Police and Transport in 1947. As a Transport Minister, he had appointed women conductors for the first time. Being the minister in charge of the Police Department, he passed the order that police should use jets of water and not lathis to disperse the agitated crowds.
In 1951, Shastri was appointed as the General Secretary of the All-India Congress Committee, and got success in carrying out the publicity and other activities related to election. In 1952, he was elected to Rajya Sabha from U.P. Being the Railway Minister, he installed the first machine at Integral Coach Factory in Chennai in 1955.
In 1957, Shastri again became the Minister for Transport and Communications, and then the Minister of Commerce and Industry. In 1961, he was appointed as Home Minister, and he appointed the Committee on Prevention of Corruption. He created the famous "Shastri Formula" which consisted of the language agitations in Assam and Punjab.
On 9 June, 1964, Lal Bahadur Shastri became the Prime Minister of India. He promoted the White Revolution, a national campaign to increase milk production. He also promoted the Green Revolution, to increase the food production in India.
Though Shastri continued Nehru's policy of non-alignment, but also made relationship with the Soviet Union. In 1964, he signed an agreement with the Sri Lankan Prime Minister Sirimavo Bandaranaike, in concern with the status of Indian Tamils in Ceylon. This agreement is known as Srimavo-Shastri Pact.
In 1965, Shastri officially visited to Rangoon, Burma and re-established a good relation with their Military government of General Ne Win. During his tenure India faced another aggression from pakistan in 1965. He granted liberty to the Security Forces to retaliate and said "Force will be met with Force"and gained popularity. Indo-Pak war ended on 23 September, 1965. On 10 January, 1966, the Russian Prime Minister, Kosygin, offered to mediate Lal Bahdur Shastri and his Pakistan counterpart Ayub Khan signed the Tashkent Declaration.
What were the reasons behind Indo-Pakistan War and its effects?
Death
Lal Bahadur Shastri died due to heart attack on 11 January, 1966. He was awarded the Bharat Ratna the India's highest civilian award posthumously in 1966.
Lal Bahadur Shastri was known as a man of great integrity and competence. He was humble, tolerant with great inner strength who understood the language of common man. He was deeply influenced by the teachings of Mahatma Gandhi and was also a man of vision who led countries towards progress.
Some unknown facts about Lal Bahadur Shastri
- India's 2nd Prime Minister Lal Bahadur Shastri shares his birthday with Mahatma Gandhi that is on 2nd October.
- In 1926, he got the title 'Shastri' in Kashi Vidyapeeth University as a mark of scholarly success.
- Shastri swim Ganges twice a day to attend school and tied books on the top of the head because he didn't have enough money that time to take boat.
- When Lal Bahadur Shastri was the Minister of Uttar Pradesh, he was the first person who had used jets of water to disperse crowd instead of lathi charge.
- He introduced a slogan "Jai Jawan Jai Kisan" and played a pivotal role in shaping India's future.
- He went ot jail because he took part in the Non-Coopertaion movement at the time of Freedom Struggle with Gandhi ji but he was let off as he was still a minor of 17 years.
- As a Transport Minister after independence, he introduced the provision of female drivers and conductors in public transportation.
- As a dowry in his wedding he accepted a Khadi cloth and spinning wheel.
- He participated in the Salt March and went to jail for two years.
- When he was a Home Minister, he introduced the first committee on Prevention of Corruption.
- He had also integrated the idea of Green Revolution to boost the demand of India's food production.
- In 1920s he joined the freedom movement and served as a prominent leader of the Indian National Congress.
- Not only this, he had aslo supported the promotion of White Revolution for increasing milk production in the country. He had created the National Dairy Development Board and supported the Amul milk cooperative based at Anand, Gujarat.
- He signed Tashkent Declaration on 10 January, 1966 with the paksitan President, Muhammad Ayub Khan to end the 1965 war.
- He raised his voice against dowry system and caste system.
- He was a highly disciplined person with high self-esteem and morals. He did not even own a car after becoming a Prime Minister.
25 unknown facts about Dr. B. R. Ambedkar
When and Why British first landed on Indian Territory?