Origin and Meaning of 13 common symbols used in our everyday life
Common symbols used in our everyday life: There are many symbols like Zebra Crossing, OK symbol, Victory sign, and Danger sign, etc have been invented by the human beings for the simplicity of the life. This article is based on such symbols; we use in our daily life.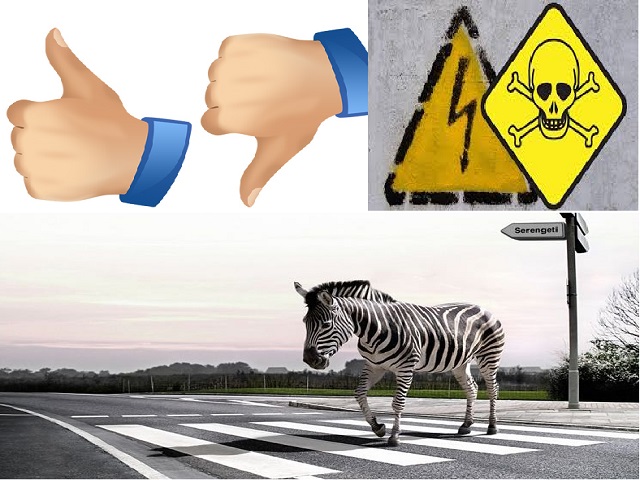 Common symbols used in our everyday life
Let's have a look on 13 important symbols one by one
1. Zebra Crossing:- This symbol was discovered by a British named 'James Callaghan' in 1948. This line was created for pedestrians to cross the road.
2. Radioactivity sign:- This symbol is made in areas where radioactive rays are likely to be found or confirmed.
Source:Stonehouse Signs
What is Black Box? How does it Work?
3. Thumbs Up Symbol:- It is an Anglo-Saxon word which is used to denote the victory or failure of the warriors among the gladiatorial combat during the Roman Empire. On victory the thumb is held up and on losing the thumb is held down. These days, this symbol is also used to express the agreeing or disagreeing to any situation/statement.
Source:PSDGraphics
4. OK Symbol: This symbol is found to be originated in the middle of the19th century in America. There are many meanings considered to be associated with this word i.e. approval, agreement or to express that 'All is well'. OK is considered to be the abbreviated form of 'All is correct'.
Image Source:Daniel Swearingen - WordPress.com
5. Victory sign: If the person showing 'V' symbol and seeing the palm of his hand then such a symbol in the countries like Australia, New Zealand, Ireland, South Africa and U.K. is considered to derogatory. If the person showing the 'V' symbol is seeing the back of his hand (as shown by Modi Ji in this picture), then it is expressed as a victory sign. Mr. Victor De Lovely, an ex Minister of Belgium has been given the credit to devise this Victory sign in the year 1941. This symbol was widely used in the Second World War.
Image Source:indiatv
10 Rarest and Most Valuable Coins of Human History
6. Hospital: This symbol is being used since the existence of Mesopotamian culture. It is considered to be originated in the Greek civilization. The symbol has a snake around a stick/rod.
Image Source:Manual of Traffic Signs
7. Handicapped: This symbol was devised by the International Commission on Technology and Accessibility in 1968. Ms. Sussan Coroade has been given the credit for devising this symbol.
Image Source:Cadworxlive.com
8. AIDS: Red Ribbon is used to create awareness among masses with regard to drug abuse, AIDS, Drunk Driving, illegal trading of drugs and to stop such a nuisance. It is also a sign of unity and solidarity among the AIDS patients. The usage of this ribbon was started in 1991 in New York as a Red Ribbon Scheme.
Image Source:www.clipartkid.com
9. Danger sign: This sign was started to identify toxic and poisonous substances in New York in 1929. Though some people use it to denote the danger from electric appliances and power, this is not the right practice as there is a separate symbol for that.
Image Source:de.fotolia.com
How Postal Index Number or PIN Codes are generated in India?
10. Male and Female sign: The male gender sign has been taken from the Mars planet whereas the Female sign is taken from the Planet Venus. These signs have been in vogue since 1950. From 1960 onwards, these signs are being used publically to identify male and female toilets.
Image Source:cilker
11. The Symbol of Justice: This symbol is being used since the 15th century and the eyes of the Goddess of Justice have been covered with black cloth to reflect that the Goddess of Justice sees everyone equally and will not be partial while doing justice to anyone.
Image Source:yahooanswers
12. The Symbol of recycling: The origin of three recycling arrows lies in the first Earth Day celebrated in April 1970. The object on which this symbol is formed implies that this item can be re-used (by melting or any other method), and thus the environment can be protected.
Image Source:Shutterstock
13. Bluetooth: Bluetooth is the technology of transmitting non-wire data from one device to another (short range). This technology was developed by telecommunications vendor "Ericsson" in 1994. Radio waves are used in this technology to transfer data.
Image Source:Shutterstock
So it can be concluded that human beings created these symbols for the simplicity of human life. If these symbols are not in practice it can create so many problems to the common man in daily life.