What is Bru-Reang Refugee agreement?
The Bru-Reang agreement is an important milestone in bringing the development to the State of Tripura. What is Bru-Reang agreement, Bru-Reang crisis, and who are Bru refugees? Let us have a look!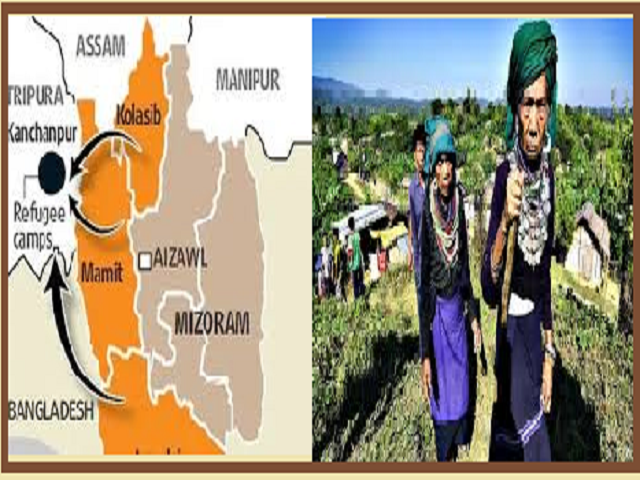 Bru-Reang Refugee Agreement
To end the 23-year old Bru-Reang refugee crisis, an agreement is signed which is known as Bru-Reang agreement.
About Bru-Reang Agreement
The Bru-Reang agreement is signed between the Government of India, Presided by the Home Minister for Home Affairs, Shri Amit Shah, Governments of Tripura and Mizoram and Bru-Reang representatives in New Delhi on 17 January, 2020. In the occasion Shri Zoramthanga, the Chief Minister of Mizoram, Shri Biplab Kumar Deb, the CM of Tripura, Shri Himanta Biswa Sarma, Chairman of NEDA, Shri Pradyot Kishore Debbarma, Chairman of TIPRA, representatives of Bru tribes and some other senior officers were present.
In the agreement, it is mentioned that:
- After the agreement about 34,000 Bru refugees will be settled in Tripura.
- Centre will provide help to these tribes for their all-round development and for this around Rs 600 crores were sanctioned.
- These tribes would get all the rights that normal residents of the State get and would be able to enjoy the benefits of social welfare schemes for Centre and State governments.
- According to the Home Minister, each displaced family would be given 40X30 sq.ft. residential plots.
- For 2 years, they will be given the aid of Rs 5000 per month.
- Free ration for 2 years
- About Rs 1.5 lakh aid to build their house.
Under this agreement, the Tripura Government would provide the land. Let us tell you that the settlement has been reached after a detailed discussion held by the Union Government with the State Governments of Tripura and Mizoram and also with the representatives of Bru tribes.
List of Important Schemes launched by the Modi Government
What is the Bru-Refugee crisis?
During 1997-98, about 5000 Bru-Reang families i.e. around 30,000 Bru-Reang tribals were displaced from Mizoram to Tripura because of ethnic violence in Mizoram. In the North Tripura, these people were living in temporary camps. To permanently rehabilitate these refugees, the Government of India, since 2010 has been making sustained efforts. Till 2014, around 1622 Bru-Reang families returned to Mizoram in different batches. Further, an agreement was also signed on 3 July, 2018 between the Union Government, the two-State Governments and representatives of Bru-Reang refugees decided to increase the aid that were given to the families. Around 328 families comprising 1369 individuals returned to Mizoram.
Who are Bru-Reang tribes?
Bru-Reang tribes are one of the 21 scheduled tribes of the Tripura state in India. Do you know they are the second largest tribal community of Tripura? They are recognised as the 75 primitive tribes in India. Reang first comes from Shan State of upper Burma (now Myanmar) to the Chittagong Hill Tracts and then to the Southern part of Tripura. Another group entered Tripura through Assam and Mizoram during the 18th century.
The Bru tribes are found in Tripura, Mizoram, Assam, Manipur, and Bangladesh. Dance is an integral part of their life. The most attractive form of dance is Hozagiri with melodious tune of flute. Ethnically Reangs are divided into two major clans namely Meska and Molsoi. They speak "Kaubru" language which has a tonal effect of Kuki language and broadly it is Kok-Borok dialect.
For their livelihood they pursue Hilltop Jhum Cultivation, several activities of food gathering including collection of jungle fruits, leaf, plants, fishing in stagnant water in hill slopes, hunting of wild animals and birds, etc. They are nomadic tribes. It is said that they are polytheists and believe in multiple Gods and Goddesses. They pray different deities like Mwtaikotorma, Tuibuma, Mailoma, Ganga etc. They also believe in spirits and existence of soul. We can say that by religion they are Hindus. Let us tell you that among Reangs followers of Vaishnavism are also found in good numbers.
Like other Tripuri tribes of Tripura, the marriage system is similar. There is no dowry system. They are endogamous and don't marry outside their community. The village council chief is "RAI" who permits Divorce and Widow Marriage. They cremate their dead bedside of the river or chara after observing series of rites and rituals and funeral procession.
Now, Bru-Reangs can settle in Tripura state because of the agreement that is signed on 17 January 2020 between the Government of India, the two State Governments, and representatives of Bru-Reangs. They will get all the facility of the schemes of Central and State government like other people of Tripura.
10 Interesting facts about India-Myanmar-Thailand Trilateral Highway