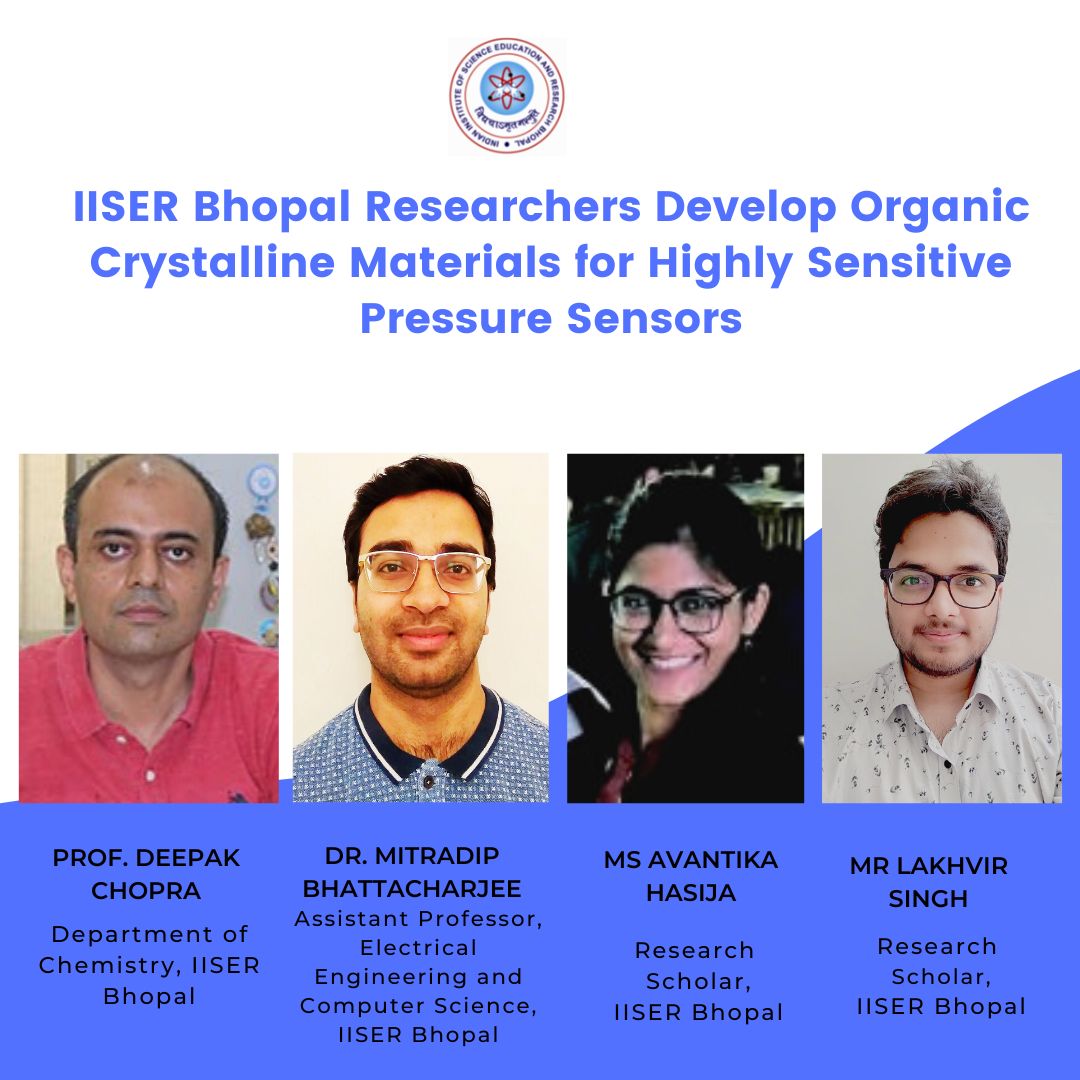 IISER Bhopal: The Indian Institute of Science Education and Research (IISER) Bhopal researchers have successfully initiated the development of a new, flexible organic crystal. These crystalline materials have great potential in highly sensitive pressure sensors. The understanding of the response of these crystals to mechanical deformation was made in collaboration with researchers from the University of Queensland and the Queensland University of Technology.
As per the latest notification, the device developed with this material has a high sensitivity to pressure as compared to existing materials which makes it a promising component for the future development of the technology of pressure sensors. There is a growing interest in electronic applications as far as the use of organic materials is concerned.
These organic materials are flexible which further makes them appropriate for creating flexible electronic devices such as displays and sensors that can be bent or curved and providing a new level of design freedom. Organic crystals particularly have immense future prospects in the field of electronics due to their less number of defects and minimal grain boundaries.
New Organic Crystals Usage
The researchers from IISER Bhopal, as well as the University of Queensland, have jointly created a new organic crystal namely 4-trifluoromethyl phenyl isothiocyanate (4CFNCS) which is flexible enough to be bent, twisted, and coiled. Professor Deepak Chopra, Department of Chemistry, IISER Bhopal, spoke about the research stating that they have deeply analyzed 4CFNCS using sophisticated computational and challenging experimental techniques such as synchrotron microfocus X-ray diffraction measurements to understand their flexibility levels.
The in-depth analysis of the crystal structure revealed the arrangement of the atoms allows it to bend and stretch without breaking when subjected to mechanical stress. The slippage of molecules in multiple directions provides complex coiling motion in crystals. The team combined 4CFNCS with the electrically conducting polymer, PEDOT: PSS, in order to make the piezo-resistive sensor.
Dr Mitradip Bhattacharjee, Assistant Professor, Electrical Engineering and Computer Science, IISER Bhopal elaborates that apart from the applications of touch screens, such materials will be of great usage in the design of flexible electronic devices, for instance, those used in healthcare, intelligent systems, wearable devices, and self-powered devices.
Also Read: IIT Kanpur and University of Alberta Sign MoU for Joint Degree Programme, Check Details Here
REGISTER FOR RESULTS UPDATES