Canara Bank PO (PGDBF) Exam 2018: General Awareness Quiz
General Awareness section plays a vital role to increase your score in bank recruitment exams. Here is a GA quiz for Canara Bank PO (PGDBF) exam 2018.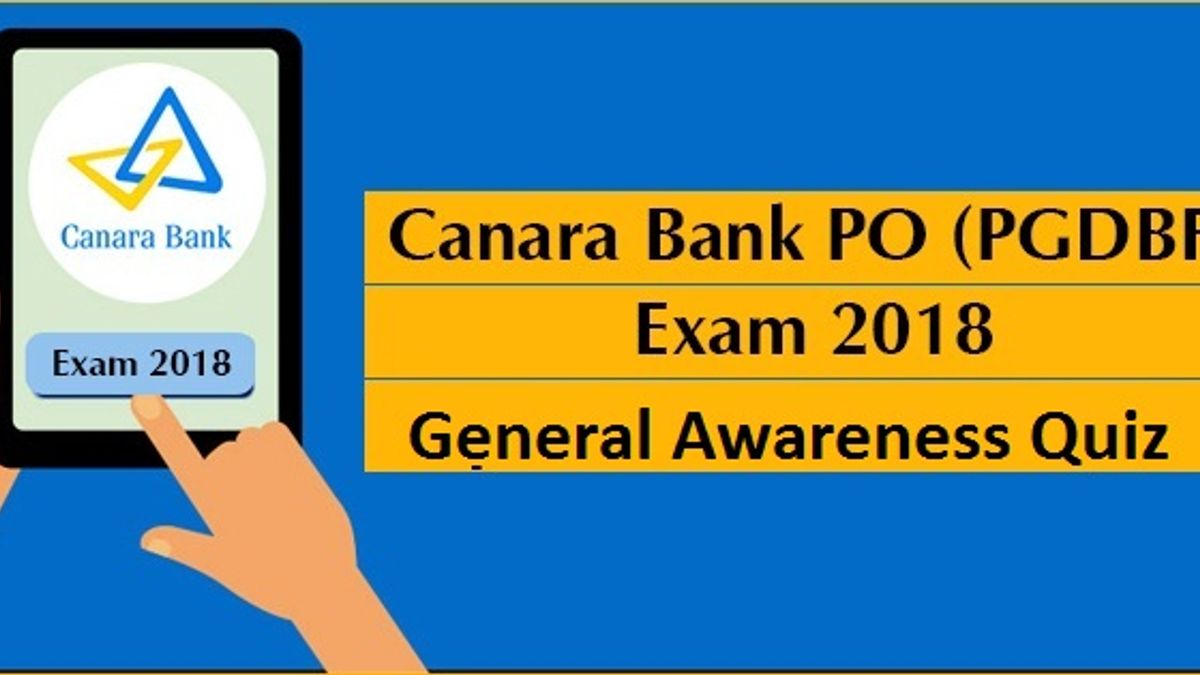 Canara Bank PO (PGDBF) Exam 2018: GA Quiz
Here, the banking team of Jagranjosh is bringing to you General Awareness quiz for Canara Bank PO (PGDBF) exam 2018. Attempt the quiz as it will help you a lot in your preparation for the exam.
1. According to a report by New World Wealth, India has been ranked sixth on the list of wealthiest countries, with total wealth of $8,230 billion. Which of the following country has topped the list?
a) China
b) Japan
c) United Kingdom
d) France
e) None of these
Ans: Option (c)
2. Which of the following countries has become has overtaken the US to become the world's third largest steel producer in 2017?
a) India
b) China
c) Australia
d) Saudi Arabia
e) None of these
Ans: Option (a)
Benefits of watching reruns of your favourite TV shows for Bank Exam Preparation
3. The Economic Survey 2017-18 is prepared by-
a) Arun Jaietly
b) Arvind Subramanian
c) Dr. Rajiv Kumar
d) Dr. Urjit Patel
e) None of these
Ans: Option (b)
4. The central government of India has presented the Economic Survey 2017-18. Which of following is not TRUE about the survey?
a) The survey says that the rate of economic growth for the financial year 2018-19 will be 7% to 8 % whereas for the fiscal year 2017-18, it is expected to be around 6.5%.
b) The agricultural growth rate is expected to be 2.1% for the financial year 2018 and industrial sector is expected to grow at the rate of 4.4% in the same period.
c) The growth of service sector is expected to be 8.3% for FY 2018.
d) The Current Account Deficit in fiscal year 2018 is expected to be between 1.5 - 2% of GDP, while export growth is expected to be 12.1% during this period.
e) The Economic Survey states that due to the implementation of GST, the number of indirect tax payers has registered an increase of 50%.
Ans: Option (a)
Best newspapers for SBI PO Exam Preparation 2018
5. Indian Railways recently announced to set up a metro and rail coach manufacturing facility on public-private partnership basis in –
a) Latur, Maharashtra
b) Varodara, Gujarat
c) Rai Bareilly, Uttar Pradesh
d) Mangalore, Karnataka
e) None of these
Ans: Option (a)
IBPS PO Interview 2018: Importance of your educational background
6. India with which of the following groups has recently decided to step up maritime and counter-terror cooperation and bolster connectivity plans?
a) Association of South East Asian Nations (ASEAN)
b) Shanghai Cooperation Organisation (SCO)
c) Asia-Pacific Economic Cooperation
d) The Commonwealth of Nations
e) None of these
Ans: Option (a)
7. The Asian Development Bank (ADB) and the Government of India today signed a $250 million loan to finance the construction of 6,254 kilometres all-weather rural roads in the States of Assam, Chhattisgarh, Madhya Pradesh, Odisha and West Bengal under the
a) Pradhan Mantri Vaya Vandana Yojana
b) Pradhan Mantri Gramin Awaas Yojana
c) Members of Parliament Local Area Development Scheme
d) Prime Minister's Rural Roads Program
e) Pradhan Mantri Adarsh Gram Yojana
Ans: Option (d)
8. Who among the following has recently appointed as new foreign secretary of India?
a) Vijay Keshav Gokhale
b) S Jaishankar
c) Dipanjan Roy Chaudhury
d) Dr. Vandana Kochhar
e) None of these
Ans: Option (a)
9. The Central Government has announced recently to infuse over Rs 88,100 crore in state-run banks under recapitalisation plan. Which of the following banks received the highest capital infusion?
a) Industrial Bank and Development Bank of India (IDBI)
b) Bank of India
c) State Bank of India
d) Bank of Baroda
e) None of these
Ans: Option (a)
How to prepare for SBI PO exam 2018 along with full-time job?
10. Which of the following countries has launched a new virtual currency 'Petro' backed by its oil reserves?
a) Saudi Arabia
b) Venezuela
c) Qatar
d) Austria
e) None of these
Ans: Option (b)
NABARD Assistant Manager Grade 'A' Exam: Previous Year Question Paper
Bank PO vs Bank SO: Which one you should opt for?