MBA General Awareness for 11 Aug to 20 Aug
Here we bring for you an interactive MCQ quiz of 10 questions each that will test your GK. The questions from this quiz might be asked in top management entrance exams such as IIFT, NMAT, MAT, SNAP, IBSAT, and CMAT etc. Take the GK quiz for the week beginning 11 Aug to 20 Aug and test you general awareness on latest happenings.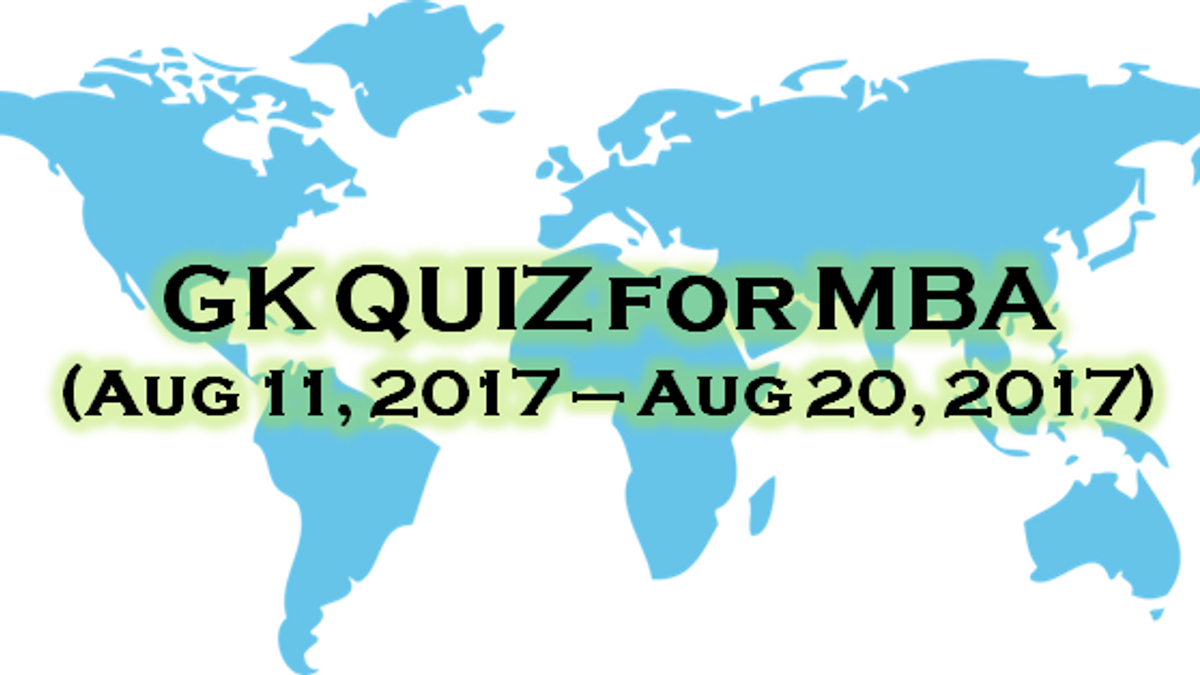 MBA General Awareness
With MBA entrance exam season on the rise, as a bright MBA aspirant you must be preparing for all the major national and state level entrances at present. While doing your preparation for all the other section such as verbal ability, quantitative aptitude, logical reasoning, do not forget that general awareness also comprises a significant portion of your exam.
To help you prepare well in advance for this section, we bring weekly MCQ quizzes comprising of 10 questions each. The quiz will help you remember current happenings. The quiz will take barely 10 minutes of your time and will prove to be beneficial in the end.
Questions from this quiz might be seen in top management entrance exams such as IIFT, NMAT, MAT, SNAP, IBSAT, and CMAT etc. The current GK quiz for the week beginning 11 Aug to 20 Aug will test your awareness. Using this quiz, make your preparation easy and save yourself from the end time hassles to mug up the GK questions in the end.
1. Which bank has introduced biometric attendance in the place of the existing system of signing attendance in the attendance register?
a) Bank of India
b) Punjab National Bank
c) Punjab and Sind Bank
d) Canara Bank
2. Which launched its first cyber court specializing in handling Internet-related cases in the e-commerce hub?
a) Japan
b) North Korea
c) Russia
d) China
3. Name the IT giant from where Vishal Sikka has resigned as Managing Director and Chief Executive with immediate effect?
a) Tata Consultancy Services
b) Infosys Ltd
c) HCL
d) Wipro Limited
4. Which country halts iron, iron ore and seafood imports from North Korea, following through on new UN sanctions over its ally's nuclear program?
a) India
b) Australia
c) China
d) Pakistan
5. Which automobile company has announced the appointment of Sanjiv Gupta as the new President and Managing Director of the company?
a) General Motors India
b) Maruti Suzuki
c) Mahindra & Mahindra
d) Ashok Leyland
MBA General Awareness for 01 Aug to 10 Aug
6. When was 'International Youth Day' observed across the world on the theme 'Youth Building Peace'?
a) 12 August
b) 10 August
c) 11 August
d) 15 August
7. What was the theme of World Humanitarian Day (WHD) that was observed globally on 19 August?
a) Live Together
b) One humanity
c) #NotATarget
d) None of these
8. Name the online major with which Nestle India has tied up for the launch of its new Nutrilicious range of Maggi Noodles.?
a) Flipkart
b) Amazon India
c) Snapdeal
d) Grofers
9. Which bank has received approval from RBI for the appointment of Shri P R Seshadri as Managing Director & Chief Executive Officer?
a) Federal Bank
b) Dena Bank
c) Yes Bank
d) Karur Vysya Bank Ltd
10. Which bank has been conferred with the 'best performance award' for 2015-16 and 2016-17 by National Bank for Agriculture and Rural Development (NABARD)?
a) Assam Gramin Vikash Bank
b) Bangiya Gramin Vikash Bank
c) Karnataka Vikas Grameen Bank (KVGB)
d) Gramin Bank Of Aryavart
Answers:
| | | | | | | | | | |
| --- | --- | --- | --- | --- | --- | --- | --- | --- | --- |
| 1 | 2 | 3 | 4 | 5 | 6 | 7 | 8 | 9 | 10 |
| B | D | B | C | A | A | C | B | D | C |
You can also download our free PDF on the MBA Logo Quiz compiled for the MBA aspirants. You are just one click away from downloading the free eBook on the interesting multiple choice question based quiz.
Take the quiz and get acquainted with the logo of these brands
For more quizzes on the General Awareness subscribe with us and do not miss out on any important update!
Also Read…
Best Books to prepare for XAT 2018