MBA in Rural Management: Prospects & Career Options
A graduate is required to make a choice according to his/her preference and MBA in Rural Management is one of the best courses that can be taken up by a student, particularly if he/she is interested in uplifting the rural towns and cities of India.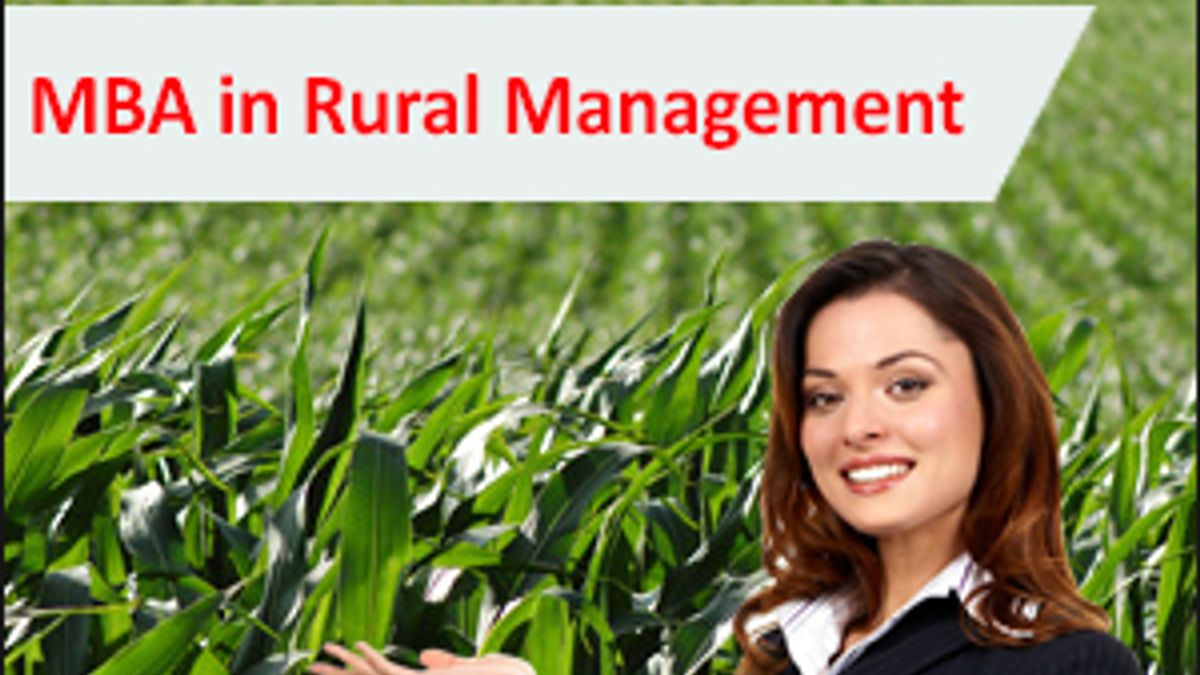 MBA in Rural Management: Prospects & Career Options
These days we have been witnessing some innovative and unique MBA specializations and MBA in rural management is one of the domains. This specialization is in high demand and looked forward at, by the aspiring candidates. MBA in Rural Management has been gaining increasing popularity in India, in particular, because the economy of our country is dependent on the agriculture and almost about 60 per cent of the population still lives in rural areas. As it can be seen from the chart given below, 47% of our economy is dependent on the Agriculture Sector. Further, Industry and Service sector accounts for 25% and 28% contribution.
Source: Statista 2016
It is important to understand that the rural and backward areas can be improvised so as to reach a level of national development and to make India a developed nation, from developing one. Thus, there is a need of nurturing those professionals who can help in uplifting the face of rural India and render our country as one of the wealthiest economies in the world.
What is MBA in Rural Management?
Those who can relate themselves with the rural states and cities of India and seek to work on improving the standards by introducing development in them, they can opt for rural management as their specialization. MBA in Rural Management is caters to working on the projects and models that can help develop a better focus on the rural area of the country. It has been the focus of our government since independence and now, the shift has been such that there are professionals required for planning and managing this sector. The course emphasizes on the fact that one needs to develop an understanding about how things function and then bring a substantial change in the system that affects the livelihoods of millions of Indian population. A professional course in this sector also brings into the focus the methodology that can be used to develop the nation and the rural sector.
Scope after MBA in Rural Management
MBA in Rural Management grooms a candidate professionally for developing and making plans that are systematic and can help in the uplifting of the rural areas. With an MBA degree, an aspirant develops several skills necessary for managing the difficulties that he/she can comes across during on-field jobs. MBA helps him/her to develop a personality and traits that are helpful in communicating with the people and convincing them about strategies that can be helpful. A candidate is expected to have a friendly attitude and should possess a feeling towards rural community and an attitude to work for them. This course, works towards moulding the candidates, who have a heart for the rural area and a mind that thinks and talks business. By pursuing MBA in rural management the individuals as well as groups imbibe in them a sense of respect for those who are less-privileged and are poor.
Career Options after MBA in Rural Management
The best part of this course is that there are a number of government jobs on offer for the candidates. The careers that you can pursue after successful completion of this course are:
On completion of the course, the students can either get an opportunity to work for the government. Along with that there are a number of non-government organizations (NGOs) where the professionals can get an opportunity to utilise their knowledge and explore the possibilities for betterment of the society. There are several projects and researches that are funded by corporates and these can prove to be good opportunities for the MBA rural management pass outs. The students can also get an opportunity to work in banks like NABARD, Grameen Bank, etc.
Pay Packages Offered to MBA Rural Management Graduate
A graduate who pursues MBA in Rural Management cannot expect too high salary as a fresher but with experience the chances to reach as high as 50,000 per month become bright. The start will be somewhere around INR 8000 – 15000 per month. The government sector jobs have lower pay packages but there are several other benefits and perks such as the house rent and electricity bill reimbursement policies. Many NGOs also provide medical expenses just like the government sector. This helps in bringing down the other expenses and makes low pay packages sufficient for the candidates.
Top Universities
There are a number of institutes that have come up with this course. Some of the very popular universities include:
Indian Institute of Management, Ahmedabad
Indian Institute of Management, Calcutta
Institute of Rural Management Anand
National Institute of Management Technology
Dev Sanskriti Vishwavidyalaya
Rural Non-Farm Development Agency
Rural Research Foundation
National Institute of Rural Development
Amrita Vishwa Vidyapeetham
Gandhigram Rural Institute
Indian Institute of Rural Management
Xavier Institute of Social Service
Tata Institute of Social Science
Top Recruiters
The best candidates can get a chance to be placed at one of the following top companies:
Gujarat Cooperative Milk Marketing Federation Ltd. (AMUL)
Greenpeace India
Mother Dairy
Mart Rural
CRY
Agriculture Finance Corp.