RSMSSB Patwari Result 2022 has been published by Rajasthan Subordinate and Ministerial Service Selection Board (RSMSSB) on rsmssb.rajasthan.gov.in. You can download Rajasthan Patwari Result by clicking on RSMSSB Patwari Result Link provided below:
The written exam for the post of Patwari on 23 and 24 October 2021 from 08:30 AM to 11:30 AM and from 02:30 PM to 05:30 PM. The answer key was published on 22 November 2022. Around 15.62 lakh candidates had registered for the exam and 10.41 lakh candidates had appeared in the examination.
As per reports, approx 11 thousand candidates have qualified in the exam
Those who qualify in the exam will be called for Document Verification. RSMSSB Patwari DV Details shall be announced later.
We have provided the step to download RSMSSB Patwari Result and expected cut-off marks in this article below:
RSMSSB Patwari Cut-Off
Non TSP Areas
Category
Cut Off Marks
General
GEN
220-772124
FEM
210-789394
WD
121-761399
DV
185-854832
EWS
GEN
210-08278
FEM
198-198722
WD
105-710673
DV
182-832303
SC
GEN
191-899988
FEM
177-756316
WD
76-431351
DV
170-438802
ST
GEN
187-194809
FEM
177-81437
WD
63-949866
DV
141-193576
OBC
GEN
219-004599
FEM
204-716442
WD
105-977273
DV
178-662119
OBC
GEN
205-732771
FEM
180-891329
WD
90-764594
DV
156-707875
SAH.
GEN
75-969951
FEM
60-343436
WD
19-972085
DV
44-172076
For TSP Areas
Category
Cut Off Marks
General
GEN
187-421583
FEM
172-536305
WD
77-111011
DV
135-97478
SC
GEN
173-086953
FEM
160-117876
ST
GEN
136-828836
FEM
128-60117
WD
4-994636
DV
103-146469
The candidates were given 150 questions and they were asked to complete the test in 3 hours. The total mark of the exam is 300. 1/3 marks shall be deducted for each wrong answer.
The overall level of the exam was moderate.
The candidates can calculate their marks by using the below formula: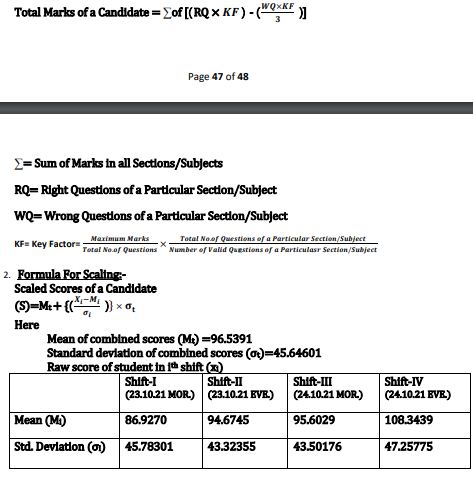 RSMSSB Final Answer Key
The boars is also expected to release the final answer key PDF along with the result. The final keys are prepared on the basis of objections submitted by the candidates between 24 October and 26 October 2021.
The result is also based on the evaluation of objections.
How to Download RSMSSB Patwari Result 2021 ?
Step - 1 - Visit the official website of RSMSSB - rsmssb.rajasthan.gov.in
Step - 2 - Click on the Result Link
Step - 3 - Download RSMSSB Result PDF
Step - 4 - Check Roll Numbers of Selected Candidates
Step - 5 Take a print out for future use
RSMSSB Patwari Recruitment is being to fill up 5610 vacancies across the state. Out of total, 4825 are for Non TSP and 785 for TSP Area.