SBI PO 2017: A practical approach for GD
SBI is all set to conduct the third round of SBI PO recruitment exercise 2017. Here we are presenting a practical approach for SBI PO Group Discussion round.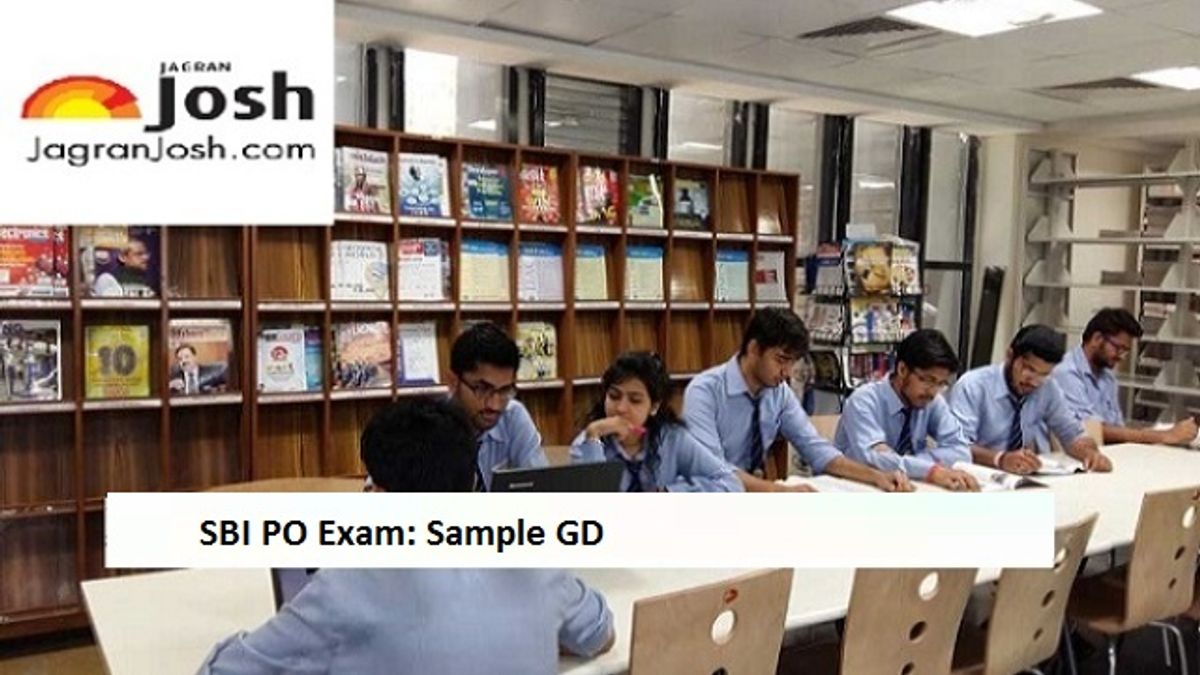 SBI PO 2017: A practical approach for GD
SBI has recently announced the result of the main examination that was conducted on 31st July 2016 all over the country for recruitment of probationary officers across the country. The next step to get the coveted job is to appear in the group discussion and interview and perform well in it. For that to happen, you need to understand the pattern of GD and prepare accordingly.
In this article, we shall try to present a scenario in which you will get an idea about how things are going to take place in the actual GD of SBI.
Group Discussion for SBI PO: Let's find the truth
Well, group discussion is a rare phenomenon in case of recruitment for bank officers in India. Even, RBI, NABARD do not opt for this method but SBI checks the communication skills of the candidates through this process because in the future boardroom meetings, you will face the similar situation as the GD conducted by the bank for recruitment of officers. In this GD, there will be a group of around 12-15 people and a topic will be given to you by the panel members. You will be given time to jot down your points regarding that topic and then, everybody will get 2 minutes to speak at the end of which, another 1 minute will be given to candidates to add something further if they wish. After this is done, the Group Discussion is put to an end by the panel members of the bank.
Banking Awareness Quiz for Upcoming Bank exams
Sample a sample GD here now at Jagranjosh
We shall, for the sake of the article, take that there are 4 candidates in the group (in the actual GD, there will be around 12-15) and the topic given is "7th Pay Commission Recommendations are going to make government employees more responsible". After the initial two minutes is over, a bell is rung and the indication is given that anybody can start the GD.
Candidate 4: The government has recently announced that it is going to implement all the recommendations of the 7th Pay Commission and it is going to cost the government a staggering Rs 2000 crore in the salary and pension along with the arrears. It is true that the salary needs to be increased at a regular interval so that the employees get a chance to live a decent living and also they are happy with their employer but at the same time, what about accountability? 7th Pay Commission has suggested about merit based promotion and stagnation of increment in case of non-performance, what about those suggestions? A person will only be accountable if there is a deterrent for him or her in case of not performing according to the prescribed standard. After all, the government employees are paid out of the taxpayers' money and they should be made accountable for all the perks and allowances they enjoy. Sadly, the announcement by the government completely ignores that point of view.
Candidate 2: In addition to what my friend just mentioned, I would like to add that if bank or other sectors lose money if they are at strike, why not central government employees be treated like that? The absence of any kind of responsibility has reached a level from where it is impossible to think what the other side of the population is feeling about them. Accountability is a basic thing that should be there because without it, no employee will ever be dedicated enough. Public servants should act in the best interests of the public and for that matter, they should be accountable to that very public only. But, in India, what happens is that the so called babus are accustomed to be non-performers as there is no punishment for not working at all. The government should introduce a performance review system at the earliest because that is what is required to make the workforce accountable. No merit and only seniority based promotions also affect the willingness to perform for these employees.
Candidate 1: We are talking about the 7th Pay Commission which is set up by the government every 10 years in order to bring about a change in the salary and allowances of its employees. What does it have to do with accountability? That is a completely executive domain. If prices of essential commodities are on the rise, that is for everybody and a central government employee is not immune to that effect. So, what is the issue that their salary is increased? It is to enable them to live a decent living and has nothing to do with accountability and responsibility. If we compare with the private sector, government servants are still paid poorly especially at the level of All India Services officers. They are the bright minds who drive this country and if you are not compensated enough for your efforts, who will be so selfless to work for others only? No normal person is and we should not expect the same from a government employee also. He or she has secured that position with hard work and if anybody else has not been able to achieve that feat, why being jealous of the government employee? If we are talking about performance, the government may consider a performance appraisal system on the lines of private companies to gauge the performance of its workforce. But, this salary hike is a kind of right for these employees and it should not be mixed with things such as accountability and responsibility.
Candidate 3: Well, the government has done right to implement the revised pay structure of the central government employees since it is now a fact beyond doubt that government employees in India are under-paid as compared to the private sector. If there is not enough compensation for a job, corruption creeps in there because human beings need to live decently with family. Obviously, other suggestions of the commission should be paid heed to by the government since paying salaries out of the taxpayers' money without holding the workforce responsible for what they do cannot be standard practice for any government. The need of the hour is not withholding the hike but suggesting a mechanism which can be of use to see the performance of an employee at the end of the year. As far as making them responsible with higher salary, it has never proved to be so whenever salary has increased in the previous occasions. So, we cannot expect government employees to be selfless as that is wrong, they are also human beings, they also have their own life, own wishes, why blame them? Are others like what they preach for government employees? As Gandhiji said "Be the change you want to see in other people", we must first learn to be selfless if we want government employees to be more responsible if only salary is increased without any accountability on the part of the government.
After this session is over, every candidate is again given 1 minute in case he or she wants to add any point to the earlier discussion or wants to refute any point raised by other candidates. However, it is not mandatory to speak in this round. Never ever speak nonsense if you have nothing to say in this round.
Candidate 3: India is a poor country and we have people who cannot even afford two square meals a day. Yet, the government spends so much on the salary and allowances of its employees. That is where we find it eye popping but think about it, this is the workforce that helps the government implement schemes at the grassroots level, represent India well in the international arena, provide public services, yes, there may be issues but you cannot blame everybody that he or she is of no use, then this country would not have been running okay. Everybody gets paid for work and the same goes for government employees. Everybody gets increment and these people also do. So, why criticizing them?
Candidate 2: After listening to all the points mentioned by my esteemed friends, would like to point to one thing and that is, in which private sector company you get increment without performance and the bosses ensure that you work hard to earn that increment. Does the same happen for government employees as well? Is there any mechanism for measuring their performance or they are entitled for the increment at the end of every year? If somebody is getting something without doing anything, why even bother about work? Let others do and that is the mentality of everybody and the sufferers are the common people who actually pay for the salary for these people. Responsibility is a culture that needs to imbibed in the organization and that comes from accountability which is nowhere to be seen in government departments.
Other two candidates chose to remain silent when they are asked by the panel members to speak and with that, the GD comes to an end.
This is a sample GD consisting of 4 people only but there will be more people in your batch depending on the strength of the same. Try to put forward your points in a way that does not hurt anyone personally as you are participating in a discussion and not a debate. Make sure you are speaking in either English or hindi language, though maintaining one language is better. Make eye contact with all your fellow batch-mates while speaking as they are your boardroom colleagues and not the panel members. Be calm and do not talk nonsense if you have nothing to say.
All the best!!
Is there any Bond Period in SBI PO?
How to increase your score in IBPS PO 2017?