India's Lakshya Sen wins Scottish Open title
Indian shuttler Lakshya Sen has won the men's singles final at the Scottish Open.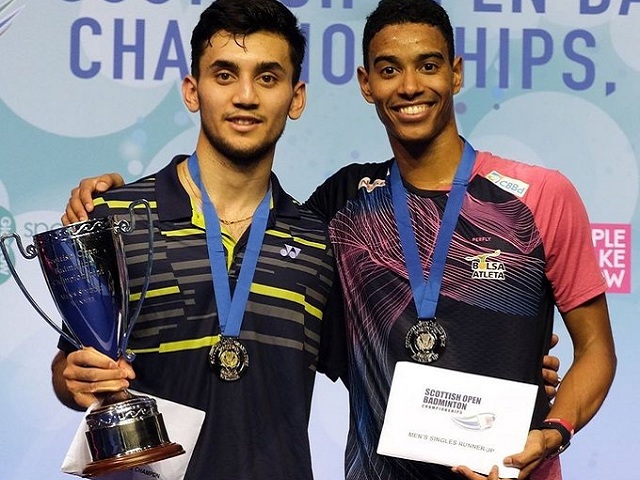 Lakshya Sen
Indian shuttler Lakshya Sen won the men's singles final at the Scottish Open at Glasgow, Scotland on November 24, 2019. This is his fourth title within the span of three months.
Lakshya Sen beat Brazil's Ygor Coelho in three sets of 18-21, 21-18, 21-19 to win the acclaimed Scottish Open title. The total match duration was 56 minutes.
Sen has now won four titles out of the five tournaments that he participated in since September 2019- Scottish Open, SaarLorLux Open, Dutch Open and Belgian International. He had lost in the second round of the Irish Open.
Lakshya in Scottish Open
Lakshya Sen had begun his campaign at the Scottish Open with a win over Austria's Luka Wraber in straight sets. He then went on to defeat India's Kiran George to reach the quarterfinals.
In the quarterfinals, Sen pulled off another straight-set win over world no. 6 Brian Yang to face-off against France's Christo Popov in the semifinals.
During the men's singles final, though Lakshya was lagging behind in the opening game, he came back with greater momentum to seal off the match with a win. The win will assist Lakshya to break into the top-40 in the BWF rankings.
He has become the fourth Indian to win the Scottish Open title. The others include Pullela Gopichand (1999), Arvind Bhatt (2004) and Anand Pawar who won it twice in 2010 as well as 2012.
Lakshya Sen is now scheduled to play at the Syed Modi International Super 300 tournament in Lucknow, which starts from November 26.
Background
Lakshya Sen is an Indian badminton player, who was born into a badminton family. His father is DK Sen, an Indian badminton coach and his brother is Chirag Sen, who is also an international badminton player.
In February 2017, Lakshya Sen became the world no. 1 in BWF World Junior rankings. He had participated in the 2018 Summer Youth Olympics and won the silver medal in the boys' singles.
Sen's first BWF World Tour title was Dutch Open men's singles title. He followed it up with a win in SaarLorLux Open.