Nobel Prizes in Literature for 2018 and 2019 awarded to Olga Tokarczuk, Peter Handke
The Nobel Prize in Literature 2019 has been awarded to Austrian author Peter Handke.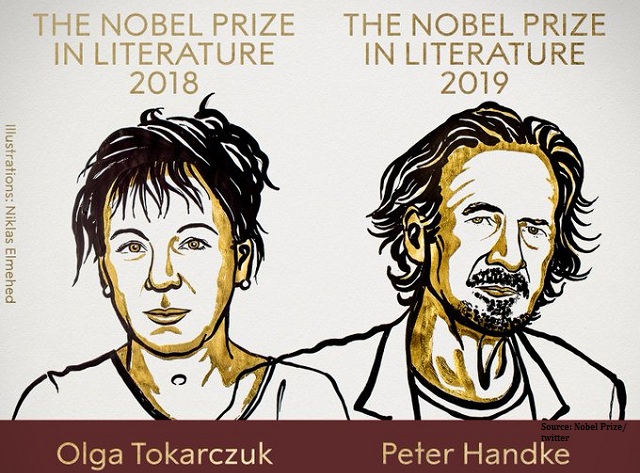 Nobel Prize in Literature
The Nobel Prize in Literature 2019 was awarded to Austrian author Peter Handke and the 2018 Nobel Prize in Literature was awarded to Polish author Olga Tokarczuk.
The Nobel Prize announcement was made at the Swedish Academy in Stockholm on October 10, 2019. The permanent secretary of the Swedish Academy, Mats Malm presented the awards.
This time, the winners were named for both 2019 and 2018, as the prize was not awarded in 2018. The Swedish academy had suspended the prize in 2018 following a sexual assault scandal.
Also read: Nobel Prize in Chemistry 2019 jointly awarded to John B. Goodenough, M. Stanley Whittingham and Akira Yoshino
Nobel Prize in Literature 2019
The Nobel Prize in Literature 2019 has been awarded to Peter Handke for his influential work that explores the specificity of human experience.
Nobel Prize in Literature 2018
The Nobel Prize in Literature 2018 was awarded to Olga Tokarczuk for her narrative imagination that represents the crossing of boundaries as a form of life.
Peter Handke: Background
Peter Handke, born in 1942 in a village called Griffenm in Karnten, southern Austria, published his debut novel- 'Die Hornissen' in 1966.
Handke, with this novel and play 'Publikumsbeschimpfung' made a lasting mark for himself in the literary industry.
Over his entire career, Handke has produced many works of different genres and has successfully established himself as one of the most influential writers after the Second World War in Europe.
Peter Handke is known to pay extra attention to landscapes and all the material presence and cinema and painting have been his biggest inspiration.
Olga Tokarczuk: Background
Olga Tokarczuk, born in 1962 in Sulechów in Poland, debuted as a fiction writer in 1993 with a book titled 'Podróz ludzi Księgi', translation of which reads "The Journey of the Book-People".
Tokarczuk's biggest breakthrough came when she published her third novel 'Prawiek i inne czasy' in 1996. Till today, the novel is considered to be an excellent example of new Polish literature.
Olga Tokarczuk is popularly known to view reality as something that is not stable or everlasting. Her novels are also based on cultural opposites such as male vs female, nature versus culture, reason versus madness and home versus alienation.
Her best work so far has been a historical novel - 'Księgi Jakubowe', which was published in 2014. The novel showcases something beyond human understanding.
Also read: Nobel Prize 2019 in Physics awarded to James Peebles, Michel Mayor and Didier Queloz
Also read: Nobel Prize in Medicine 2019 jointly awarded to William Kaelin Jr, Sir Peter Ratcliffe and Gregg Semenza