Top 10 Weekly Current Affairs: 5 August to 10 August 2019
Former Union Minister Sushma Swaraj passed away on August 6, 2019, due to a cardiac arrest. She was 67.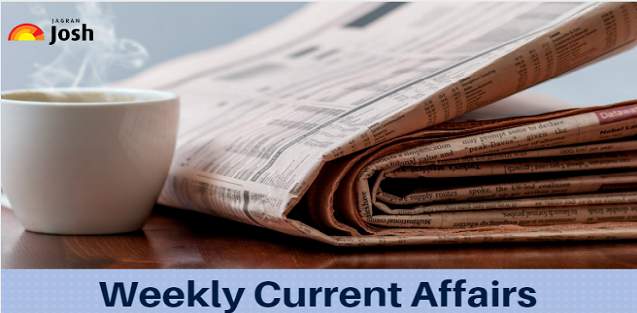 Top 10 Weekly Current Affairs
Jammu & Kashmir Reorganisation Bill 2019: President approves Abrogation of provisions of Article 370
President Ram Nath Kovind has signed the Jammu and Kashmir Reorganisation Bill 2019 to abrogate the provisions of Article 370 of the Constitution. The Bill was earlier passed by Rajya Sabha and Lok Sabha. It calls for bifurcating Jammu & Kashmir into 2 Union Territories – Ladakh and J&K.
Sushma Swaraj: A journey from College student to External Affairs Minister
Former Union Minister Sushma Swaraj passed away on August 6, 2019, due to a cardiac arrest. She was 67. Sushma Swaraj had many feathers in her cap; she was a prolific political personality of India and won many hearts while she was holding the post of External Affairs Minister.
Pranab Mukherjee conferred Bharat Ratna, Bhupen Hazarika and Nanaji Deshmukh conferred posthumously

Former President Pranab Mukherjee was conferred the Bharat Ratna, India's highest civilian honour by President Ram Nath Kovind on August 8 at a grand ceremony at Rashtrapati Bhavan. The President also conferred the Bharat Ratna posthumously upon late singer Bhupen Hazarika and late RSS leader Nanaji Deshmukh.
66th National film awards 2019: Andhadhun wins Best Hindi Film, Ayushmann Khurrana, Vicky Kaushal Best Actor

The 66th national film awards were announced on August 9, 2019 after a delay of 3 months. While Andhadhun won the national film award for Best Hindi Film, Padman won the Best Film on Social Issues award. Uri Director Aditya Dhar won the national film award for Best Director and Ayushmann Khurrana and Vicky Kaushal shared the Best Actor award for their performances in Andhadhun and Uri respectively.
Quit India movement: India observes 77th anniversary of August Kranti Diwas

The 77th anniversary of Quit India movement, also known as August Kranti Diwas, was observed on August 8, 2019. On August 8, 1942, Mahatma Gandhi gave the famous Quit India speech in which he called upon Indians to "do or die" to drive the British away from India and launched the Quit India movement at the Bombay session of the All-India Congress Committee (AICC) in Mumbai. In his Quit India speech, Mahatma Gandhi asked all Indians including teachers to leave their jobs and take part in the movement.
Abhinandan Varthaman and Balakot pilots to get top military honours

Wing Commander Abhinandan Varthaman, an Indian Air Force pilot, is likely to be awarded a Vir Chakra for his gallantry. Mirage-2000 fighter jet pilots who dropped bombs on the terror facility of the Jaish-e-Mohammed will also get the Vayu Sena Medal for gallantry.
Samjhauta Express: Pakistan permanently stops Samjhauta Express services

Pakistan has permanently stopped the Samjhauta Express train services that linked India and Pakistan. The decision was announced by Pakistan's Railways Minister Sheikh Rashid Ahmed on August 8, 2019. The announcement follows the decision of the Indian government to scrap Article 35 A and Article 370 thus, withdrawing the special status given to the state of Jammu & Kashmir and bifurcating the state into two Union Territories- Jammu & Kashmir and Ladakh.
Rajasthan Assembly passes anti-mob lynching bill, convicts to get life imprisonment
The Rajasthan Legislative Assembly today passed The Rajasthan Protection from Lynching Bill, 2019 against mob lynching and honour killing. The Bill penalises convicts involved in mob lynching with a fine up to Rs 5 lakh and life imprisonment.
What Happens When a State becomes Union Territory (UT)?
Check this article to know what would happen after Jammu & Kashmir becomes a Union Territory. The Jammu & Kashmir Reorganisation Bill 2019 is currently tabled in Lok Sabha for its passage. The Bill bifurcates Jammu and Kashmir into 2 UTs – Ladakh and J&K.
Article 370 and 35 (A) scrapped: What will change in Jammu & Kashmir?
The Union Government revoked Articles 370 and 35 (A) on August 5, 2019. The Government also proposed the bifurcation of the state into two union territories Jammu & Kashmir and Ladakh.