The National Health Policy, 2017: Key Targets at a Glance
The National Health Policy, 2017 was launched by the Ministry of Health and Family Welfare on 15th March, 2017.Through the help of this policy the government aims shifting focus from "sick-care" to "wellness", by promoting prevention and well-being of the people.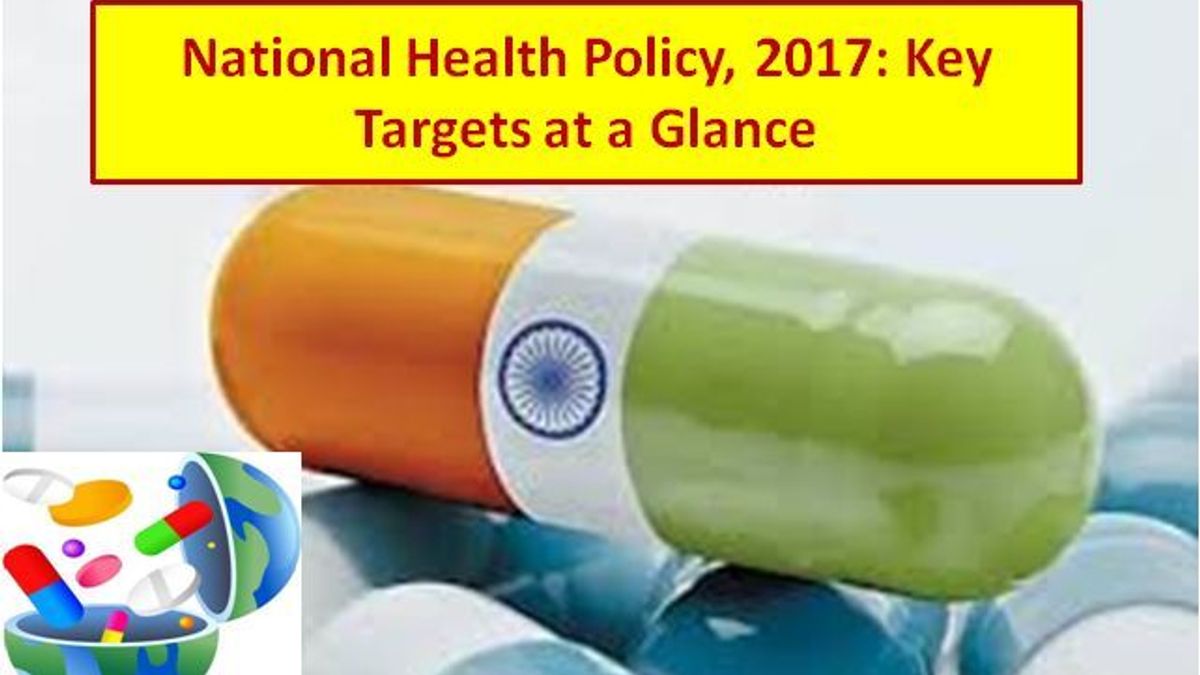 National Health Policy, 2017
The Ministry of Health and Family Welfare has announced the third National Health Policy, 2017 on 15th March, 2017. The first National Health Policy of India (NHP) got formulated in 1983 with its main focus on provision of primary health care to all by 2000. The second policy was launched in the 2002.
Now after 14 years of the last health policy, there are many things have been changed in the country. So the targets of the new National Health Policy are decided as per the requirement of the need of the hour.
Goal of the Policy: The policy aims the attainment of the highest possible level of health and wellbeing for all at all ages, through a preventive and promotive health care orientation.
Main Objectives of the Policy:
The primary objective of the National Health Policy, 2017, is to strengthen the trust of the common man in public health care system by making it patient centric, efficient, effective and affordable, with a comprehensive package of services and products that meet immediate health care needs of most people.
Why are Mosquito bites so itchy?
Key Targets of the National Health Policy, 2017, are as follows;
1. Increase health expenditure of Government from the existing 1.15% to 2.5% of the GDP by 2025.
2. Increase Life Expectancy at birth from 67.5 to 70 by 2025.
3. Reduction of Total Fertility Rate (TFR) to 2.1 at national and sub-national level by 2025. In FY 2016, India had TFR at 2.3 birth per woman.
4. Reduce Under Five Mortality to 23 by 2025 and Maternal Mortality Ratio (MMR) from currents level's 167 to 100 by 2020. It is worth to mention that Under Five Mortality in India was 29 (per 1000 live births in 2015.
5. Reduction of 40% in prevalence of stunting of Under-Five Children by 2025.
6. Reduce Infant Mortality Rate (IMR) to 28 by 2019.In 2016 the IMR was 34 per 1000 live births.
7. Reduce neo-natal mortality to 16 and birth rate to "single digit" by 2025. Neo-Natal Mortality (NMR) was 28 per 1000 live births in India in 2013.
9. To reduce the prevalence of blindness to 0.25/ 1000 by 2025 and disease burden by one third from current levels.
10. Achieve and maintain elimination status of Leprosy by 2018, Kala-Azar by 2017 and Lymphatic Filariasis in endemic pockets by 2017.
11. To reduce premature mortality from cardiovascular diseases, diabetes or chronic respiratory diseases and cancer by 25% by 2025.
12. To achieve and maintain a cure rate of more than 85% in new sputum positive patients for TB and reduce incidence of new cases, to reach elimination status by 2025.
13. Increase utilization of public health facilities by 50% from current levels by 2025.
14. More than 90% of the newborn are fully immunized by one year of age by 2025.
15. Ensure skilled attendance at birth above 90% by 2025.
16. Relative reduction in prevalence of current tobacco use by 15% by 2020 and 30% by 2025.
17. Access to safe water and sanitation to all by 2020 (Swachh Bharat Mission).
18. Reduction of occupational injury by 50% from current levels of 334/lac agricultural workers by 2020.
19. Increase the share of State on health to more than 8% of their budget by 2020.
20. Decrease in the health expenditure of the households from the current level by 25%, by 2025.
So after reading the above points it can be concluded that the main focus of the National Health Policy, 2017 is to increase the overall health of the healthcare system in the country. Government want to improve the availability of the skilled doctors, adequate medicines and belief of the common men in the healthcare institutions of the country. I am hopeful that the new National Health Policy, 2017 will be a milestone in the elevation of the health care system of the country.