Every year on November 21st, the world comes together to celebrate World Television Day, a day dedicated to recognizing the profound influence that television has had on shaping our global communication, information, and entertainment landscape.
Television has been a powerful force in shaping societies around the world. It has the ability to inform, educate, entertain, and connect people from all walks of life. In many parts of the world, television is the primary source of news and information. It is also a popular form of entertainment, providing relaxation and escapism for millions of people.
What Is the History of World Television Day?
World Television Day was established by the United Nations General Assembly in 1996 and has been celebrated every year since then.
The decision to establish World Television Day was made in recognition of the growing impact of television on society. Television has the ability to inform, educate, entertain, and connect people from all walks of life. It has also been a powerful force in shaping cultures around the world.
The theme of World Television Day changes each year, reflecting the current priorities of the international community. In recent years, the themes have focused on issues such as education, peace, and sustainable development.
The United Nations mentioned: "In recognition of the increasing impact television has on decision-making by bringing world attention to conflicts and threats to peace and security and its potential role in sharpening the focus on other major issues, including economic and social issues, the United Nations General Assembly proclaimed 21 November as World Television Day (through resolution 51/205 of 17 December 1996)."
What Is the Significance of World Television Day?
World Television Day holds significant importance for several reasons:
Recognising Television's Impact: It acknowledges the pervasive influence of television as a medium of communication, information, and entertainment. Television has transformed the way we consume news, learn about the world, and enjoy our leisure time.

Celebrating Its Power to Connect: Television has bridged cultural divides, connected people from all corners of the globe, and fostered a sense of shared experiences. It has played a crucial role in shaping global perspectives and promoting understanding among diverse communities.

Highlighting Its Educational Value: Television has served as a powerful tool for education, providing access to knowledge and promoting lifelong learning. Educational programs have expanded horizons, enriched understanding, and instilled a passion for learning among viewers worldwide.

Acknowledging Its Entertainment Appeal: Television has been a source of entertainment for generations, offering a diverse range of programs that cater to various tastes and interests. It has provided escapism, relaxation, and moments of joy for countless individuals and families.

Affirming Its Role in Social Change: Television has played a significant role in advocating for social justice, raising awareness about important issues, and promoting positive change. It has given a voice to marginalized groups, challenged stereotypes, and inspired action for a better world.
What Is the Theme of World Television Day 2023?
According to The Global TV Group, the theme for World Television Day 2023 is "Accessibility."
This theme underscores unwavering commitment to ensuring that the transformative power of television reaches every individual, regardless of their abilities. In today's interconnected world, television has transcended geographical boundaries and physical limitations, becoming a ubiquitous source of information, entertainment, and education.
However, true accessibility extends beyond mere availability. It demands that we actively bridge the gaps that may hinder individuals from fully immersing themselves in the world of television.
At the heart of this year's celebration lies the recognition that accessibility is not an afterthought but an integral part of the television experience. It is about creating a seamless and inclusive environment where everyone can connect, learn, and be entertained without barriers.
Are People Still Watching TV in the Digital Age?
Despite the rise of digital media, television remains a dominant force in the media landscape and a crucial component of any effective marketing strategy.
A Nielsen study cited by CNBC revealed that 64% of all television viewing time is dedicated to cable TV, highlighting the enduring popularity of traditional television. This robust viewership translates into substantial opportunities for advertisers to reach their target audience.
Statista further reinforces the significance of television by noting that U.S. adults spend an average of four hours per day watching TV, surpassing the average daily smartphone usage of three hours and 45 minutes. This data underscores television's enduring position as a primary medium for consuming content.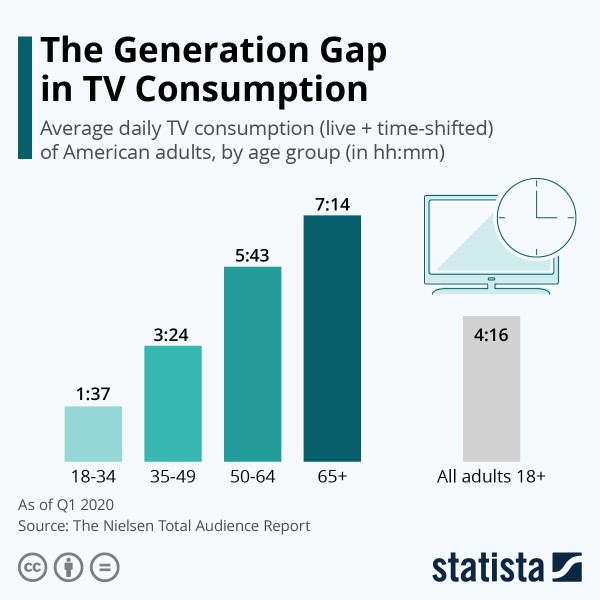 Source: Statista
Despite the emergence of new media channels, TV advertising remains a potent tool for reaching a wide audience and driving brand awareness.