List of Women Empowerment Programmes/ Schemes in India
Women Empowerment can be defined as the process which allows women to take decisions of their own, provide fair laws and rights without gender bias, etc. No doubt the empowerment of women is Nation's empowerment. Let us read various programmes or schemes of the government that provide or facilitate women empowerment.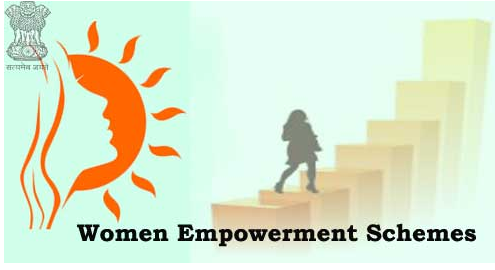 Women Empowerment Schemes
India is a land of customs, tradition and practices which have been developed through centuries to centuries. These customs, tradition and practices become the consciousness of our society. We worship female Goddesses, give importance and respect to our mothers, daughters, sisters, wives, friends,etc. But at the same time, we can't ignore the patriarchal system of our society and male superiority. In fact, principles of gender equality are enshrined in our Constitution. The Constitution of India not only grants equality to women but also empowers the State to adopt measures of positive discrimination in favour of women.
List of Women Empowerment Programmes/Schemes in India
Women Empowerment Programmes

Year of Commencement

Objectives

Beti Bachao Beti Padhao Scheme

22 January, 2015

To provide education to girls' and their welfare. To prevent the violation in the interest of girls. To celebrate the birth of a girl child.

One Stop Centre Scheme

1st April, 2015

1. It is a Centrally Sponsored Scheme. Its aim is to set up One Stop Centres (OSC) which is to be funded from the Nirbhaya Fund.

2. To provide support and assistance to women affected by violence at private or at any public place, irrespective of caste, class, religion, region, sexual orientation or marital status.

Women Helpline Scheme

1st April, 2015

To provide 24 hour emergency and non-emergency response to women affected by violence including sexual offences and harassment both in public and private sphere, including e family, community, workplace, etc.

UJJAWALA : A Comprehensive Scheme for Prevention of trafficking and Rescue, Rehabilitation and Re-integration of Victims of Trafficking and Commercial Sexual Exploitation

December 2007

For the prevention of trafficking and providing support for rescue, rehabilitation, reintegration and repatriation of women and child victims of trafficking for commercial sexual exploitation in India. The Scheme is being implemented mainly through NGOs to provide direct aid and benefit to the victims of trafficking.

Working Women Hostel

Introduced in 1972-73 and after amendment re-launched on 6th April, 2017

To promote availability of safe and conveniently located accommodation for working women, with day care facility for their children, wherever possible, in urban, semi urban, or even rural areas where employment opportunities for women exist.

Rajiv Gandhi National Creche Scheme for the Children of Working Mothers

The programme was recast by the Government of India in 2006

1. To provide day-care facilities for children (6 months to 6 years) of working mothers in the community.

2. To improve nutrition and health status of children.

3. To promote physical, cognitive, social and emotional development of children.

4. To educate and empower parents /caregivers for better childcare.

SWADHAR Scheme (A Scheme for Women in Difficult Circumstances)

2002

For providing holistic and integrated services to women in difficult circumstances and without any family, social and economic support, such as destitute widows deserted by their family in religious places like Vrindhaban and Kashi, women prisoners released from jails; women survivors of natural disasters who have been rendered homeless, trafficked women/girls rescued or runaway from brothels, women victims of terrorist violence without any means for survival, mentally challenged women and women with HIV/AIDS deserted by their family, etc.

Support to Training and Employment Programme for Women (STEP)

The Ministry has been administering STEP Scheme since 1986-87 as a 'Central Sector Scheme'. It was revised in December, 2014

To provide skills that give employability to women, to provide competencies and skill that enable women to become self-employed/ entrepreneurs.

Nari Shakti Puraskar

1999

To recognise women who have exceeded expectations to challenge the status quo and make a lasting contribution to women's empowerment.

Women Empowerment and Livelihood Programme in Mid-Gangetic Plains- 'Priyadarshini'

Pilot Project

It focuses on Women empowerment and Livelihood in Mid-Gangetic Plains. It also empower to address their political, legal, health problems.

Mahila E-Haat

7th March, 2016

It will help women to make financial and economic choices which will enable them to be a part of 'Make in India' and 'Stand Up India' initiatives.

Rashtriya Mahila Kosh (RMK) is also known as the National Credit Fund for Women (NCFW)

1993

It caters to the credit needs of the poor and asset-less women in the informal sector.

Central Social Welfare Board (CSWB)

1953

To promote social welfare activities and implementing welfare programmes for women and children through voluntary organisations.

Development of Women and Children in Rural Areas (DWCRA)

1982-83

To improve the socio-economic status of the poor women in
the rural areas through creation of groups of women for income-generating activities on a self-sustaining
basis.
In the above GK list of Women Empowerment Programmes/Schemes gives a brief outline that will be easily memorize by the aspirants of different competitive examinations.