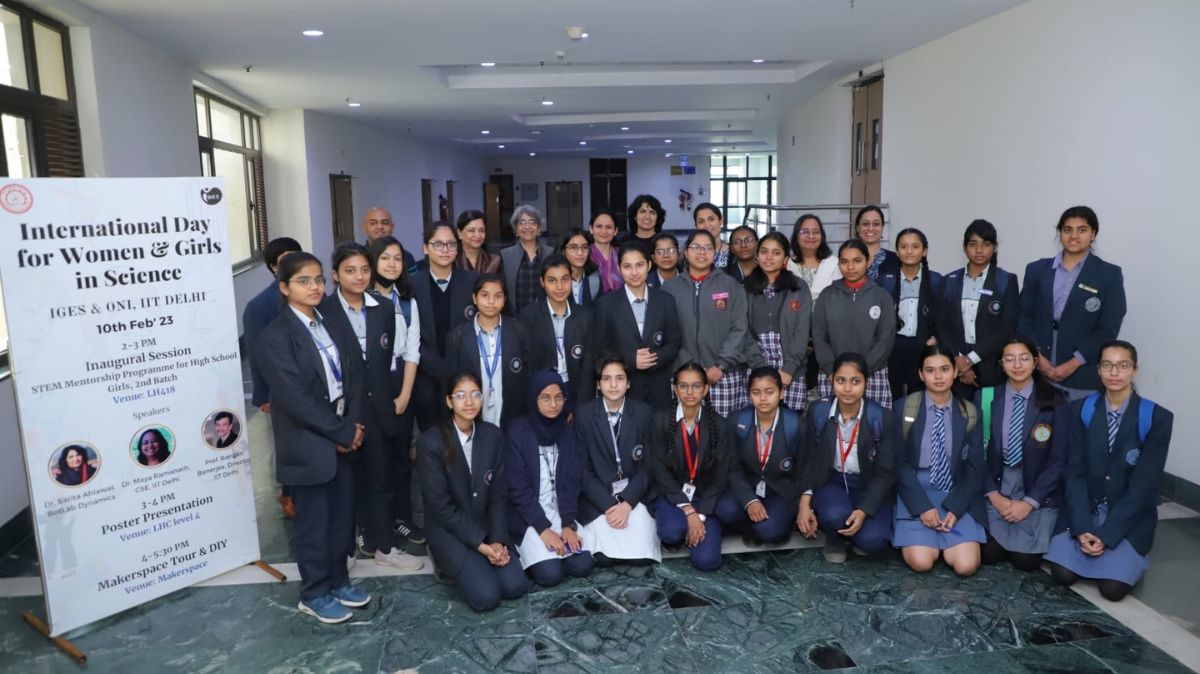 The Indian Institute of Technology, (IIT) Delhi officially inaugurated the second batch of the STEM Mentorship Programme for High School Girls (Class 11) on February 10, 2023 (Friday). This event was hosted in order to celebrate the 8th International Day for Women and Girls in Science.
As per the latest notification, the Initiative for Gender Equity and Sensitisation (IGES, Office of Diversity and Inclusion) as well as the Office of Academic Outreach and New Initiatives (ONI) at IIT Delhi jointly conducted the event.
Moreover, Professor Rangan Banerjee, Director, of IIT Delhi, commences the second batch of the mentorship programme. The STEM programme particularly aims to encourage young school girls to pursue their careers in Science, Technology, Engineering and Mathematics (STEM) areas.
Phases of STEM Batch 2023
It is mentioned by the prestigious institution that the second batch of the STEM Mentorship Programme will comprise two phases. During the first phase, the 32 selected participants from KVs, Government and Private Schools in Delhi will get exposure to learning in the relevant area. They will be given online lectures and demonstrations by expert faculty members and students of IIT Delhi on various STEM topics. This will be initiated at the weekends in March and April 2023.
While the second phase which is to be held in May will focus on tours to take the participants and let them visit IIT Delhi for about a week. Students will visit different labs in the institute to get first-hand exposure to cutting-edge research conducted at IIT Delhi.
STEM Inaugural Ceremony 2023
In the inaugural session, Professor Maya Ramanath, Computer Science and Engineering Department, IIT Delhi, along with Dr Sarita Ahlawat, Co-Founder and Managing Director at BotLab Dynamics, addressed the event of the second batch.
After the inaugural session finished, the school girls were given a brief tour of Makerspace which is a state-of-the-art Do-It-Yourself (DIY) facility at the Indian Institute of Technology (IIT) Delhi. The first STEM mentorship programme for schoolgirls was launched in December 2021 by the Office of Academic Outreach and New Initiatives of IIT Delhi. Also, the first batch of 10 schoolgirls successfully completed this mentorship programme in June 2022.
Furthermore, the selected schoolgirls were given mentorship and extensive guidance by the IIT Delhi faculty members for continuous seven months. These students were provided knowledge on a varied range of topics such as artificial photosynthesis, water reuse using nanotechnology, theoretical computer science, artificial intelligence, climate change, brain mapping and neuroscience, optics, vibrations in engineering, and the engineering of human joint implants.
Also Read: CBSE National Science Exhibition Conducted on Technology and Toys, Check Details Here