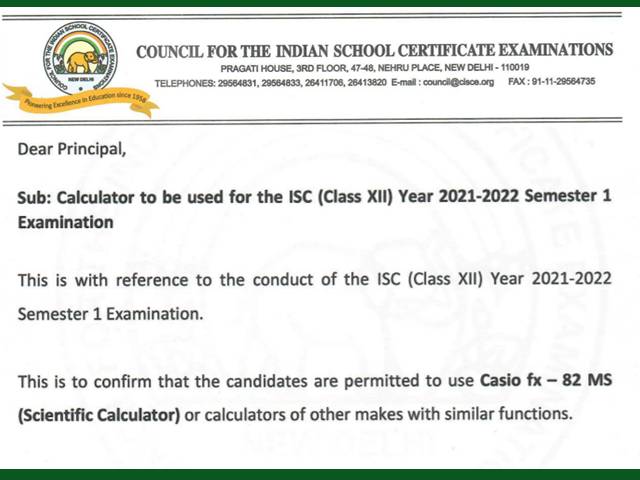 CISCE 12th Term 1 Exam 2021-22: The CISCE Board has come to the aid of Class 12 students who would be appearing for ISC Semester 1 Exam 2021-22 in the coming day with an important relief announcement. Latest update has confirmed that the Council for the Indian School Certificate Examinations (CISCE) has allowed use of scientific calculators and other similar calculators during the ISC (Class 12) Semester 1 Exam. The announcement comes amid the on-going ISC 12th (Sem 1) Exam which started on 22nd November 2021.
ISC 12th (Sem 1) Exam 2021 Use of Calculators – Read Notification Here
Official Notice Confirms Allow use of Calculators
To confirm the development, the CISCE has also released the detailed notification confirming the permission to use calculators in the ISC Sem 1 Exam 2021. The notice reads "This is to inform that the candidates are permitted to use Casio fx - 82 MS (Scientific Calculator) or calculators of other marks with similar functions." The board has issued orders to all heads of schools to permit the students to use calculators during the ISC semester 1 exam 2021-22.
ICSE / ISC Sem 1 Exam 2021-22: Documents to be Carried to Exam Hall
With the ICSE and ISC Exam 2021 for Semester 1 already underway, it is important for candidates to ensure that they are ready and carry all the necessary documents and items required to the hall to avoid any problem. ISC Class 12 Sem 1 Exam 2021 began on 22nd November 2021 and will continue until 20th December 2021. The exam is being held in offline mode and will be held over a period of 1:30 hours. Students are advised to carry necessary documents such as admit card, school ID, and other important documents carefully before leaving for the exam centre. Moreover, candidates should reach 30 minutes before the start of the exam to avoid any hassles.
Also Read: ISC Mathematics Exam 2021-22 for Semester 1 Postponed