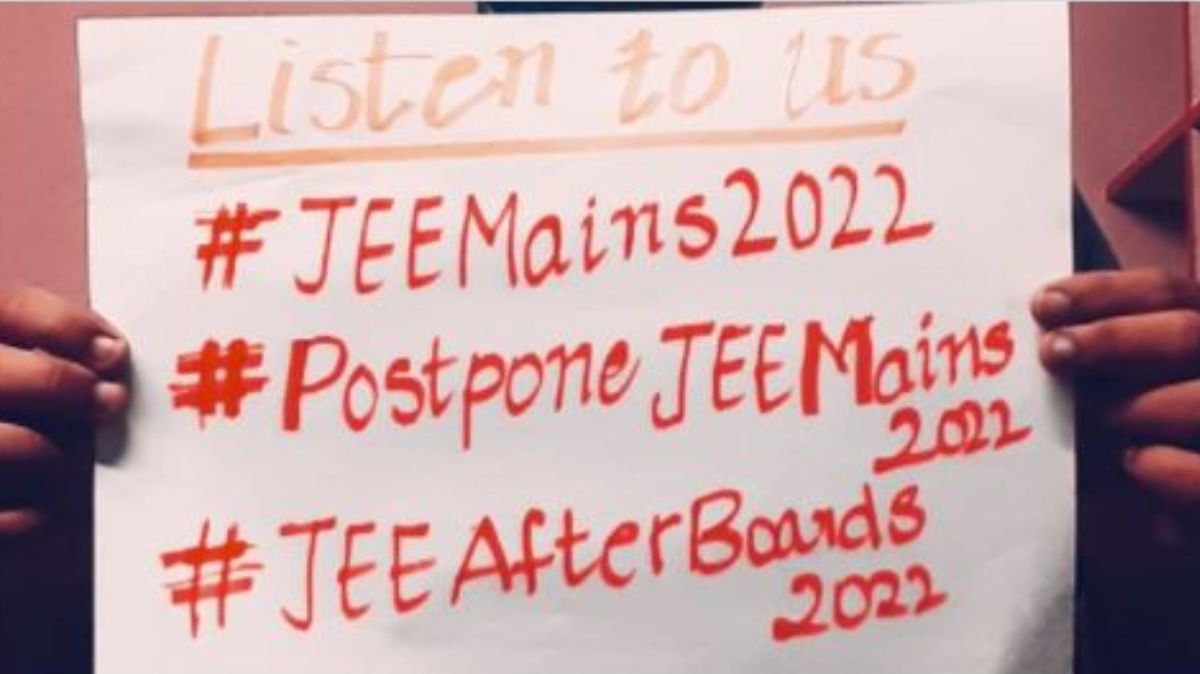 JEE Main 2023: National Testing Agency (NTA) announced the exam schedule in which it is stated that the JEE Main 2023 January session exams will be conducted starting from January 24 and is likely to conclude on January 31, 2023. The Twitter campaign that started probably on December 31, 2022 is flooded with messages and requests of JEE aspirants for the academic year 2023.
Concerning the public notice issued by NTA, various students across the country took it to the Twitter handle and have also demanded the JEE Main examination to get postponed. As per the information, the JEE Main students said that the January 2023 session exam should be instead held in the month of April in 2023.
This has led to comments trending on Twitter platform with the tagline 'JEEAfterBoards'. NTA has arranged the JEE 2023 Main entrance examinations twice this year. The first session is to be held between January 24 and January 31, 2023, whereas the second session will be held from April 6 to April 12, 2023 respectively.
The demands further intensified as the number of students increased on Twitter posting several comments for JEE Main 2023 exam postponement. These students have quoted to initiate an official Twitter Campaign for JEE Main 2023 today January 2, 2023.
A JEE Main 2023 candidate stated on December 31 around 8 pm on the microblogging site that all aspirants should not loose hope and further concluded that the request will be heard by the officials and aspirants will make it happen.
#JEEAfterBoards #JEEMain2023
Let's not lose hope #jeeaspirants . We can make it happen. pic.twitter.com/PvPAAeDbjp

— Roop Agarwal🌛 (@RoopAgarwal5) December 31, 2022
After this, another aspirant requested in a kind manner by saying JEE Main session 1 exams ought to be postponed to April month 2023 keeping in view their condition. He further urged to understand their situation and fulfil their valid demands.

He also sent an email to the concerned examination authorities regarding the issue by saying that CBSE practical exams 2023 are already going on for the whole of the January month. Earlier their studies were severely impacted due to COVID situation that prevailed throughout the country. Hence, they should be granted some time to prepare for their JEE Main 2023 exams.
#JEEAfterBoards it's a humble request to please postpone jee main session 1 to April @DG_NTA @EduMinOfIndia @narendramodi @narendramodi please try to understand our condition #JEEMain2023inApril #jeemainsinapril #JEEAfterBoards pic.twitter.com/S36Dy4JCXi

— Aditya kumar Singh (@Adityak59467465) January 2, 2023
A worried JEE aspirant also demanded that JEE candidates must be allowed a period of few months and exams must be delayed till April 2023. The students questioned the authorities and asked reason for not informing the JEE students back in September 2022 about the conduct of exams in January 2023.

The student stated that the JEE Main exam schedule has been issued lately and they have a very short period of time. Additionally, the decision by NTA is considered to be impromptu and unplanned as the candidsates are running out of time.

Such a haste decision without considering the student's situation is just for the sake of normalisation, as stated by an anxious JEE aspirant on Twitter. She also remarked that the examination conduct board is ruining the precious lives of students.
#JEEAfterBoards
if you had planned to take the exam in Jan, why did you not inform us back in Sept, why so late?
And if this was a impromptu and unplanned decision, that too without considering student's situation and just for the sake of normalisation, you are ruining our lives

— Jiya (@Jiya41372036) January 2, 2023
Another student made a humble request to the officials that better decision should be taken for JEE aspirants 2023. In a retweet, the aspirants said that the exam is one of the toughest level national examination and these students are only being notified 40 days prior to the exam which is injustice to them. Considering the plight of various students across the country, the NTA is bound to postpone these exams.

Also Read: UP Board Exam Dates 2023 (Soon): Over 58 Lakh Student Awaits UPMSP Class 10, 12 Date Sheet, Check Updates Here