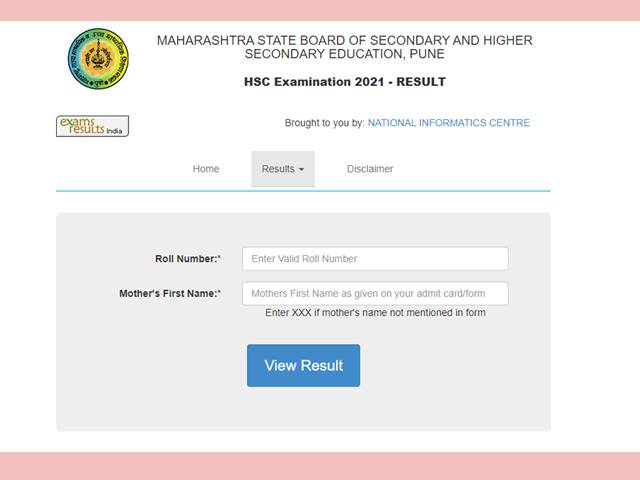 Maharashtra Board 12th Result 2021 Declared: The Maharashtra State Board of Secondary and Higher Secondary Education (MSBSHSE) has officially declared the results of Maharashtra Board HSC exam 2021 in a press meet held just a few minutes back. As per the details shared by the Board officials in the press meet, a total of 99.63% students have been declared as pass on the basis of alternate evaluation criteria as HSC Board Exams were cancelled this year. Now, students will be able access their Maharashtra Board Class 12 result 2021 by visiting the official website and entering their roll number and other essential details. Students will need to log onto mahresults.nic.in to check individual results. In addition to this, a direct link to MSBSHSE 12th Maharashtra Board result 2021 has also been provided on this page so that students are able to access their results with ease.
Check Maharashtra HSC Result 2021 – Direct Link (Available Now)
Keep refreshing this page for latest update about Maharashtra HSC Result 2021!
Maharashtra 12th Result 2021 Live Update @ 3:59 PM: Checking Link Available Now
Maharashtra Board has now made the link to check HSC Results 2021 live on the official website
HSC Result 2021 Maharashtra Live Update @ 3:17 PM: Evaluation Criteria Explained
Maharashtra State Board was forced to cancel the HSC Exam due to the 2nd wave of COVID-19 pandemic. Following this, the Board came-up with an alternate assessment policy which would evaluation students based on their performances in previous classes and examinations. The evaluation formula designed by MSBHSE accords 40% weightage of Class 12 internal marks, 30% weightage to Class 11 final exams, 30% weightage to Class 10 board exam marks, wherein the best three subjects with high marks will be considered for tabulation of results. Using this formula, HSC Result 2021 will be announced today:
Three Evaluation Parameters of Maharashtra HSC Result 2021:
| | |
| --- | --- |
| Exam / Parameter | Percentage Weightage |
| Class 12 Internal Exams | 40% Weight |
| Class 11 Final Exam Marks | 30% Weight |
| Class 10 (Highest 3 Subject Marks) | 30% Weight |
Maharashtra 12th Result 2021 Declared Live Update @ 3:11 PM: Best and Worst Performing Regions
In terms of region-wise performance, Konkan region has reported the highest pass percentage with 99.81% students being declared as pass. On the other hand, Aurangabad region has reported worst performance with 99.73 per cent of students from the region passing Class 12.
HSC Result 2021 Maharashtra Declared Live Update @ 2:56 PM: Stream-wise Pass Percentage
Along with announcing the overall result, the Board officials also shared stream-wise pass percentage for Class 12 students of Maharashtra Board. The details can be found below:
Pass Percentage for Science Stream: 99.45%
Pass Percentage for Commence Stream: 99.91%
Pass Percentage for Arts Stream: 99.83%
Maharashtra HSC Result 2021 Declared Live Update @ 2:47 PM: Key Statistical Highlights
As part of the press conference held to declare the Maharashtra HSC Result 2021, the board officials also shared some key highlights and statistics about Class 12 Results. Initial media reports have confirmed that a total of 13,19,754 students had registered for the exam this year, out of which for 13,19,754 students, the board had received evaluation reports or tabulated marks. Of this number, a total of 13,14,965 students have been declared passed, taking the overall pass percentage to 99.63%.
Total No of Registered Students:13,19,754
Total No of Students Evaluated:13,19,754
Total Nio of Passed Students:13,14,965
Overall Pass Percentage: 99.63%
HSC Result 2021 Live Update @ 2:40 PM: Result Declared, 99.63% Students Pass
Maharashtra State Board has formally declared the Class 12 Results today afternoon in the press meet. However, the result checking link will be made available to the students in a short while from now.
12th Class Result 2021 Maharashtra Board Live Update @ 2:30 PM: Key Highlights from Last Year's Result
With MSBHSE HSC Result 2021 scheduled to be out in next few hours, it is important for the students to set their expectations accordingly. One simple way to define what to expect in Maharashtra HSC Result 2021 is by looking at the key statistics of last year's Maharahtra HSC result 2021. The same are listed below:
No of Students appeared for HSC Exam: 14,13,687
Overall Pass Percentage: 90.66 %
Pass Percentage among Girl Students: 93.88%
Pass Percentage among Boys: 88.04%
MSBSHSE HSC Result 2021 Live Update @ 2:15 PM: Details to be checked on Scorecard / Digital marksheet
In the excitement of getting the HSC Result 2021, often students forget to check important details about Maharashtra 12th Result 2021 while checking it on the official website. However, it is important for students check and ensure that all the details mentioned on digital scorecard or marksheets are correct. Therefore, students are advised to check the following details on the result scorecard while accessing it online at mahresults.nic.in:
Students' Name
Students' Roll number
Subjects names
Subject codes
Marks obtained in each subject
Total marks obtained
Result status
Grades
Class 12 Result Maharashtra Live Update @ 2:00 PM: How to check Maharashtra HSC Result 2021 via SMS?
With over 13 lakh students expecting their Maharashtra 12th Results 2021 today evening, the board has also made arrangement to allow checking of HSC Results even without internet connection. In case any student doesn't have internet connection or smartphone, they can check MSBSHSE HSC Result 2021 via SMS service as well. The detailed procedure as to how HSC Results can be checked via Text Message is explained below:
Step 1: Open SMS or Text Editor on your Phone
Step 2: Type an SMS: MHHSC<space>SEAT NO.
Step 3: Verify it and send it to 57766
Step 4: In response you will receive Maharashtra HSC Result 2021 via SMS
HSC Result 2021 Live Update @ 1:45 PM: Grading System for Class 12 Results
Maharashtra State Board of Secondary and Higher Secondary Education (MSBSHSE) has announced a 4 level grading system for Class 12 students. Students securing 75% and above marks are accorded highest grade of Distinction whereas those scoring below 35% marks are declared as failed by the Board. The percentage-wise grading system has been explained in the table below:
| | |
| --- | --- |
| Marks | Grade |
| 75% Marks and Above | Distinction |
| 60% and Above | 1st Division |
| Between 45% and 59% | 2nd Division |
| Between 35% and 44% | 3rd Division |
| Below 34% marks | Failed |
MSBSHSE 12th Results Live Update @ 1:30 PM: Details Required to Check Result, Download Scorecard
To ensure complete safety and privacy of result data of Class 12 students, the Maharashtra Board will be making the result available to the students via login or input of few important details. Students would need their Exam Roll Number and their Mother's first name to check Maharashtra 12th Result 2021 online on the official website. Both these details are to be kept ready by the students in advance to avoid any last minute problems or chaos as far as checking MSBSHSE HSC Result 2021 is concerned.
Exam Roll Number
Mother's First Name
HSC Result 2021 Maharashtra Live Update @ 1:15 PM: Result Date and Time Confirmed by Education Minister
After being delayed significantly due to the pandemic and thereafter the flood-situation in the state, the date and time of Maharashtra HSC Result 2021 was confirmed by the State School Education Minister Varsha Gaikwad. Ms Gaikwad took to twitter to formally announce that Class 12 Results will be declared on 3rd August 2021 at 4 PM in the evening.
Maha HSC Result 2021 Live Update @ 1:00 PM: List of Websites to Check HSC Result 2021 Maharashtra
With nearly 14 lakh students waiting the declaration of Maharashtra HSC Result 2021, the state board has decided to strengthen its technical infrastructure in order to ensure that students are able to check their Maharashtra Class 12 Results 2021 easily. In line with this, the board plans to publish HSC Results 2021 online on 5 different websites and portals. The list of official websites where Maharashtra HSC Result 2021 will be published is given below:
mahahsscboard.maharashtra.gov.in
mahresult.nic.in 2021 HSC result
hscresult.mkcl.org
mahahsc.in
mahahsscboard.in