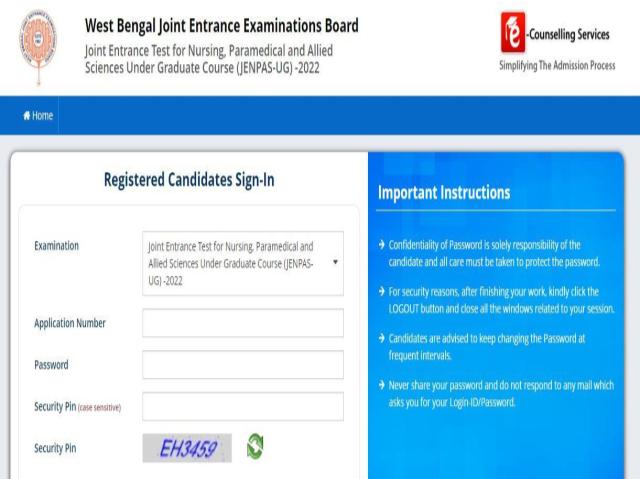 WBJEE JENPAS UG 2022: West Bengal Joint Entrance Examination Board has released the JENPAS UG 2022 applications on the official website. Students applying for the various nursing, Paramedical, and Allied Science courses can visit the official website of WBJEEB to complete the registration and application process. According to the dates provided, the last date for candidates to complete the WBJEE JENPAS-UG (Joint Entrance Test for Nursing, Paramedical, and Allied Sciences Undergraduate Courses) applications is January 18, 2022.
Candidates applying for the WBJEE JENPAS 2022 UG courses are first required to complete the online registration process through the link provided on the official website. After completing the registration candidates can login using the registration details and complete the online application form and submit the application fee.
The WBJEE 2022 JENPAS UG Registration and application link is available on the official website - wbjeeb.nic.in. Candidates can also complete the WBJEE JENPAS 2022 applications through the direct link provided here.
WBJEE JENPAS 2022 Registrations
Steps to complete the WBJEE JENPAS 2022 Applications
Step 1: Visit the official website of WBJEE or click on the link provided below
Step 2: Click on the JENPAS -UG section available
Step 3: Click on the WBJEE JENPAS UG 2022 application link provided
Step 4: Enter the details in the registration link provided
Step 5: Login using the registration details and complete the online application form
Step 6: Upload all necessary documents and submit the application fee
Step 7: Click on the final submission tab
About WBJEE JENPAS UG 2022
West Bengal Joint Entrance Exam Board conducts the WBJEE JENPAS UG 2022 exams for the admissions to the various Nursing, Paramedical and Allied Sciences courses offered in the colleges in the state. The courses for which the admissions are conducted include - B.Sc. Nursing (Bachelor of Nursing), B.P.T. (Bachelor of Physiotherapy), B.M.L.T (Bachelor of Medical Laboratory Technology), B.Sc. CCT (B.Sc. in Critical Care Technology), B.Sc. OTT (B.Sc. in Operation Theatre Technology), B.Sc. PT (B.Sc. in Perfusion Technology), B.Sc. PA (B.Sc. in Physician Assistant), B.Sc. MM (B. Sc. In Medical Microbiology), B.H.A. (Bachelor in Hospital Administration)
Also Read: JEE Advanced 2022: Mock Test link available at jeeadv.ac.in